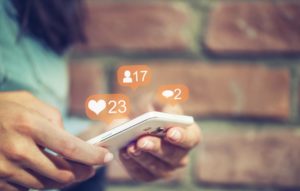 Did you know that since its inception in 2010, Instagram has amassed over a billion users? The photo-sharing application is one of the most popular on the smartphone market — and for good reason. It is easy to use, as well as a good way to connect with friends and family.
Imagine posting quality photos and gaining more likes on your Instagram posts. Here are some surefire ways that you will be able to post quality content, increase your likes, and even get people to download Instagram pics from your profile.
1. Craft Quality Captions
When it comes to social media posts, the average user as a short attention span. It is vital that you catch their eye in a few seconds with not only a great photo, but an engaging caption to go along with it. 
You can choose where to place hashtags so they are not overwhelming, and also insert emojis where it seems appropriate and fun. Emojis do a great job of drawing the viewer to the caption itself, so be sure to place emojis that are relevant to the content in your caption. 
You should also cater to your target market. For instance, if your customers are older, you may want to use fewer hashtags and euphemisms that will make sense to younger people. 

2. Use Filters to Your Advantage
One of the reasons that Instagram has such a huge user base is the availability of filters for your photos. The application has a range of different filters that you can utilize for practically any purpose, from a serious, black and white aesthetic to erasing your pores and accentuating your best features. 
Instagram filters can bring a photo to the next level. Filters are used on many posts to improve coloring and light. If you have a great picture that you do not want to use a filter for, using the no-filter hashtag will let your followers know that the picture is original.
3. Make Users Want to Download Instagram Pics
Another way to get more likes on your Instagram posts is to have pristine quality photographs that followers will want to download and use for their own purposes. If you get requests from people to use your content, make sure you send them instructions on how to download Instagram pics. 
When users post your content on other pages around the web, you should make sure they include a reference or credit to your Instagram account. That way, you can gain even more likes and followers when people visit your page from an outside source. 
4. Follow Profiles With Similar Content
When you are on Instagram, a great strategy for generating more followers and likes is to track accounts that post content aligning with yours. This way, you are more likely to have your photos featured in other places, garnering more likes. 
When you follow these types of accounts, if they see that you post photos they are interested in, they will often give you a follow back. This is a great method of expanding the potential exposure of your content throughout Instagram. 
You can also cross-promote with other Instagram accounts, such as sharing each other's posts or using the Instagram Stories feature to tag different users. 
5. Utilize the Hashtag Feature 
Instagram has a system of hashtags, represented by the number or pound symbol, which users can easily click on to find different types of posts. Some of the most popular hashtags often generate millions of photos from all over the world. 
When users are looking at content from a specific hashtag, they will often like photos that are appealing to them. When you use hashtags, you already have the advantage of viewers wanting to look at posts that are similar to yours. Once they give your post a like, they may even want to follow your account. 
If you want to fully take advantage of the hashtag system, you can even create hashtags that are unique to your company or business. Or, simply utilizing well-known hashtags will help your likes increase significantly. 
6. Curate a Consistent Theme
Once you have decided on your target audience, the type of photos you will likely post, and the captions you will create, it is vital that you tailor your Instagram account towards a theme that represents yourself or your business. 
A good strategy for this is to see what types of photographs your followers tend to respond to, or how many likes they are getting from users. You can then be sure to shape future content around these guidelines so that you are giving your followers a familiar experience. 
You can still change up the content of your Instagram feed to varying degrees, but be sure to always connect back to the themes and ideas that your account is known for. Some accounts even have specific color schemes to match their aesthetic or brand. 
7. Stay Active on Instagram
This one may seem rather obvious, but it is still very important. Posting on Instagram regularly versus every once in a while is guaranteed to get you more likes, as well as more followers. 
Instagram's algorithm promotes picture and video content that performs consistently well and seems to give users more exposure when they post consistently. Therefore, the more posts you make that are received well by your followers, the more likely your future content is to show up at the top of their feeds. 
There are many sites and programs that you can utilize if you feel that you are too busy to think of original content every day. They allow you to make a batch of posts but schedule them so that your account is generating new content at a rate that you specify.
Use the Method That Works Best for You 
Overall, there is no one way to earn many likes on your Instagram posts. However, with a combination of these tips and tricks, you are sure to be seeing more interaction with your posts in no time. 
Looking for more social media help? Be sure to browse the rest of this site for the best tips and tricks.