By Cate Chapman, Editor at LinkedIn News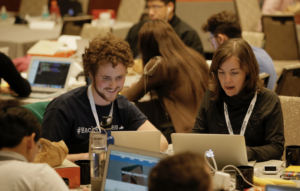 The artificial-intelligence boom is drawing tech workers back to San Francisco. Suddenly, those who left during COVID to work remotely in redoubts such as the Oregon woods are looking once again to settle in Palo Alto and Woodside, or the city itself. That's as investors announced $10.7 billion in funding for generative AI startups during the first quarter alone, according to venture-tracker PitchBook. And, since AI is open source, allowing anyone to build on work shared by companies, a sense of critical mass has returned to spots like Hayes Valley, now known as "Cerebral Valley."
By Robert McIsaac
Executive Principal at AITE-NOVARICA Group
The pandemic changed many things of course, and some of the changes have been exacerbated by other factors, including sharp demographic shifts. All of these are wake-up calls for the #insurance industry.
Last year, when we hosted our first post-pandemic Aite-Novarica Group#Innovation Tour, we were still grappling with an array of logistical challenges … including last minute speaker lineup changes resulting from localized #covid-19 outbreaks.
In the meantime, we have seen the tech industry buffetted by an array of economic challenges. That didn't change the tour, but created some new and important questions.
As this story in The NY Times notes, the surge in activity in #siliconvalley is back on … and much of what is highlighted in the article is exactly what we showcase during these events. Great read … and a terrific event.
Missed the 2023 edition? No worries! Denyse Cardozo and Ensanté are already working with RPM Ventures NC, LLC on preparing for the 2024 event.
They Fled San Francisco. The A.I. Boom Pulled Them Back.
nytimes.com • 6 min read
https://www.nytimes.com/2023/06/07/technology/ai-san-francisco-tech-industry.html?smid=nytcore-ios-share&referringSource=articleShare

By Marc C. Crowley
Future oF Work Speaker & Consultant
Canary In A Coal Mine?
Sharing this because it's rather provocative.
Will full-time remote work even be a thing a few years from now? Could we end up working more days in the office than at home?
In quite a reversal of thinking, A.I. companies of all things are back to leasing space in San Francisco. Why?
Here's one tech CEO to explain:
"Virtual meeting technology just sometimes doesn't work, and even when it does, the quality of conversation is just not up to par. The experiment is over; we tried, and we failed as an industry. It's very hard to beat how the brain has evolved over millions of years for synchronous in-person collaboration. Everyone just wants to get out of the darn Zoom meeting."
Said another:
"The one team that's staring each other in the face and being able to have super high bandwidth communication will probably beat the remote team nine times out of 10."
Meanwhile, the remote work experiment continues....
Is San Francisco's Remote Work Backlash Finally Gaining Steam?
sfstandard.com • 4 min read
https://sfstandard.com/business/is-san-franciscos-remote-work-backlash-finally-gaining-steam/