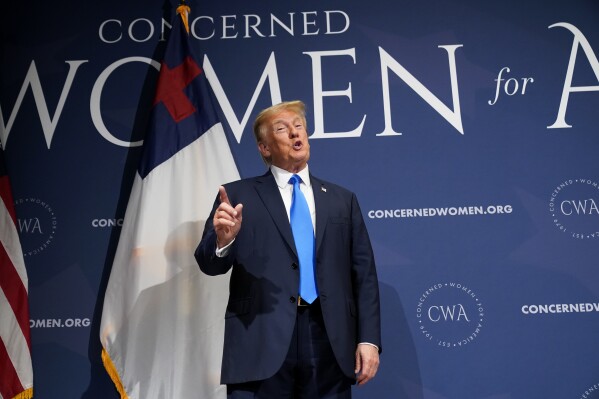 Donald Trump is dominating the early stages of the Republican presidential primary even as he's refused to endorse a federal ban on abortion, allowing some top rivals to get to the right of him on an issue that animates many conservative activists.
Aiming to return to the White House, the former president often notes how his presidency advanced the cause of abortion opponents. He appointed three conservative Supreme Court justices who helped overturn Roe v. Wade, abolishing the federally guaranteed right to the procedure and fulfilling the decades-long aspirations of anti-abortion activists.

But Trump has so far declined to go along with some of his rivals, most notably his onetime vice president, Mike Pence, who is pushing for national bans that would take effect relatively early into a pregnancy. He's warned Republicans against locking themselves into positions that are unpopular with a majority of the public and has argued that the Supreme Court's decision gives abortion opponents the right to "negotiate" restrictions where they live rather than rely on federal curbs.
That tension underscores the new reality the GOP finds itself in more than a year into the post-Roe era. While top Republicans were long able to simply declare themselves opposed to abortion, they must now contend with more complicated questions — including when access should be banned and whether uniform standards might apply across the U.S., even in states where support for abortion rights runs deep.
"There's a wide variety of opinion. Should there be a national ban? At how many weeks? Should it be entirely left to the states?" said Steve Scheffler, president of the Iowa Faith and Freedom Coalition and a Republican National Committee member. "Some people get it wrong when they think this constituency is in lockstep."
The dynamic will be on fresh display in the coming days, at events dominated by social conservatives. Trump joined a crowded slate of candidates speaking Friday in Washington at an event for the Family Research Council and headlined the Concerned Women for America's Leadership Summit dinner. But he's skipping Scheffler's Iowa Faith and Freedom Coalition banquet on Saturday in Des Moines, where Pence will be among the candidates who will address evangelical Christians, long an influential bloc in the first-in-the-nation caucus.
Polling suggests about two-thirds of Americans believe abortion should generally be legal, and Trump has said in recent years that he supports exceptions to abortion bans when a pregnancy was caused by rape or incest or threatens the life of the mother.

But Trump, who said again Friday that the Supreme Court ruling "moves the issue back to the states … where it should be," has repeatedly criticized fellow Republicans for the way they talk about the issue. He argues it could benefit the party politically if candidates learn to speak about it differently by highlighting Democratic positions that are out of the political mainstream.
"To be honest, Republicans don't know how to discuss the subject," he said at the Concerned Women for America event. "We do have to hold on to office, we do have to win. And we can win elections on this issue, but it's very delicate and explaining it properly is an extremely important thing."
"It's so bad when I listen to people talking about it," he went on. "They don't know what to say. … They feel it, they want it, they love it … but they don't know how to talk about it."
Indeed, in the aftermath of the high court's abortion decision, Democrats mounted a strong performance in last year's midterms, limiting their House losses and maintaining the Senate majority. Voters in Republican-leaning states from Kansas to Ohio have also rejected GOP-backed efforts to curb abortion.
Once a self-described "very pro-choice" New York businessman, Trump had to do more than most major GOP candidates to win over initially skeptical evangelical Christians during his 2016 presidential run. A political committee supporting one of his rivals ran an ad with footage from a 1999 interview in which he declared, "I am pro-choice in every respect."