A plane carrying the five Americans and two of their relatives touched down in Doha, Qatar, earlier Monday. The Qataris helped broker the exchange between the U.S. and Iran.
DOHA, Qatar — Five Americans wrongfully imprisoned in Iran for years were released Monday as part of a prisoner exchange agreement that gives Tehran access to $6 billion in oil revenues frozen under U.S. sanctions.
A plane carrying the five Americans and two of their relatives touched down in Qatar, which had helped broker the swap.
After the Americans walked down the steps from the plane at the Doha airport, they were greeted on the tarmac by Qatari and U.S. officials. At one point, former prisoners Siamak Namazi, Morad Tahbaz and Emad Shargi walked together arm-in-arm.
A few hours later, the freed Americans boarded a U.S. government plane bound for Washington, D.C., according to a senior diplomat in the region briefed on their whereabouts.
Five Iranian nationals held in U.S. custody were also expected to be released as part of the deal. NBC News first reported on the prisoner swap negotiations in February.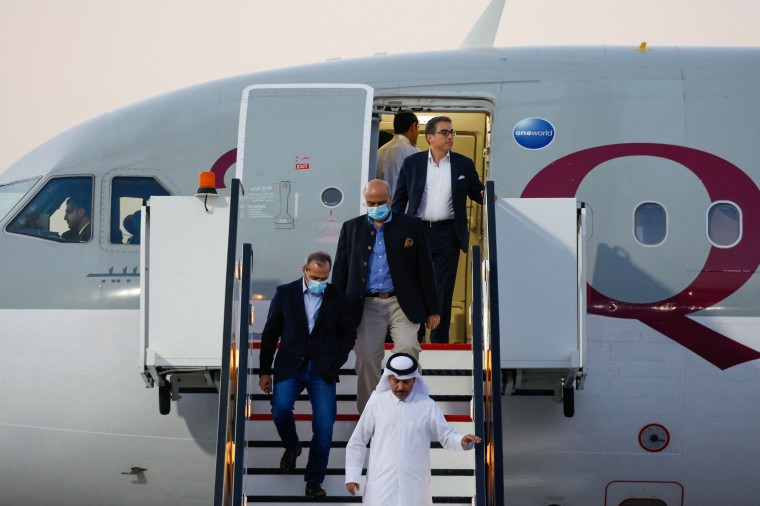 Days before the Americans were released, Republican lawmakers in Washington blasted the deal, saying it amounted to a "ransom" payment and would only encourage Iran to imprison more foreigners. A similar 2015 arrangement during the Obama administration, in which Iran was given access to blocked funds at the same time Americans held in Iran were freed, also came under fierce criticism then from Republicans as a capitulation to Tehran.
But families of the freed Americans say their loved ones were hostages taken captive on false charges and used as bargaining chips by the Iranian government. The families and some former hostages say the Biden administration had to use the leverage it had available to secure the freedom of the imprisoned U.S. citizens, or face the prospect of the Americans staying incarcerated indefinitely. Past presidents, including Donald Trump, engaged in prisoner swaps, as well.
A spokesperson for the Iranian Foreign Ministry said Monday that of the five Iranians released as part of the swap, two planned to return to Iran, one was headed to a third country and two others intended to remain in the U.S., where they have legal residence.
In a statement, President Joe Biden said, "Today, five innocent Americans who were imprisoned in Iran are finally coming home. … I am grateful to our partners at home and abroad for their tireless efforts to help us achieve this outcome, including the Governments of Qatar, Oman, Switzerland, and South Korea."
"As we celebrate the return of these Americans," Biden said, "we also remember those who did not return. I call on the Iranian regime to give a full account of what happened to Bob Levinson. The Levinson family deserves answers." Levinson was a former DEA and FBI agent taken prisoner by Iran in 2007 and presumed to have died in captivity prior to March 25, 2020.
On Monday, Biden said he was sanctioning former President Mahmoud Ahmadinejad and the Iranian Ministry of Intelligence under the Levinson Act "for their involvement in wrongful detentions. And, we will continue to impose costs on Iran for their provocative actions in the region."
He also reminded U.S. citizens of the risks involved in traveling to Iran: "American passport holders should not travel there."
Secretary of State Antony Blinken also announced that the U.S. was taking steps to impose visa restrictions "on three Iranian government officials believed to be responsible for or complicit in serious abuses or violations of human rights, as well as hostage-taking or wrongful, arbitrary, or otherwise unjust detention of U.S. and foreign nationals."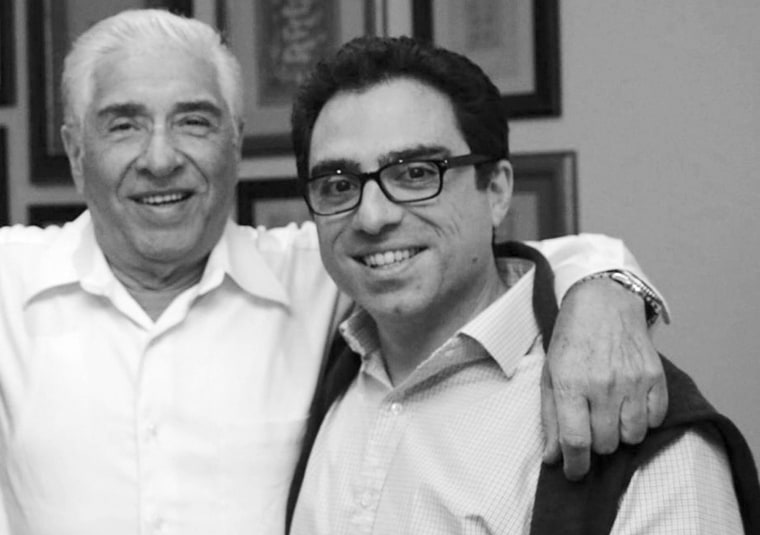 One of the Americans who landed in Doha on Monday, Siamak Namazi, 51, had been imprisoned in Iran for almost eight years — longer than any of the other current American detainees. A graduate of White Plains High School in New York and a business consultant with degrees from Tufts and Rutgers universities, he was arrested in 2015 and convicted of espionage in a trial that only lasted a few hours. His father, Baquer Namazi, was arrested in 2016 when he traveled to Iran to visit his son. The elder Namazi was released last year.
After his release, Namazi issued a statement through his lawyer thanking all those who did not allow "the world to forget about me," but said his elation was tinged with sadness for those who remain behind bars in Iran.
"For almost eight years I have been dreaming of this day. Now that it is finally here, I find my ineffable joy of my forthcoming reunification with my family is laced with sorrow — a painful and deep feeling of guilt for taking my breaths in freedom while so many courageous individuals that I love and admire continue languishing behind those walls," he said.
"All the political prisoners, and indeed, the entire populace of Iran, where the indomitable courage of women leaves us in awe, deserve their liberty," he added.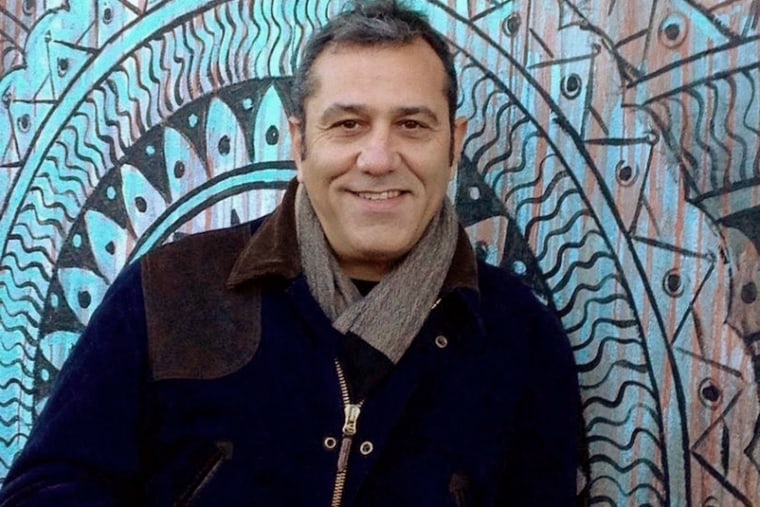 Emad Shargi, 59, an Iranian-born businessman from Washington, D.C., who moved to the U.S. as a young man, was arrested in April 2018. He was released on bail and cleared of all charges in December 2019, but Iranian authorities refused to return his passport. He was charged again in 2020 and convicted of espionage charges without a trial.
His sister Neda said in a statement, "My family is so happy to hear that Emad is no longer in Iran and is on his way home. We have been waiting for this day for almost five and a half years and I can't wait to hug my brother and never let him go. This day would not be possible if President Biden had not shown the kind of leadership it takes to make hard decisions and bring our families home."
"This is my brother, not an abstract policy."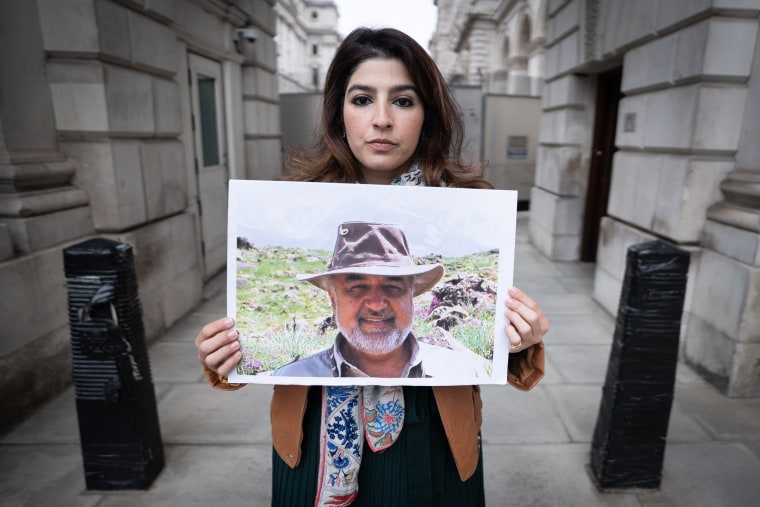 Morad Tahbaz, 67, an Iranian American who also holds British citizenship, was arrested in January 2018 and convicted of espionage in 2019.
Tahbaz was part of a group of environmental activists carrying out research on Iran's endangered cheetah population.
U.S. officials said the families of the two other Americans released requested that their names remain private. Human rights groups say Iran has been engaged in hostage-taking for decades, using foreign prisoners as a tool to exert leverage over other governments. Rights groups also say the espionage charges against the American prisoners were without foundation.
Iran denies the accusation and says all prisoners are treated in accordance with the country's laws.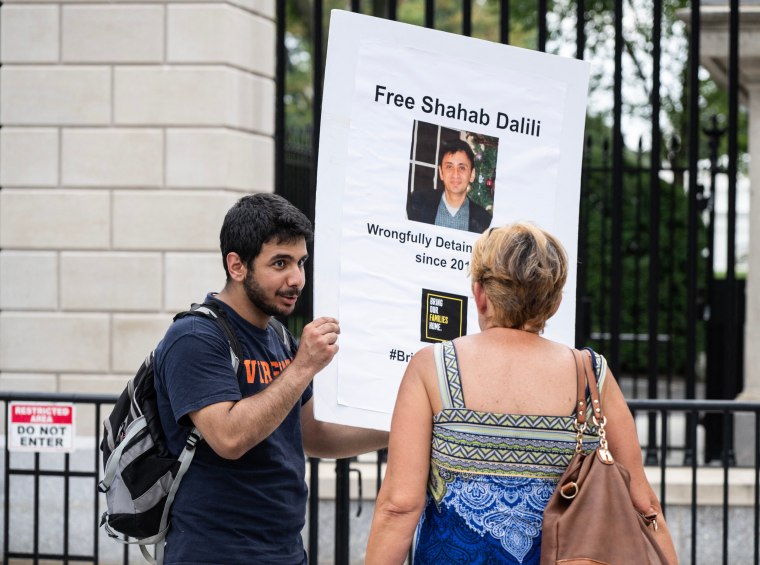 The prisoner exchange did not include two U.S. legal permanent residents with green cards who remained behind bars in Tehran. One of them, Shahab Dalili, was arrested and imprisoned in 2016 while visiting Tehran for his father's funeral, according to his family. His wife and children are U.S. citizens living in Virginia. His son recently held a sit-in for days outside the State Department, demanding his father be included in the swap.