Married billionaire Eric Schmidt launched Steel Perlot with 29-year-old entrepreneur Michelle Ritter while they were dating — a venture that has blurred his professional and personal life.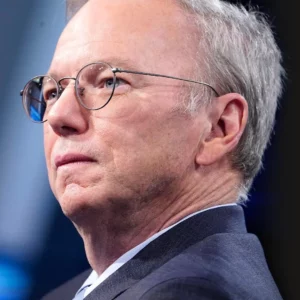 Since leaving Google as chairman, Eric Schmidt has wielded a $20 billion fortune to build an ecosystem of influence, overseeing a vast constellation of companies and investments and taking on prestigious advisory roles that have cemented his reputation as Silicon Valley statesman and AI policy whisperer to the Pentagon.
And for the past two years, the 68-year-old has extended that clout — and committed at least $100 million, according to three sources — to a startup accelerator called Steel Perlot, which he leads as executive chairman with CEO Michelle Ritter, a 29-year-old entrepreneur who he has been dating.
Schmidt's funds were intended to support the accelerator's business, launching and investing in new ventures under the Steel Perlot umbrella. But just over a year after it launched, the company was asking Schmidt's family office, Hillspire LLC, to pay its bills.
In a January 2023 email to Hillspire, a Steel Perlot executive requested nearly $2.5 million to meet payroll and credit card debts racked up by the company and its subsidiaries that month. "Eric, copied, has the context," wrote Gal Treger, Steel Perlot's head of VC funds, according to a copy of the email seen by Forbes. Hillspire covered the payroll costs, said people familiar with the matter. (Treger didn't respond to a request for comment.)

Source: Forbes