(Jersey City, NJ / May 11, 2023) — Frank Paul Vignola, a renowned self-mastery coach for men, announces the release of his new self-help guide,
Crafting Masculinity: Qualities Men Want & How to Get Them –
available now for purchase at
Amazon.com
.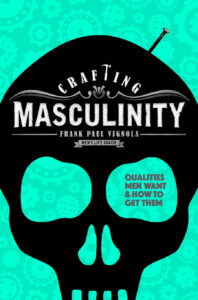 With more than a decade of coaching experience, Vignola, through his popular personal empowerment site,
LifeCoachingNY.com
, challenges men's traditional notions of masculinity by embodying authenticity and confidence through internal work, self-acceptance and the courage to face certain truths, and presents a view of masculinity that is positive, powerful, and self-nurturing.
"I believe that everyone has the potential to transform their lives. With a deep understanding of the challenges faced by those struggling with addiction, mental health issues, and other forms of adversity, I bring a compassionate and non-judgmental approach to my coaching, empowering my clients to overcome any obstacles and reach their full potential."
Crafting Masculinity: Qualities Men Want & How to Get Them
offers men a means to bridge the gap between their idealized behaviors and their authentic selves. Through a range of strategies, from assessing character strengths to mastering body language and communication skills, the book aims to help men feel more confident and self-assured in their masculinity. Whether they have struggled with feelings of inadequacy or have simply been questioning their sense of self, readers can use this handbook as a powerful tool for personal growth.
Find Crafting Masculinity: Qualities Men Want & How to Get Them at Amazon.com.
To learn more about Frank Paul Vignola and his one-on-one and group coaching sessions, visit FrankPaulVignola.com, LifeCoachingNY.com and MasteredMan.com, and follow him on his Instagram (@vignolagram) and YouTube channel.
ABOUT FRANK PAUL VIGNOLA:
Frank Paul Vignola is a professional self-mastery coach and mentor with a unique perspective and personal experience overcoming adversity. Growing up in a toxic household in suburban New Jersey, he struggled with low self-esteem, depression, anxiety and substance abuse, and after being expelled from high school and spending several years in rehabs, group homes and institutions, Vignola crossed paths with inspiring mentors who helped him turn his life around.
Through these experiences, Vignola discovered his passion for coaching, particularly to young men facing similar challenges. At just 17 years old, he began conducting leadership circles and mentoring new residents at the boys home where he lived and studied. Later, he pursued the Dramatic Arts in order to utilize acting tools in his coaching practice of helping men cultivate their masculinity.
Through his coaching sessions and self-help guide, Crafting Masculinity: Qualities Men Want & How to Get Them, Vignola fosters a compassionate and open-minded environment that helps men realize their inner strength and full potential.  He holds a strong belief that everyone is capable of positive transformation and is committed to guiding them towards discovering their own resilience.