NEWS RELEASE
Global venture capital (VC) deal activity took a year-on-year (YoY) hit in the first quarter (Q1) 2023 and deal volume across most of the funding sizes experienced decline but the impact was more prominent for high-value transactions. This indicates a potential shift in the VC landscape, as investors become more cautious and selective with their investments, reveals GlobalData, a leading data and analytics company.
An analysis of GlobalData's Financial Deals Database reveals that a total of 4,143 VC funding deals with disclosed funding value were announced globally in Q1 2023, which is a decline of 42.1% compared to the 7,158 announced deals during Q1 2022.
The number of low-value VC deals* announced globally witnessed a decline of 36.9% from 4,685 in Q1 2022 to 2,954 in Q1 2023. Meanwhile, the number of VC deals valued more than $100 million decreased by a massive 75.1% from 321 in Q1 2022 to 80 in Q1 2023.
Aurojyoti Bose, Lead Analyst at GlobalData, comments: "High-value transactions were impacted as VC investors remained cautious for committing big investments over the prevailing geopolitical conditions, macroeconomic challenges and recession fears."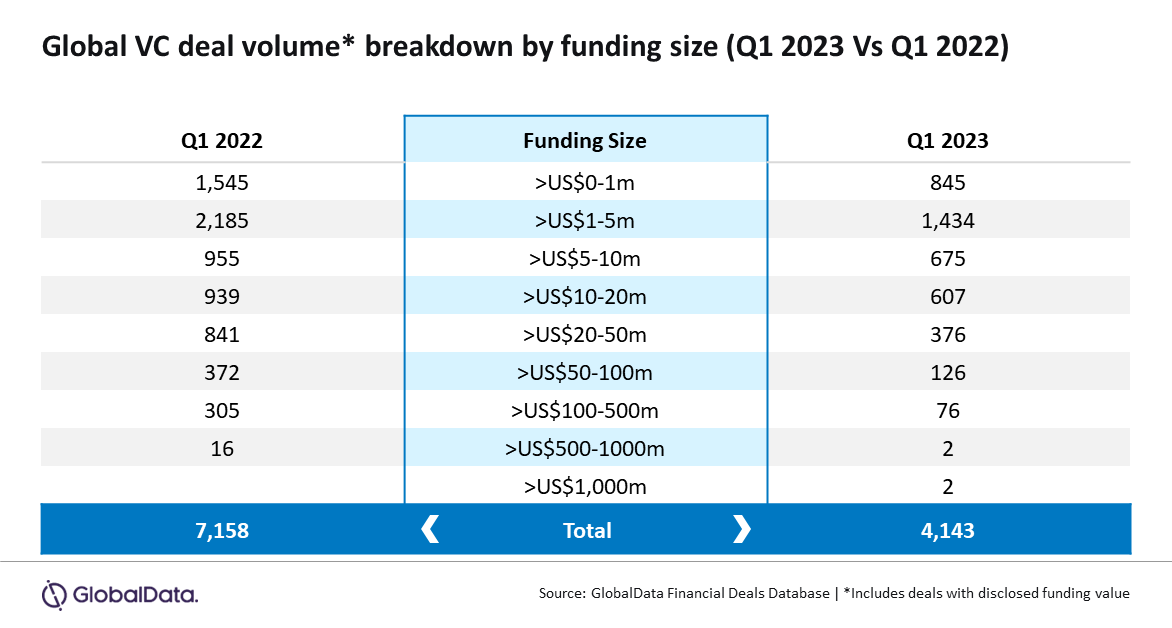 Despite the decline, low value deals continued to dominate the VC funding landscape by registering the highest number of VC deals announced in this range globally during Q1 2023. The share of low value deals as a percentage of the total VC deals volume with disclosed funding value stood at 71.3% in Q1 2023.
Meanwhile, VC deals valued more than $1 billion, which were non-existent in Q1 2022, made a comeback in Q1 2023. Q1 2023 saw the announcement of two VC deals valued more than $1 billion.
Bose concludes: "Although the number of big-ticket deals is not too high, their comeback during the quarter despite the challenging market conditions is a reason to cheer for promising startups. It indicates that investors are still willing to place big bets in promising startups despite the overall decline in deal activity."
*Investment less than or equal to $10 million
For more information
To gain access to our latest press releases: GlobalData Media Centre
Analysts available for comment. Please contact the GlobalData Press Office:
Asia-Pacific: +91 40 6616 6809
Email: pr@globaldata.com
For expert analysis on developments in your industry, please connect with us on:
GlobalData | LinkedIn | Twitter
Notes to Editors
Quotes are provided by Aurojyoti Bose, Lead Analyst at GlobalData
The information is based on GlobalData's Financial Deals Database
This press release was written using data and information sourced from proprietary databases, primary and secondary research, and in-house analysis conducted by GlobalData's team of industry experts.
About GlobalData
4,000 of the world's largest companies, including over 70% of FTSE 100 and 60% of Fortune 100 companies, make timelier and better business decisions thanks to GlobalData's unique data, expert analysis and innovative solutions, all in one platform. GlobalData's mission is to help our clients decode the future to be more successful and innovative across a range of industries, including the healthcare, consumer, retail, financial, technology and professional services sectors.