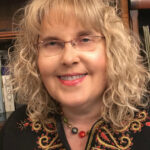 About the Author Eileen Saint Lauren was born in Hattiesburg and raised in the once two red-light town, Petal, Mississippi. She is an award-winning photojournalist and news and feature writer who worked early in her career as a commentator for Nebraska Public Radio and at Smith College Museum. After graduating from Jones College in Ellisville, Mississippi, with an Associate of Arts degree in journalism, she continued her education at the University of Nebraska-Lincoln where she received a Bachelor of Arts degree in English. She then continued on with her education in creative writing at The Washington Center, Duke University, Kansas Newman College's, The Milton Center, the University of Massachusetts Amherst and the University of North Carolina at Chapel Hill. She divides her writing time between Chapel Hill, North Carolina, and Madison, Mississippi. She was blind for three years due to back-to-back retina detachments at an early age. Although she did not regain her full sight, she is functional though visually disadvantaged.
The Title of Your Book
Why did you write the book?
I want people to learn from their past mistakes–no matter how big or how small those mistakes may be. And, I want people to learn how to treat one another the way they want to be treated–with respect. Most importantly, I would like for something positive–joy even–to fill the world from the yesterday's pain cause by mistakes.
What was your biggest surprise or aha moment when writing your book?
When I realized then believed that God was a Light.
Who is your ideal audience for the book?
Tell us, how do you deal with fear?
I believe that: God does not give us a spirit of fear rather that God gives us peace, joy, and a sound mind.
Tell us, how do you deal with rejection?
Tell us two concepts or ideas you want the reader to takeaway?
To provoke readers "to contemplate an understanding and tolerance of people whose life experiences and perceptions appear outside the norm though are very real." And that, "Goodlife, Mississippi's timeless voices of every color and social class both together reflect the message of compassion, forgiveness and love."
Name one of the biggest challenges you have faced writing your book and how did you overcome it?
Publication. Someone heard me read, and, in turn, invested in me by generously providing me with my own label–Eileen Saint Lauren Books.
What's a personal self-talk, mantra, affirmation, or self-belief that contributes to your success?
How can people contact you?
eileensaintlauren@icloud.com