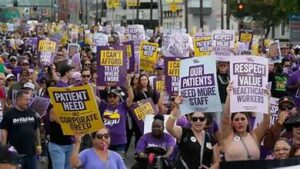 Savonnda Blaylock, a pharmacy technician in northern California, has worked for health care giant Kaiser Permanente for 22 years and she's never been on strike. That could change on Wednesday when she becomes one of 75,000 workers who participate in the nation's largest health care strike in history.
Blaylock said it will be tough to walk off the job and away from her regular patients, even though the strike is set to last only three days. But Blaylock said she feels she has no choice given the staffing problems she now sees at the hospital, both as an employee and as a patient.

"When we try to schedule appointments (for my mother), we're told they don't have the staff to accommodate her," said Blaylock. "When I came to Kaiser, this was the best place to work. This was where I wanted to retire from. Now I think about leaving, though I don't want to. On my shift now, there are probably about 12 of us. Pre-Covid there were 18. We've lost so many workers over the past three years."
If the coalition of unions does go on strike it would affect dozens of facilities in California, Oregon, Washington, Colorado, Virginia and Washington, DC. Members of the coalition of unions — including nurses, therapists, technicians, dietary services, maintenance and janitorial staff — are set to walk out for a three-day strike starting on Wednesday. Kaiser said it has contingency plans in place to continue to provide care to patients during a strike.
"While these plans to strike are disappointing, we remain committed to reaching an agreement that is good for our employees, our members, and our organization, and we will continue to bargain in good faith," Kaiser said in a statement.
Blaylock, who is on her union's negotiating team, says Kaiser is disregarding the demands to fix the staffing crisis. Management denies that's true, although it does acknowledge it is facing a staffing problem.
"Every health care provider in the nation has been facing staffing shortages and fighting burnout. During the Great Resignation in 2021-22, more than 5 million people left their health care jobs across the country. Up to two-thirds of health care staff are saying they are burnt out and more than 1 in 5 are quitting," the company said in a statement. "Kaiser Permanente is not immune from these challenges."
While Kaiser admits to the difficult challenge of filling health care jobs, the stress to its current workers has contributed to increased labor tension in the health care industry.

Kaiser said it hired 29,000 staffers in 2022 alone, ending the year with 224,000 non-physician staff members. The company has hired 22,000 so far this year, and nearly 10,000 of those new hires are for union-respresented positions. Kaiser said it already pays as much as 20% more than competing health systems.
The company says is it is "confident that we will reach an agreement that strengthens our position as a best place to work while ensuring that our high-quality care remains affordable and easy to access."
From the start of 2022 through August of this year, the Bureau of Labor Statistics has tracked 42 work stoppages of 1,000 or more strikers. Its count shows a third of those strikes were in the health care industry. That's up from 24% of major strikes in 2019, the year before the pandemic. The increased number of health care strikes have happened despite health care workers making up only about 9% of private sector union members nationwide.
Yet, convincing workers in health care to go on strike can be more difficult than in many other industries, according to experts.
"A strike is always emotional, no matter your profession. I don't think many people ever want to go go on strike," said John August, director of of the study of heath care labor relations at Cornell University's School of Industrial and Labor Relations. "But for health care workers, it is different. You're leaving babies, the elderly, the sick. There's no question there's more of an emotional strain."
And even though many of the people who could be on strike at Kaiser are not nurses, it doesn't mean they're not important to patient care, said August.
"Those that work in the kitchen or brings meals to room, that's part of the healing process," he said. "Patients have specific dietary needs. The housekeeping staff keep all the rooms infection free. They're often people who are invisible to the public. But just because they're low-paid and not licensed doesn't mean they're not important."
Among the major health care strikes so far this year was one in January involving 7,000 nurses in New York City. The strikes can have a personal attachment for nurses, like Naniaka Camara, who works at Montefiore Hospital in the Bronx. She grew up and still lives in the area and has gone to the hospital for her own medical care. Camara often recognizes or knows the hospital's patients.

During the strike, she told CNN she loves her job and went on strike out of the frustration of not providing patients with the care they deserve.
"Sometimes I feel like what I did was pointless. I'm apologizing for stuff that has nothing to do with me," Camara said from the picket line in front of her neighborhood hospital. She said she's often late providing medication or other services that patients need due to staffing shortages that can stretch her shifts to 12 or 14 hours. Camara said she goes to bed as soon as she gets home.
"I don't like to think about the previous shift because I won't want to come in for the next one," she said.
"It's extraordinary that number of (registered nurses) are striking," retired union organizer Bob Muehlenkamp told CNN during the New York nurses' strike.
Muehlenkamp spent much of his career organizing and negotiating on behalf of nurses. He said a wage increase isn't the biggest stumbling block for nurses and healthcare workers – rather, they care about how their work gets done.
"There is trauma every single RN goes through in deciding to walk away from patients," said Muehlenkamp. "It goes against every instinct they have."
Nursing shortage put patients at risk
Nursing shortages and difficult work conditions have created a surge in strikes and union organizing efforts, Sal Rosselli, president of the National Union of Healthcare Workers, told CNN in January. While staffing shortage began before 2020, the pandemic was the tipping point for many nurses.
"They learned during the pandemic that their employer was not worried about their safety, or the safety of their patients," Rosselli said.

ECRI, an independent health care research firm, ranks the industry's staffing shortage as the greatest risk to American patients. It doesn't expect that to change any time soon.
"Unfortunately, there's not a short-term fix for this issue," said Dr. Marcus Schabacker, ECRI's CEO, during the January New York nurses strike.
Beyond an aging US population, some of the surge in hospital stays has come from "demand that was pent up during the pandemic, with patients coming back to hospitals for elective procedures."
Schabacker also cites the increasing "need to treat patients with post-covid complications. That all puts additional pressure on a system that for a long time was understaffed."
The nursing shortage is only going to get worse, he said. "A few years ago, we estimated that by 2025 there would be a shortage of 1 million nurses nationwide," Schabacker said. With those who left the field during the pandemic, that could be an undercount, he said.
ECRI data shows the median age of a registered nurse is 52 years old, with 20% of them 65 and older. The dearth of nurses also has created a scarcity of nursing instructors. In 2019, ECRI estimated that over 80,000 qualified applicants were turned away from nursing schools due to a lack of teachers.
"A lot of nurses join because they're motivated to help patients," said Schabacker. "When there is a shortage, they're prone to step in and do an extra shift, come in on weekends. If someone is tired, overworked, sleep deprived, they're going to make more mistakes."
A nurses strike won't help patients in the short term, he said. "It's a sign of true, understandable desperation."
Source: CNN