By Cate Chapman, Editor at LinkedIn News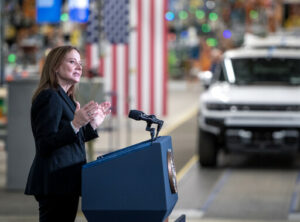 Despite the slowdown in hiring, a "soft landing" may still be in sight for the U.S. economy, according to a survey of CEOs by the Business Roundtable. An index of those execs' economic expectations for the next six months has dipped slightly to 76 — readings above 50 indicate an economic expansion — which is below the long-term average of 84. Plans for capital investment rose 1.3 points and sales expectations held steady. "That's not what you expect to see in a recession," Axios notes. The execs' hiring outlook was the biggest mover, dropping by 9 points.
Execs were cheered by the debt ceiling deal signed into law last week; Roundtable chairwoman and General Motors CEO Mary Barra said it signaled that "bipartisan agreement at a consequential moment is achievable."
By  Neil Irwin
Chief Economic Correspondent, Axios
For all the recession talk out there, a new survey of leading CEO's economic outlook points to something different. They see Aa period of muddling along, with stable sales and capital spending — softer hiring but not the kinds of mass job losses seen in a recession.
Exclusive: CEOs increasingly foresee a "soft landing" for the economy
axios.com • 1 min read
https://www.axios.com/2023/06/07/recession-ceo-economic-outlook-survey
By Joe Little
Chief Investment Strategist at HSBC AM

There's been a lot of important US macro data over the last week or so. Where does it leave us? 🇺🇸
➡️ Last week's labour market data had something for everyone – strong payrolls, moderating wage growth, and a worse mix on the unemployment rate. 🤷‍♂️➡️ Macro data remains noisy – it can be that way at turning points. A nice data series to keep an eye on is the Conference Board's Employment Trends Index. This is a composite measure of labour market metrics, and should reduce the noise. The 'ETI' is also a leading indicator, and points to slowing payrolls in H2.➡️ Meanwhile, combined US manufacturing and services activity is also slowing. Like with other economies, there is already a big divergence between manufacturing (in recession) and services (more resilient). But composite measures of economic activity are beginning to look consistent with other signals for a US recession starting in Q4, and pointing to significant disinflation too.➡️ What does it mean for markets? Despite everything, interest rate expectations haven't changed too much – investors still expect Fed rates around 5% by year end. Market volatility is low, and credits and stocks are performing.➡️ The 'disconnect' between leading indicators and risk assets is very interesting. Corporate balance sheets remain strong, and the default cycle has only just started to deteriorate. But it's remarkable how credit spreads and credit curves remain unmoved by the weaker macro news (see chart).
➡️ So the market narrative continues to be for a US 'soft landing', and no recession, for now. But don't be surprised if that quickly morphs into a 'soft-ish landing' scenario, and then bigger worries for a 'hard landing' as we go through H2.
By Joe Little
Chief Investment Strategist at HSBC AM