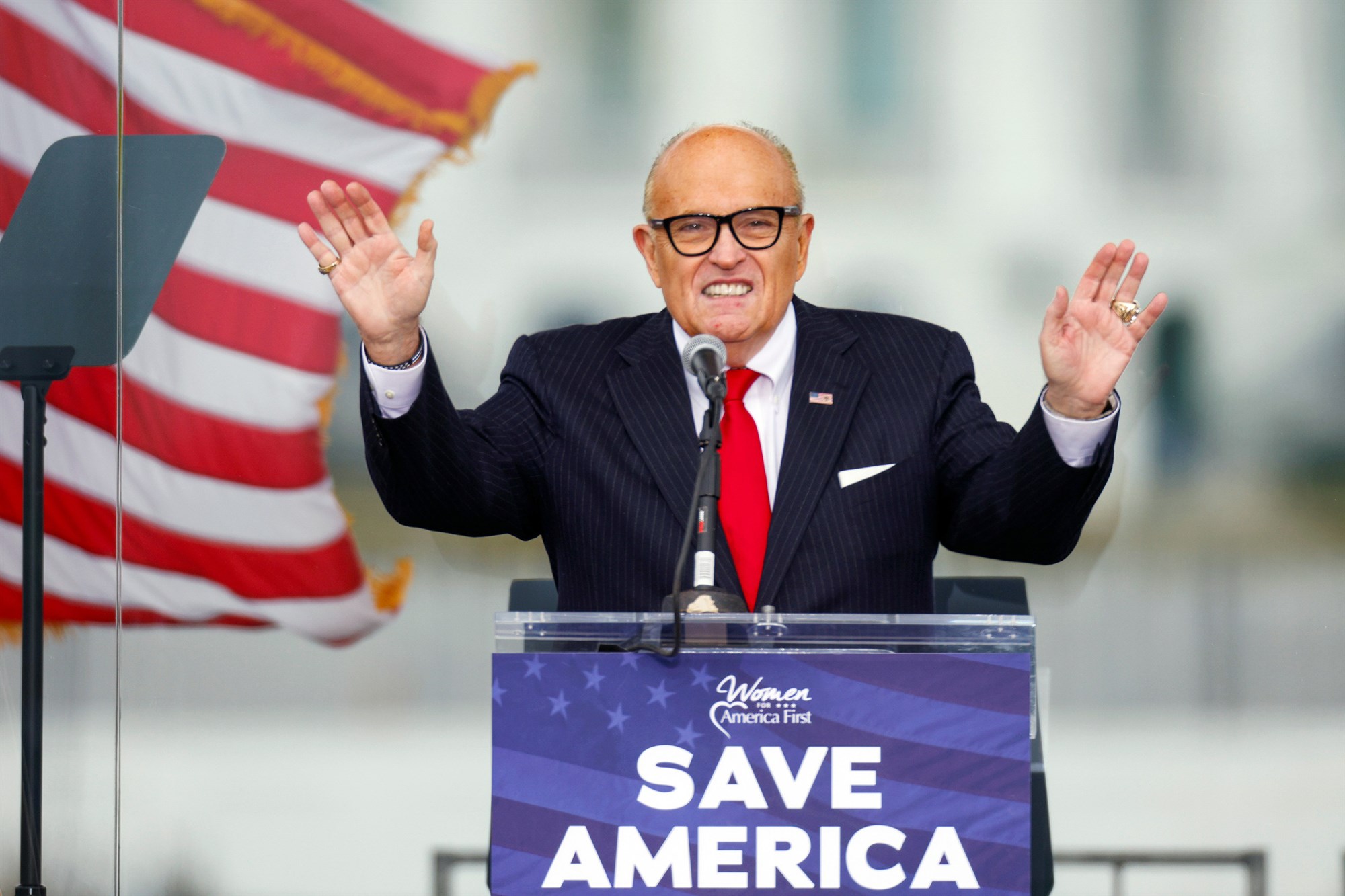 The group is a private professional association and revoking Giuliani's membership does not mean he would lose his law license.
The New York State Bar Association announced Monday that it is launching an inquiry into whether to remove former New York Mayor Rudy Giuliani, President Donald Trump's personal attorney, from its ranks after the insurrection at the Capitol last week.
Saying blame for the violence "lies first and foremost with" Trump, the association added that the president "did not act alone," pointing to Giuliani's comments from the pro-Trump rally held blocks from the Capitol just before the riot. Giuliani made a slew of false claims about election fraud, as well as Vice President Mike Pence's role in the Electoral College vote-counting process.
Claiming that evidence of election fraud was a mere 10 days away from finally becoming public, Giuliani said, "If we're wrong, we will be made fools of.
"But if we're right, a lot of them will go to jail," he added. "So let's have trial by combat. I'm willing to stake my reputation, the president is willing to stake his reputation, on the fact that we're going to find criminality there."

Separately, Brad Hoylman, the Democratic chair of the state Senate Judiciary Committee, formally requested that Giuliani's law license be revoked because of "his participation and role in fomenting a violent insurrectionist attack," according to a letter sent to court Monday and shared with NBC News.
The letter, sent to the grievance committee with the First Judicial Department of the Appellate Division in the state Supreme Court, said the attack on the Capitol "was the foreseeable culmination of increasingly outrageous lies and disinformation being peddled by Mr. Giuliani and many of his associates" and urged the grievance committee to disbar him.
Removal from a voluntary state bar association, before disbarment by the courts, is extremely rare.
"We believe the last time we removed a member who hadn't been disbarred was 1904," said Susan DeSantis, an association spokesperson. "We have had our current bylaws that set up the process for removing a member since the 1970s, and we have never used them to remove an attorney who hadn't already been disbarred."
Giuliani responded to the NYSBA's announcement with a two-word text message Monday night.
"Political act," he wrote.
The bar association said it has "received hundreds of complaints in recent months about Mr. Giuliani and his baseless efforts on behalf of President Trump to cast doubt on the veracity of the 2020 presidential election and, after the votes were cast, to overturn its legitimate results."
---
By Allan Smith