About Skip Miller
Skip Miller is Founder and President of M3 Learning, a ProActive Sales and Sales Management Training Company based in the heart of Silicon Valley.
As President of M3 Learning, Skip has provided training to hundreds of companies in over 38 countries. He created M3 Learning to "make a salesperson better on each individual call." M3 Learning's signature selling methodology, ProActive Selling™, is unique in its high-definition focus on the tactics of selling and proactive sales cycle control.
Skip is also the author of the runaway bestseller, ProActive Sales Management. Ranked #1 by Amazon for five consecutive years, it has been translated into multiple languages worldwide and has become the classic textbook for Sales Managers, both new and seasoned alike.
Skip is also the author of four other bestselling books including ProActive Selling, now in its second edition, Knock Your Socks Off Prospecting, Ultimate Sales Tool Kit, ProActive Sales Management and More ProActive Sales Management and Selling Above and Below the Line. His latest book, Outbounding: Win New Customers with Outbound Sales, has just been released to major acclaim.
A long-term instructor for American Management Association (AMA), Skip has authored numerous AMA training programs including Sales Force Automation: Getting Measurable Productivity Increases, and How to Hire the Right Salesperson the First Time.
He is also the author of M3 Learning's popular Courseware–Sales Management Track including ProActive Sales Management™, ProActive Sales Management II™, Interviewing Hiring Salespeople™; Sales Track: ProActive Selling™, Value!™, ProActive Sales Strategies™; Skills Track: Negotiate!™, Present!™, Perceptual Selling™, and Outbounding™.
Prior to starting M3 Learning, Skip was a Vice President for Dataquest, a leading high technology market research firm. He held numerous positions within Dataquest including Vice President, General Manager–North America, and Vice President for North American Sales and Marketing, During Skip's tenure, the company's revenue and earnings were unprecedented.
Skip can be reached at LinkedIn, skip@m3learning.com. For more information on M3 Learning, visit m3learning.com

Why Did You Become an Entrepreneur, Speaker, Author, Etc. in the First Place?
Pretty Woman. I need to say who, when and how much. Wasn't good at working for others who didn't get it.
How Do You Deal With Fear?
Napoleon Hill. Fear of poverty. I've added fear of rejection and fear of failure. Just need to the the first step.
How Do You Deal With Rejection?
Not well
Name One of the Biggest Challenges You Have Faced and How Did You Overcome It?
Stating a company. Just jumped.

What Piece of Advice Do You Wish Someone Had Given You at the Start of Your Career?
Surround yourself with smart people or get out of the kitchen fast. Never settle for good enough if it's important.
Name a Person Who Helped You Along the Way?
Gary Alexander. Old boss. Just kept telling me I could do it.
What Do You See as Your Greatest Success in Life, So Far?
Still working on that.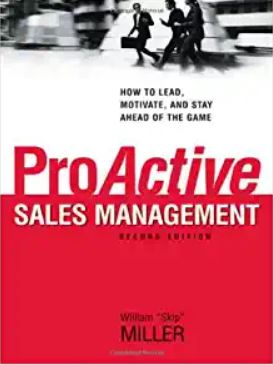 What Book Would You Recommend and Why?
ProActive Sales Management: How to Lead, Motivate, and Stay Ahead of the Game
What's a Personal Self-Talk, Mantra, Affirmation or Self-Belief That Contributes to Your Success?
I have to ability to be the best in the world at what I do, but need to earn it every day.