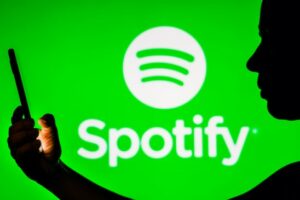 Spotify may have just surged past an important user milestone, but a shrinking percentage of its listeners are opting for a premium subscription. The Swedish-based audio streaming behemoth logged 515 million active users in the last quarter, the first time it has broken the 500 million barrier. While this marks a 5% overall jump in users, just 40% of those are opting for the ad-free subscription, down from a peak of 46% in 2019. Despite the influx of ad-supported listeners, the company, which is yet to turn a profit, saw a 27% decline in ad revenues quarter-on-quarter as the ad market continues to cool.
To curtail losses, Spotify spent the previous quarter scaling back on costly podcast investments, cutting jobs and shuttering its live audio app Spotify Live.
Spotify now counts 210 million premium subscribers and 317 million users on its ad-supported tier.
Spotify is inching closer to becoming a major entertainment and social hub.
Just today, the company announced a strong first quarter user growth but like the rest of the world, ad rev was below expectations.
MAU's grew, premium subs grew, as well as total overall revenue.
The company had some big misses particularly within the podcast space. They spent $1BN in this market, signing on traditional celebrities like, Kim K, Prince Harry, etc…That said, there were certainly some creative rollouts this year.
One I'm especially excited about is the announcement of a multi-year partnership with Markiplier. Spotify leaning into the creator space is a huge win. People like Alex Cooper, Rogan, Emma Chamberlain and now Markiplier will illustrate Spotify's continued effort to diversify their content with some of today's most relevant voices. This will undoubtedly continue to increase their subs, and therefore revenue.More news around Spotify's commitment to creators include their partnership with 
Patreon
 and Creator deals, i.e. 
Jellysmack
's announcement from last week.Excited to see how Spotify continues to evolve!
— I spoke with w Daniel and Spotify CFO Paul Vogel about the company's breakout Q1, and how its push for profits is working.

Spotify Q1 2023 Earnings Summary
Some interesting details came out of Spotify's most recent earnings call, where they announced their strongest Q1 since 2018 when they went public.
The Stats:
✅ MAU's grew 22% year-over-year to 515 million driven by strength in both developed and developing markets, and nearly all age groups.
✅ Premium Subscribers grew 15% year-over-year to 210 million with outperformance across all regions. Congrats Gautam Talwar
✅ Total Revenue grew 14% year-over-year to €3.0 billion, led by Subscriber gains.
Creative and Product:
✅ Announced a multi-year partnership with Markiplier
✅ AI DJ Playlist and innovative vertical scrolling interface
✅ Spotify/Creator deals (Jellysmack announcement from last week🎉 )
✅ Partnership with Patreon to bring subscriber offers into Spotify
My take:
Spotify is the dominant music entertainment company – there really isn't any challenger in the market.
It also has algorithms and AI that I am not scared of – their advancement in these areas increases the discovery of new music and features that delight. (lyrics – awesome!)
This is the biggest value add of the platform and it has never felt like an add-on.
Agree? Disagree?
Spotify's Q1 2023 report highlights the company's potential need to raise subscription prices for improved profitability. CEO Daniel Ek stated, "I feel really good about our ability to raise prices over time, that we have that ability and we have lots of data now that backs that up." This confidence is supported by data from successful price increases in 46 different markets last year.
It will be interesting to see what price point Spotify chooses to potentially raise its subscription fee too across all the territories that it operates in.
Spotify's active users crossed 500 million for the first time this quarter – a big step toward reaching its goal of 1 billion users by the end of the decade. CEO Daniel Ek told me that all the regions are contributing to that growth, including historically stronger markets such as the U.S. and growing ones like India. Revenue growth was a little soft as it takes a quarter for the trial customers to start contributing to the topline. And although the operating expenses were up 36%, the company has no immediate plans to reduce headcount.
Congrats to everyone at Spotify on passing HALF A BILLION users!! We passed 515 million users streaming every month and 210 million paying subscribers by the end of Q1 2023.
Growth this quarter has been electric, as Daniel mentioned during the earnings call, beating expectations across all regions and geographies fueled by tailwinds from investments in our product, brand, and partnerships over the past 1.5+ years.
We had an eye-popping number of net added MAU and subscribers, even as we reduced spending on marketing, in light of the macro environment globally.
We're aiming to reach our 'Tres Commas' moment over these next few years, to sit among other larger scaled consumer platforms including YouTube (2B+ MAU), TikTok (1B+ MAU), Instagram (2B) etc. as we build our base with people young and old around the world.
Spotify Reports First Quarter 2023 Earnings
1. Monthly Active Users are now at 515 million, a 22% growth year-over-year driven by strength in both developed and developing markets, and nearly all age groups.2. Premium Subscribers grew 15% year-over-year to 210 million with outperformance across all regions, led by Europe and Latin America.
2. Total Revenue €3.0 billion, a 14% growth
Source: https://lnkd.in/d8B9rrEM
Spotify reported first-quarter earnings before the bell on Tuesday that came in mixed as the music streamer's margins showed signs of improvement after a tough 2022 for investors.
The company, which saw profits suffer after doubling down on big podcast investments, slashed jobs and eliminated certain initiatives like Spotify Live in an effort to drive profitability and save on costs.
Those efforts, coupled with its largest ever first-quarter growth in monthly active users, helped boost margins. At the same time, a softness in its ad business and further pressures related to foreign exchange hurt overall revenue in the quarter.
Here's what you need to know when it comes to Spotify's Q1 earnings results — my latest for Yahoo Finance in what's shaping up to be a busy media week!