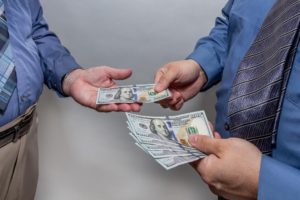 Whether you're a one-man-business looking to expand or have a startup idea that requires taking on staff, hiring employees requires a certain amount of funds behind you. Cover all bases and you'll have a happy workforce. Get your budgeting wrong and staff won't stick around long. Here are the main costs you should consider.
Recruitment
The first step you'll have to take is advertising for employees, which may require paying for ads on a job site or paying a recruitment company. There are free ways to advertise for recruitment such as posting in social media groups and approaching people on LinkedIn, but bear in mind that your advertisement will reach less people. Read up on recruitment legalities so that you abide by equal opportunities laws.
Paying your employees
How much you pay your employees, how regularly and by what means is all up to you. To save costs, many employers may start by hiring people on a part-time basis or offering voluntary positions. For specialist professional jobs, it may be cheaper to outsource at first than to hire full time staff (these experienced staff will want to be on a higher salary). Get ideas of how much you should be paying by looking on job sites at other listings or paying someone to do a salary analysis.
National insurance and tax
As an employer, you will have to ensure that the right amount of tax and national insurance is deducted from your employees' wages. You may wish to download accountancy software that can make this easier or hire an accountant. If you are good with figures, you may be able to handle this yourself but bear in mind that it is time-consuming work (especially if you have multiple employees).
Employer liability insurance
This is a compulsory insurance scheme that every employer has to pay and will protect your staff if they get injured or fall ill as a result of working for you. Failure to pay this can result in astronomical fines. By shopping around online, you may be able to find a good deal (safeguarding your business with various health and safety features can lower costs). There are other insurance schemes available to employers such as public liability insurance and professional indemnity insurance that aren't compulsory but may be worth investing in. Certain insurance provider may provide business packages that contain all kinds of different insurance schemes for a cheaper rate.
Health and safety
Taking on employees requires following certain rules regarding health and safety. These rules can vary depending on the nature of your business so it may be worth hiring a risk assessor or paying for health and safety consultancy to fill you in on the details. Quite often you will need to provide features such as a fire extinguisher, a first aid kit and a health and safety manual. Training courses may be necessary, as well as protective equipment. All this will require funding, so make sure you leave some money aside to deal with these expenses.
Sickness and maternity leave
There are all kinds of rights regarding flexible payment and absence pay that may be worth reading up before taking on employees. If an employee is ill, you will have to pay them statutory sick pay until they recover. If an employee is having a baby, you will have to pay them maternity leave. You are also required to pay for holidays and fund training days. You also have to take into account that employees will come and leave over time – whilst most good workers will give you a warning, some workers may leave abruptly. In the meantime, you may need to hire cover staff or make cutbacks to deal with their absence. Having a bit of money set aside for these events can come in handy.
Employee benefits
Employee benefits aren't compulsory, but having a few in place may make your business a more attractive place to work and deter employees from leaving. Benefits could include end of year bonuses, discounts on various other services, company cars or work phones. Pensions are also an employee benefit that many businesses are slowly introducing, soon to become compulsory. This will need to be funded and may be as much as 3% of the employee's salary. Even having small benefits such as teabags and snacks in the office or a reward at Christmas eventually add up so equally set aside some money here, so that your employees don't get the sense your skimping out.