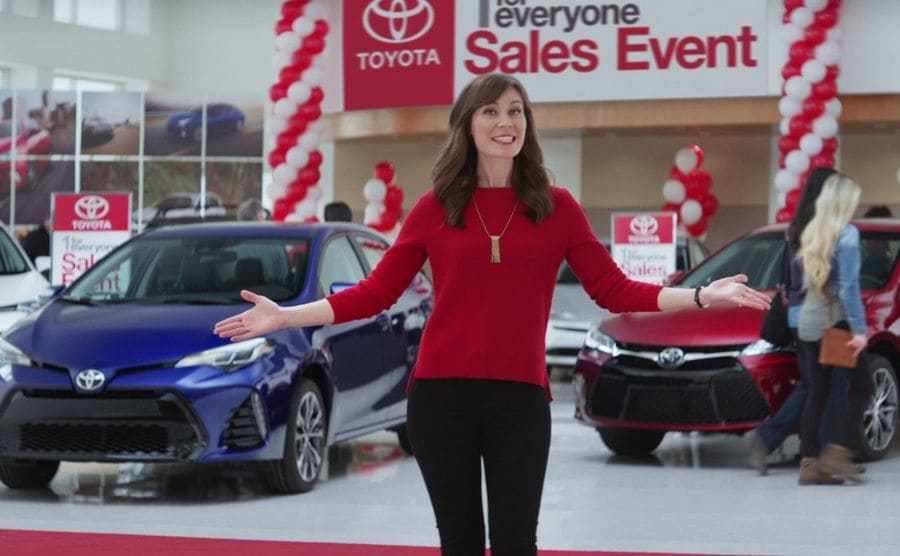 Laurel Coppock: Toyota
Toyota is typically known for making quality vehicles. But, every once in a while, they're known for their commercials with hot women. Laurel Coppock was pregnant during the commercials, but Toyota worked around it.
In fact, she almost didn't get the gig. After a series of letdowns, Laurel decided to quit acting. But when it came to her audition for Toyota, she was just what they were looking for.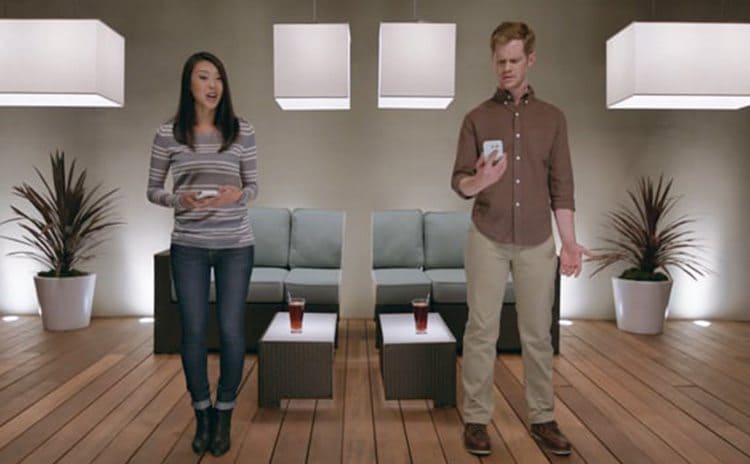 Victoria Park: Samsung
Smartphone companies tend to pick gorgeous girls to pitch their products. To sell their S6, Samsung cast Victoria Park, an actress, and model of Asian descent. Her features and winning smile made Samsung a dime piece.
I bet you wouldn't expect that she's also a film producer. Victoria used some of her Samsung payouts to make films like Everything Before Us, Living with Models, and Sweet/Vicious.

Whitney Hoy: Carmax
Whitney Hoy was the hot red-headed car Barista in the Carmax commercial. That white and blue suit turned more than a few heads. But this Arlington, Texas, native has more than meets the eye.
She's an actress, yes, but writes as well. Her most well-known work is Friday Night Lights (the TV series). She was also in Mistresses and Petals on the Wind.

Vanessa Branch: Orbit Gum
The Orbit Gum catchphrase "Fabulous!" can thank Vanessa Branch for its success. The London, England native rose to stardom using her good looks and saying that single word with her signature smile.
Before Orbit, she was in films like Pirates of the Caribbean, where she played a wench. Then if you love the Pirates of the Caribbean movies then you should have a look at the best Jack Sparrow quotes, as he said some hilarious things! Then there was Gilmore Girls, Lost, and Sonny with a Chance – all during and after her time with the gum company.


Margaret Emery: Samsung
In the Samsung Galaxy S3 commercial, while a man is heading to the airport, his two daughters tell him they made him a video for his trip. That's when we see Margaret Emery, his naughty wife, telling him that she also made him a video.
But hers shouldn't be watched on the plane (wink wink). The commercial was a fun gig for the comedic actress and writer, who also starred in "The Period Fairy" on Funny or Die.

Becky O'Donohue: Hot Pockets
In this Hot Pockets commercial, the girl was Becky O'Donohue. She played Lisa, the sexy redhead who apparently got turned on at the sight of a man-eating a Hot Pocket. If only it were that easy.
But it wasn't the first time she played "the hot girl." Becky also had a small part in I Now Pronounce You Chuck and Larry. She played the human embodiment of Siri, by the way, in The Big Bang Theory.

Catrinel Menghia: Fiat
Part of Fiat's plan was to introduce their little Italian cars to the American marketplace. And so they needed to be creative. Their method was to include Catrinel Menghia, the sexy Romanian fashion model.
And they placed her in not just one, but all of their television ads. And really, who needs to overcompensate with an SUV when you have a model like her in your mini cars?

Sabine Ehrenfeld: Overstock.Com
Meet Sabine, the woman we all know for being that hot chick we saw on ads for Overstock.com. The woman is more than just a pretty face, though.
She's also an accomplished pilot and equestrian! It's almost unamusing to say that she's an actress, too. She's also one of the older ladies on this list, at 56 years old. But we're no ageists!

Cindy Crawford: Pepsi
Let's go old school and look back at this 1992 commercial that still holds the title as one of the sexiest ads ever. If you remember, Cindy Crawford was seen by two boys buying a can of Pepsi from a vending machine.
The line: "Is that a great new Pepsi can or what?" The drooling kid comments: "It's beautiful." Yeah, yeah. They're talking about the can – not the sexy woman. Duh.

Kate Upton: Mercedes-Benz
Subtlety was not what Mercedes-Benz was looking for when they sat in the conference room and thought of ideas for their ad campaign in 2013. When they decided on the right girl, they went with Kate Upton.
It's not rocket science – the woman sold cars. She was sporting a tank top and pair of Daisy Dukes, okay? And let's be honest: women and cars go nicely together.

Mariah Carey: Gillette
Remember the popular Venus commercials? Gillette wanted the most beautiful legs in the United States to promote their then-new Venus Razor. Their "Legs of a Goddess" campaign chose Mariah Carey.
And the company even went ahead and insured her legs for her. That's right, the Grammy-winning music artist has her legs insured. But it turns out that a lot of celebs have insured their body parts.

Emily Ratijkowski: Hardee's and Carl's, Jr.
Hardee's and Carl's Jr. may have taken a turn back to modesty, but was seen can't be unseen. If you remember their popular racy ads, then Emily is no stranger to you.
But, her real rise to fame would come after appearing in Robin Thicke's music video for Blurred Lines. After 2013, she was sought out by groups like Maroon 5 and asked to appear in two of their music videos.

Hannah Ferguson: Carl's Jr.
Hannah Ferguson from San Angelo, Texas, is probably one of the most iconic ad girls ever. The 27-year-old is an accomplished fashion model. You can find her on the cover of Sports Illustrated Swimsuit Edition and in Maxim.
But let's be honest, she's most remembered for that iconic burger bite that seduced every guy. I don't think anyone can forget that Carl's Jr. commercial for that reason and that reason only.

Genevieve Morton: 3 Way
Remember her? She was in the infamous 3 Way bacon commercial. There were two other beauties, too: social media stars Emily Sears and Elena Bell. But it was Genevieve who was the main feature.
Genevieve looked brilliant, eating her burger, while simultaneously starring in one of the most provocative commercials ever. Genevieve also graced the cover of Sports Illustrated six times in multiple countries.

Jillian Michaels: Go Daddy
Go Daddy's 2013 Super Bowl ad raised more than just eyebrows; it was labeled as sexist. And it's really not surprising. But it wouldn't have been a true Go Daddy commercial without at least some misogyny.
Fitness guru Jillian Michaels and racecar driver Danica Patrick painted a naked woman to promote Go Daddy's ".co" domain-name extension. Back in 2009, Go Daddy showed a "live stream" of Danica in the shower. So… there's that, too.

Charlotte McKinney: Carl's Jr.
Like Go Daddy, Carl's Jr. has a type of commercial. And it almost always includes sexy women. Carl's Jr. technically never ran a national Super Bowl ad, but it still got plenty of backlash for the 2015 local spot starring model Charlotte McKinney.
Charlotte promoted their all-natural burger by baring pretty much all as she walked through a farmers' market basically naked. Yes, it made an impression.