According to a Finder.com study that analyzed stock trading data in Canada, an average of 34% of individuals polled said they currently owned shares, with another 20% planning to make purchases in the coming year.
This surge in online trading activity has largely corresponded with the events of the global pandemic, as people found themselves with more time (and money) to invest in new assets and revenue streams. As a matter of fact, the pandemic has more than doubled Canadian interest in stock trading, resulting in a spike in demand for Canada's online brokers and the services they provide.


As the stakes continue to rise, the competition between long-standing rivals such as Questrade and Qtrade has never been as fierce as it is today, but are they still the best online brokers in Canada, or is their a new kid on the block that stands above the rest? Let's find out.
The Best Platforms For Fee-Free Trading In Canada
Now that many people navigate their lives from behind a screen, it's become commonplace to perform tasks such as shopping, working, and socializing online. Therefore, it only makes sense that the investing world is made more available to independent traders who want easy access to stocks, global currencies, and other digital assets.
With this in mind, online brokerage services and trading platforms offer some of the lowest fees around, especially when compared to full-service investment options provided by financial advisors and bricks-and-mortar firms.
Questrade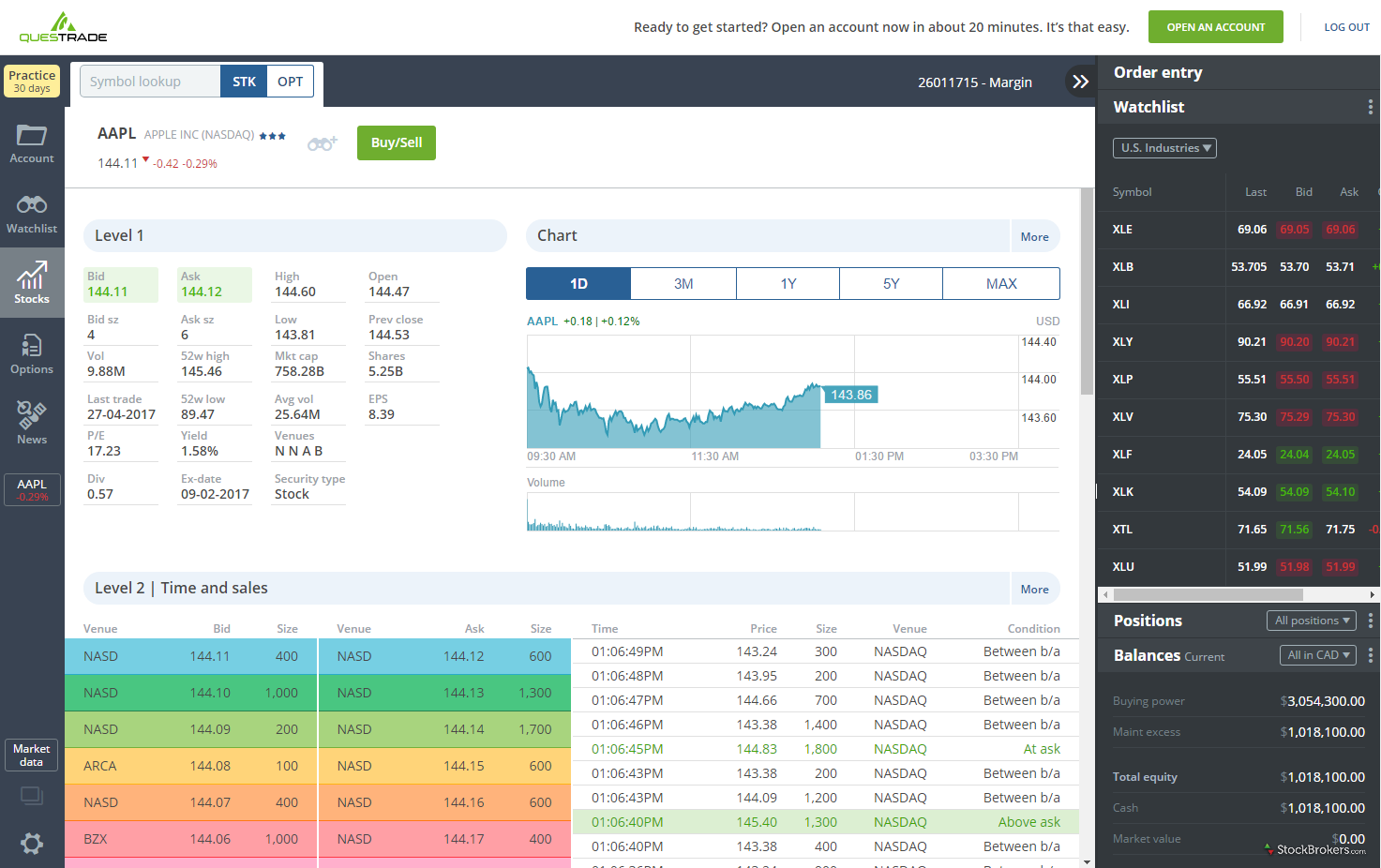 Costs: $.01 per share ($4.95 min / $9.95 max)
Established in 1999, Questrade is one of the longest-standing yet fastest-growing online brokerages in Canada. It has consistently been one of the go-to trading platforms for both new and experienced traders due to its competitive fees, excellent standard of customer support, variety of research tools (Market Intelligence, Intraday Trader, IPO Centre), and easy onboarding princess. On top of this, ETF purchases are free, and the company offers a DRIP which automatically reinvests investor dividends, giving an easy option to manage your retirement funds.

Questrade is also an excellent option for trading U.S. stocks since the foreign exchange conversion costs are only charged once, and there are no fees associated with creating a U.S. dollar account. Finally, if you trade regularly enough, you may upgrade to a more advanced trading package with additional research tools and a lower per-transaction charge.
Qtrade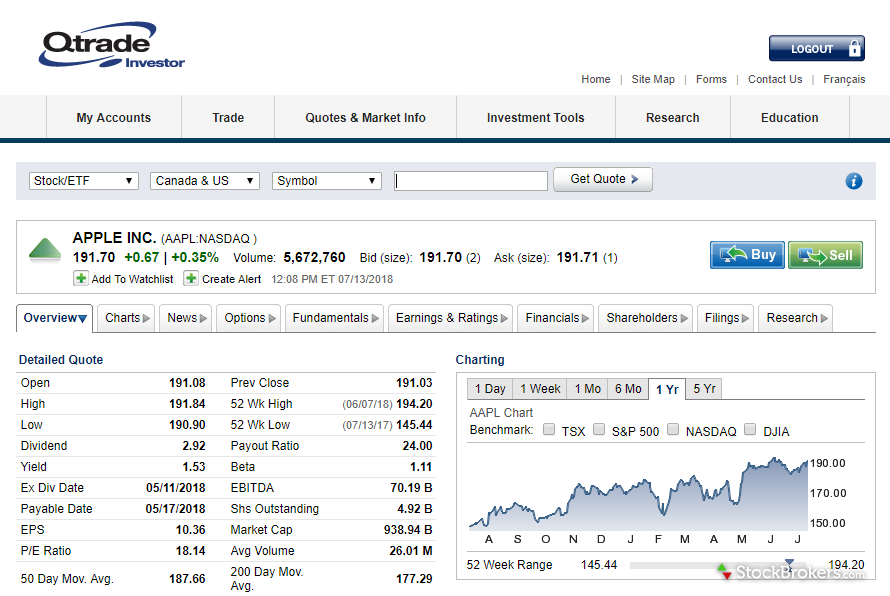 Qtrade is a stock brokerage firm based in Vancouver, Canada, which was also founded in 1999. Since then, the company has ranked as Canada's number one online investing platform 23 times in the past 16 years, which means they must be doing something right.
While the platform is a little more dated than some of the newer services on the market, Qtrade offers an easy onboarding process, excellent customer support, and a wide range of accounts and trading services, depending on the style of trader you are. For example, the brokerage offers a simple cash account where you can easily buy stocks, bonds, and mutual funds. On the other hand, you could opt for something more sophisticated, such as a margin account where you have the ability to short socks and leverage your positions to increase potential returns.
When you couple this with their industry-leading tools for both new and expert investors, Qtrade is certainly a solid option if you're looking for a new place to conduct your trades.
Wealthsimple Trade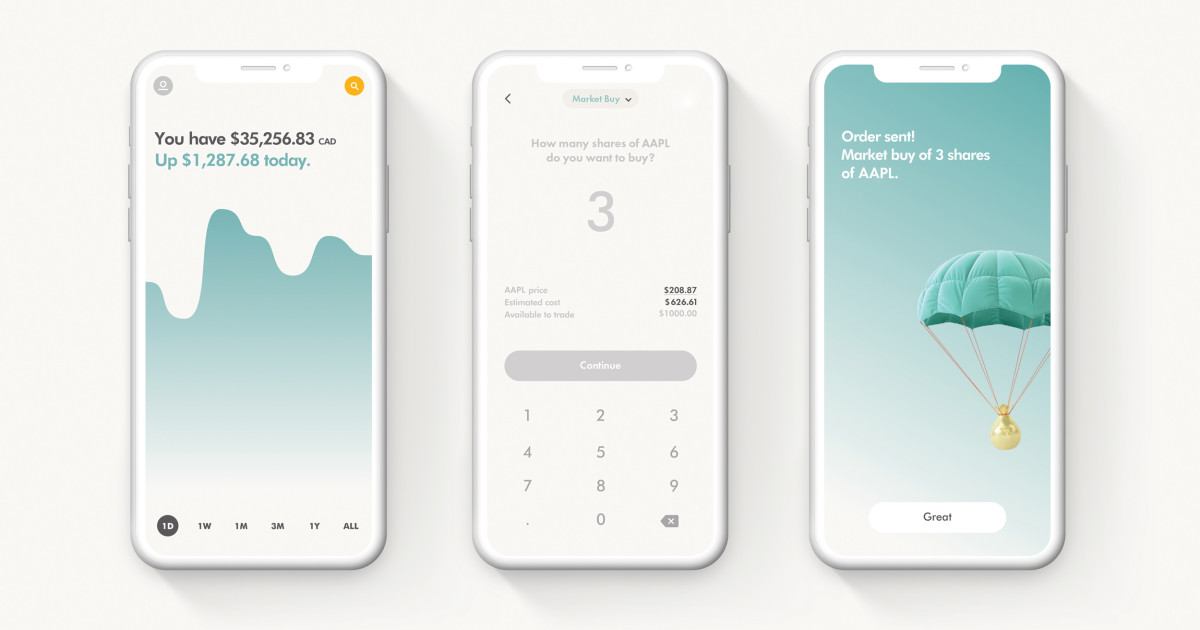 Wealthsimple is a Canadian online brokerage platform that is often referred to as Canada's response to the popular Robinhood app in the United States. The online digital investment service simplifies the investing process, allowing almost anybody to invest in a professionally managed low-cost portfolio without requiring a significant upfront commitment.
The company combines advanced smart technology with expert financial advice to help consumers manage and grow their capital in a globally diversified portfolio of low-cost index funds, often resulting in some of the greatest returns available while minimising tax liability.
Using a TFSA, RRSP, or non-registered personal investing account, you may purchase and sell thousands of stocks and ETFs on leading Canadian and US markets without paying any fees.
When you create an account, you'll be asked a number of questions about your financial position and aspirations, after which Wealtsimple will recommend a portfolio based on your requirements and risk tolerance. This bespoke service is something that has typically been exclusive to high wealth investors, but through Wealthsimple, everyday people can benefit from many of the same perks offered to those who invest with hundreds of thousands of dollars, even if they have an account as small as $100.0
 Come the banks
Of course, the banks weren't going to sit idly by while a whole host of new companies stroll into the industry and seize their market share. Many of the biggest banks have started offering some form of stock investments solution for their customers, whether indirectly through a savings account or an index tracker or direct investing services, such as the Royal Bank of Canada's Direct Investing platform.
The Bank of Nova Scotia has also released a standalone direct investing and online trading platform, which stands to rival the giants of the space such as Questrade and Qtrade, offering similar investment options, analytical tools and resources, and a choice of powerful trading platforms that let you manage your investments from your computer or mobile device.