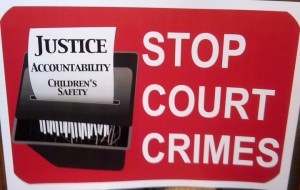 Marin County, California has served as "Ground Zero" in the ongoing fight against judicial corruption, thanks to decades of public outcry, FBI investigations, judicial recall attempts, state and outside audits, and privately commissioned reports about the serious harm that the courts are causing in residents' lives.
The Marin Courts have engaged in questionable behavior for as long as anyone can remember. The 2006 arrest of Marin's top court official John Montgomery on felony conflict of interest charges barely raised an eyebrow. A 2009 shredding party orchestrated by current Marin Court Executive Kim Turner, which delayed an official state audit of the Marin Family Court by more than six months, was justified in a report from the Administrative Office of the Courts (AOC), the staff arm of the California Judicial Council, despite a public protest and a call for a criminal investigation into the evidence destruction.
A few weeks ago, family law attorney Barbara Kauffman filed a complaint with California law enforcement and judicial oversight officials alleging that Marin Superior Court Family Law Judge Beverly Wood and Marin Court Executive Officer Kim Turner participated in backdating official court records. The complaint requests a criminal investigation of Wood and Turner and, if appropriate, indictment for evidence tampering and obstruction of justice.
Ms. Turner's 2009 destruction of child custody mediation working files took place while she was serving as a member of the Judicial Council of California. Ironically, Turner received the California Judicial Council's 2013 "William C. Vickrey Leadership in Judicial Administration Award." This award apparently honors individuals in judicial administration for "significant contributions to and leadership in their profession." In making the award to Turner, the Judicial Council noted that she "has been a very active member of a working group improving trial court records management."
Kauffman's complaint alleges that the court records that were backdated by Turner and Wood include the official Marin Superior Court register of actions and a minute order pursuant to which Wood herself undertook to strike a judicial disqualification request lodged against her. Wood and Turner reportedly have refused requests to issue and serve an official Notice of Entry of Order stating the actual date on which the minute order striking the disqualification request was entered.
This year alone, at least two judges, Ohio Judge Tracie Hunter and Ohio Judge Harry Jacob III, have been indicted on evidence tampering charges. Texas Judge Denise Pratt recently resigned to avoid criminal prosecution. Two of these three cases directly related to backdated orders.
The people of Marin County, and all Californians deserve fair and lawful courts. Let's hope that California law enforcement officials finally step up and do something to create some judicial accountability where none has existed. Someone needs to act now to help restore the public's trust in their local court system, which is in desperate need of both sunshine and reform.