How many times have you been so angry at someone but you can't let it out in the moment? Whether it is an argument at work or some tension in a dorm, these conflicts don't always lead to direct confrontation. Instead we vent our frustrations and anger passively which is frustrating for everyone involved. Want to make sure someone knows they messed up? Then go for this classic trick: the hilarious passive-aggressive note. If you're looking for a little inspiration look no further – these notes are both diabolically genius and absolutely hysterical.
1. Easily Scared Programmers
Sometimes using humor to get your point across is the best way to go. When these programmers found they were distracted by the noise coming from the surrounding offices they decided to put up a note that would get people's attention.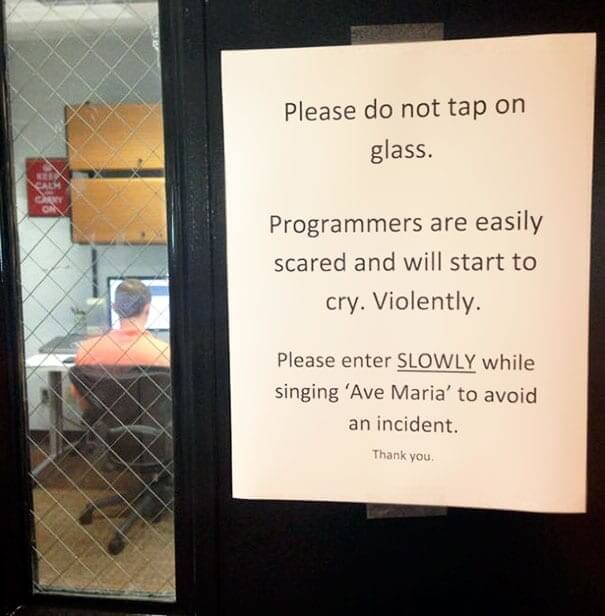 It sure worked! Not only did it reduce the noise levels but it also made their colleagues smile. Plus every now and again someone would walk into the office and gently sing Ave Maria to them. Now that's a great note!

2. None For You Debbie!
When you open the fridge and see that your roommate has done this, it may be time to move. When Debbie opened her fridge and saw that her roommate had marked all her own food she was a little annoyed instead of feeling shamed.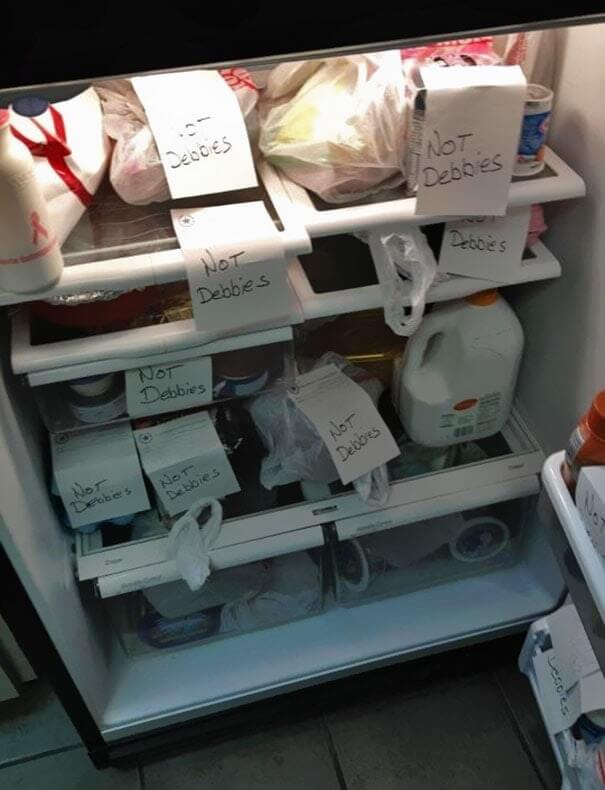 However, we stand with the roommate on this one. If Debbie is going to steal someone else's food she deserves to find something like this. Judging by how little food Debbie has in the fridge, it may be time for her to do some shopping.


3. Printer On The Fritz
This workplace joker is on fire with this little note! When the printer button was accidentally broken, he left this funny note to troll his coworkers but little did he know it would all backfire. While you may think he got the last laugh, that wasn't exactly the case.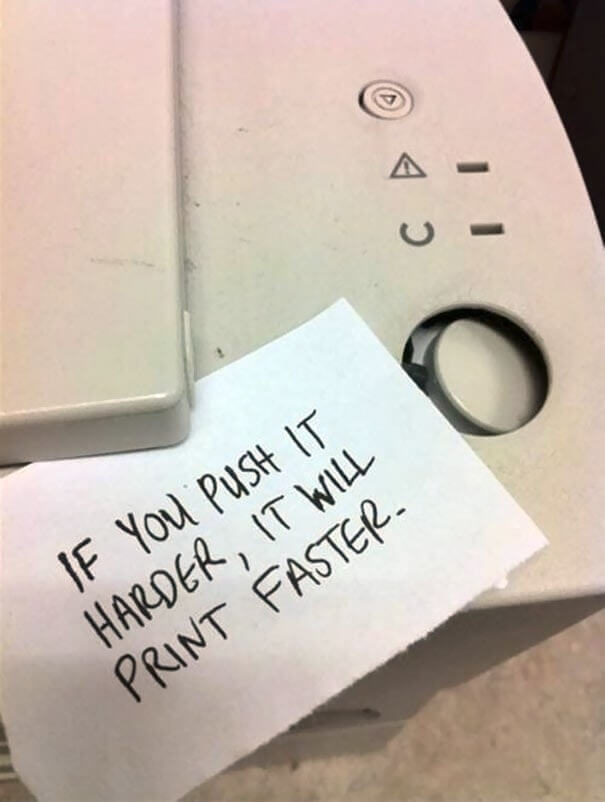 Some of his coworkers must have believed his little note, because ever since the printers button is broken on a regular basis. Hopefully, he learned not to leave notes that would confuse his more gullible coworkers.
4. Too Busy For Service
Being a server in a busy restaurant can be extremely stressful and unrewarding, especially when the customers are rude and obnoxious. When this server found this rude note written in ketchup, they immediately shared it on social media.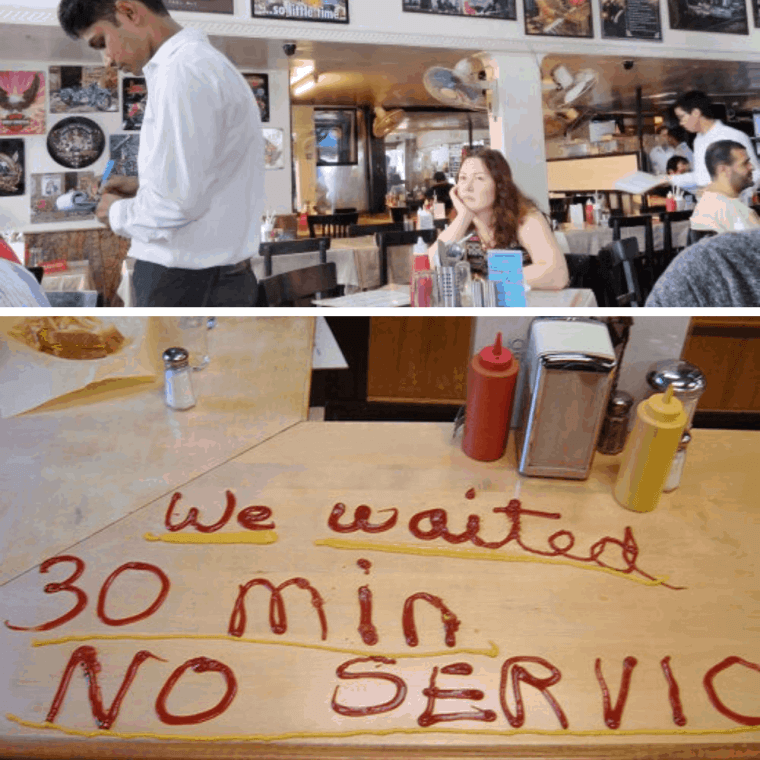 People online couldn't believe how rude these customers had been, and pretty soon the pic went viral. We hope that when the culprits saw their handiwork online they felt pretty foolish about how they had behaved!
---
10 Hilarious Passive Aggressive Notes So Funny You Can't Even Get Mad At Them
---
5. All Clogged Up
Sometimes living with girls can get just a little bit messy. While for the most part, it's not too much of a big deal, this boyfriend decided to make a stand. Hopefully, his decision didn't backfire on him!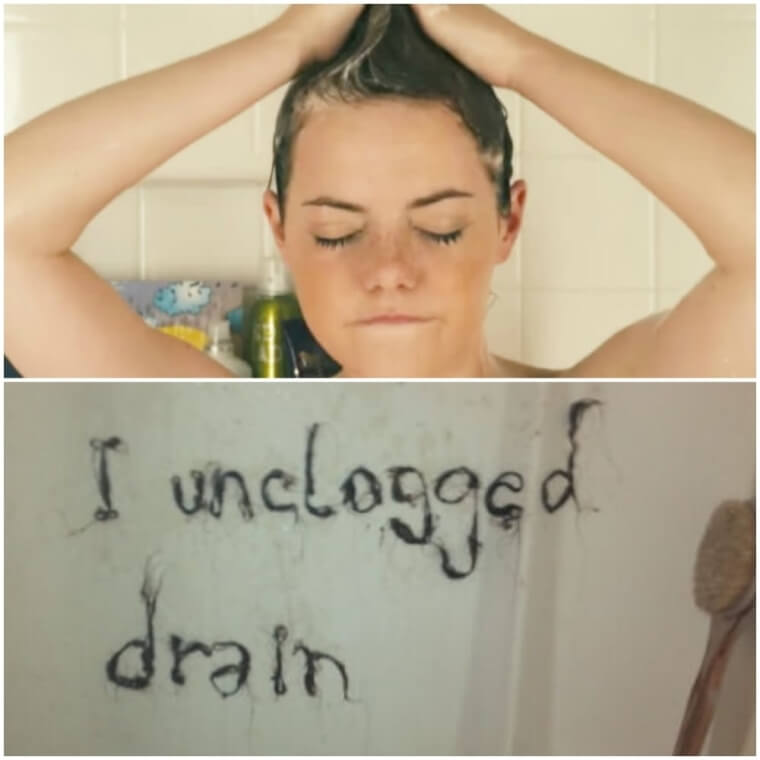 When his girlfriend kept bugging him to unclog the shower drain he eventually broke and decided to do it. However when he discovered it had been her hair that had created the problem he decided to make this statement/ artwork. Naturally, his girlfriend was too happy about it.
6. Straight To The Point
No one likes washing dirty dishes, especially when they are not your own. So, when this annoyed woman found her roommate's dishes abandoned in the sink, she decided to leave a funny but poignant note that her roommate wouldn't argue with.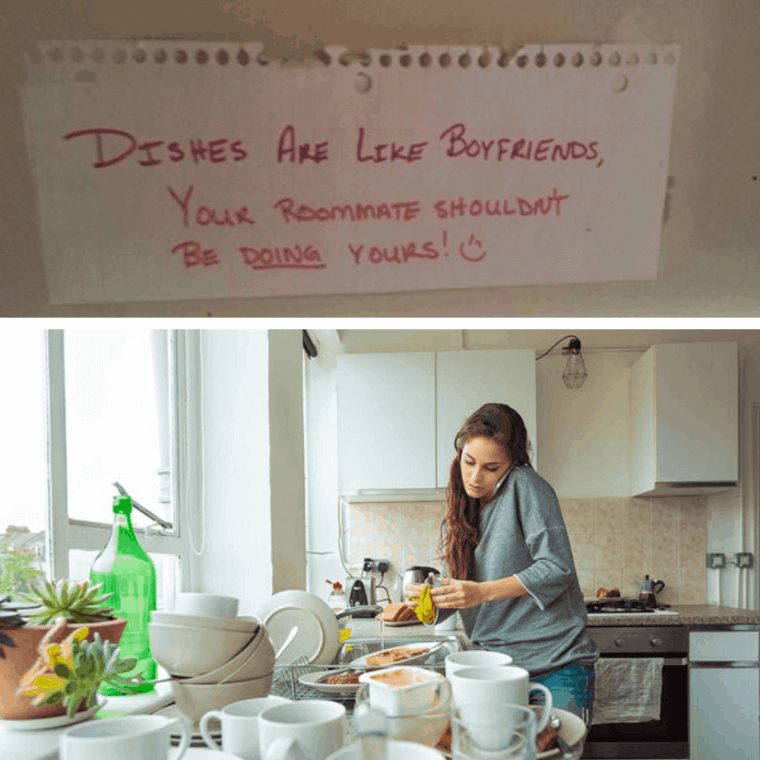 We have to say, we think this message really gets the point across. After all, how can you argue with a note like that? Not surprisingly this roommate never left her dishes unwashed again.
7. Nobody's Getting Out Today
When this friendly Grandma left this note to remind her family to keep the back door shut, she never imagined getting this kind of response. After just one day she was shocked to notice that someone had written all over her neat little note.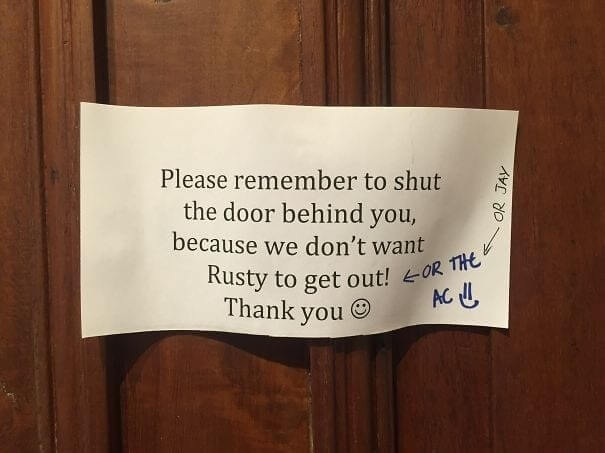 First, her husband Jay had added the AC to the list. Then a few hours later, their son-in-law added Jay's name as well. It looks like neither Rusty nor Jay will be escaping the house anytime soon!
8. Too Far, Or Not Far Enough?
Sometimes passive-aggressive notes can be taken a little bit too far. Take this note for example. Instead of just telling their roommate the milk was off, this person staged this elaborate setup for his roommate to find.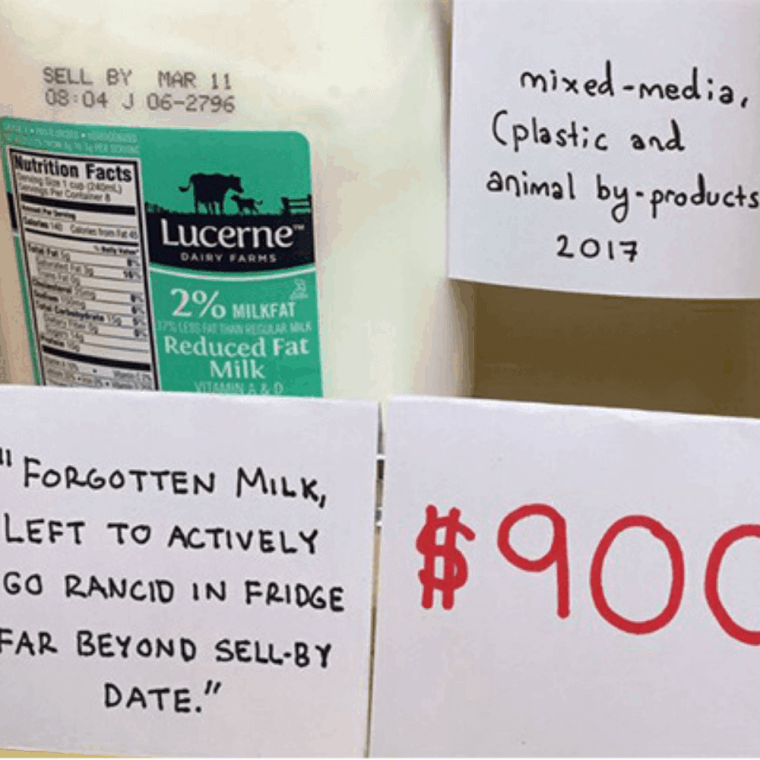 With not one, but three annoying notes this roommate made his feelings clear. You have to wonder though, why didn't he just throw the milk out and live his life? We guess some people are just a little bit extra.
9. The Perfect Brew
We guess this is what happens when two passive-aggressive people cross paths and face off against each other. Instead of a simple back and forth face-to-face, it seems these two had a lot to say about brewing the perfect pot of coffee. And thus coffeegate began!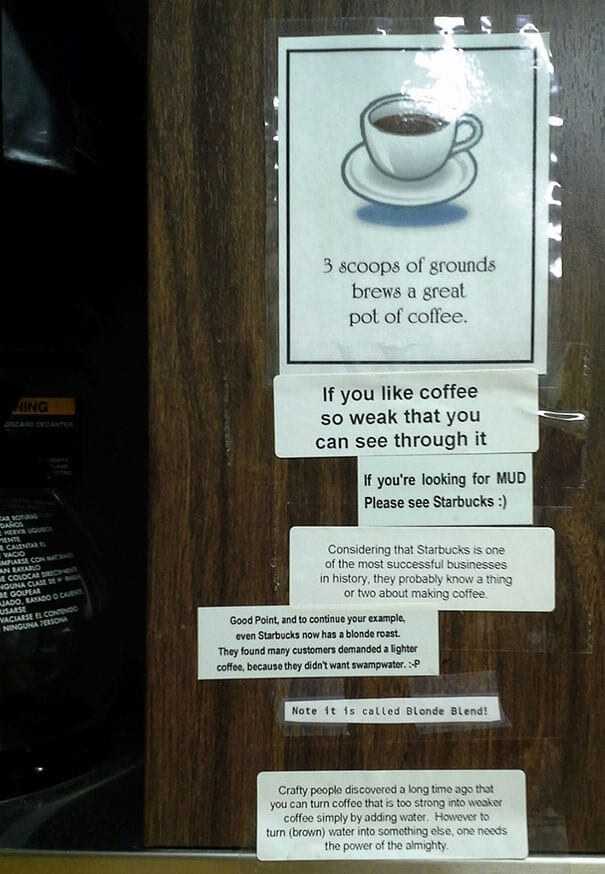 Instead of just talking to each other face to face, these confrontation-phobes decided to hash it all out with a series of snide and overly friendly notes that littered the office walls. It looks like eventually, they ran out of space for new notes, otherwise, this could have gone on forever!
10. A Story With Pictures
Sometimes you have to get creative to get your point across, and this sign is the perfect example. Not only does it use a little humor, but the colorful picture of a hungry toilet adds nicely to the overall effect.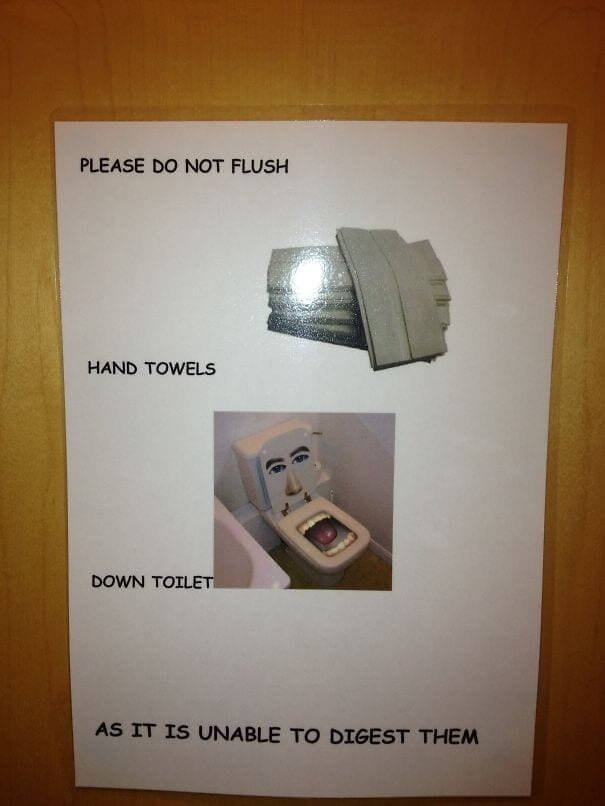 However, we would just like to point out that the hand towels wouldn't be a problem if the staff just kept the toilet paper well stocked. It seems like all this fuss could have been prevented with a trash can and an adequate toilet paper supply.