Former California governor and international movie star Arnold Schwarzenegger will take over the Apprentice franchise, NBC announced Monday.
"We are thrilled to be opening a powerful new chapter in the story of the Apprentice franchise," said Paul Telegdy, president of alternative and late night programming for NBC Entertainment. "Arnold Schwarzenegger is the epitome of a global brand in entertainment and business, and his accomplishments in the political arena speak for themselves. It was Arnold's personal passion for the format that Mark Burnett and Donald Trump built over the last decade, as well as his fresh take on how to take it to new heights for today's audiences, that made him the man to hire. The Celebrity Apprentice … will be back!"
Celebrity Apprentice will return for the 2016–17 television season with Schwarzenegger as "CEO."
"I have always been a huge fan of The Celebrity Apprentice and the way it showcases the challenges and triumphs of business and teamwork," Schwarzenegger said in a statement. "I am thrilled to bring my experience to the boardroom and to continue to raise millions for charity. Let's get started!"
Added executive producer Mark Burnett: "After leaving the show to run for political office, Trump made it clear that he wanted The Celebrity Apprentice to be able to continue to raise millions of dollars annually for worthy causes, and now NBC and I have found an amazing new leader to do just that. Gov. Schwarzenegger will use his vast and highly successful business, political and media experience to drive this hit franchise to new heights."
NBC severed its business ties with Trump back in June in the wake of announcing his presidential run and, more problematically, making controversial comments about Mexican immigrants. On Friday, NBC and Trump settled their legal disputes, paving the way for Trump to make a ratings-boosting appearance on The Tonight Show.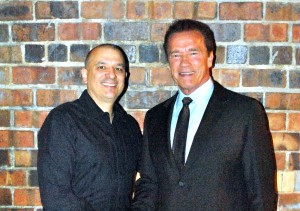 As a fellow immigrant, I believe Arnold is fantastic choice. Also,  because of his massive popularity he bring in new and bigger audience," said Bert Martinez.  Arnold, most recently appeared in the film Terminator Genisys, is a rather inspired choice to take over the franchise, and a name that's so impressive that it is surprising NBC was able to make a tempting enough deal to lure the 67-year-old icon. However, producer Burnett has a history of thinking big and pulling it off — such as when Burnett launched NBC's The Voice in 2011 with Christina Aguilera and Adam Levine, among others, who at the time were considered impressive names for a reality show.
The actor is sure to bring a different style to the show than Trump. And it's a pretty safe bet that instead of Trump's signature line "You're fired," Schwarzenegger will eliminate contestants with a different phrase and the actor/businessman as many to choose from: "You're terminated or maybe Hasta la vista, baby"