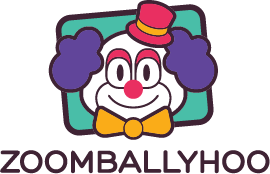 FOR IMMEDIATE RELEASE
Los Angeles, CA (June 16, 2020) In today's environment, when people can't be together in person to celebrate birthdays, graduations and milestones, ZoomBallyhoo brings the party to your family and friends – while keeping them safe, entertained and amazed. ZoomBallyhoo provides clowns, magicians and ringmasters to virtual kid's parties, happy hours and business meetings.  Video conference appearances area available from a five-minute pop-in to a one-hour guided party, and more.  For more information or to book a performer, visit www.zoomballyhoo.com.
Zoom Ballyhoo performers are magicians, and former clowns, ringmasters with Ringling Bros. Barnum & Bailey Circus who performed at Walt Disney World, Universal Studios and Sea World, and will now join video conferences, delighting children of all ages with engaging and personal online performances. All of ZoomBallyhoo's performers have been background checked.
ZoomBallyhoo was started by Todd Zimmerman, creator of Odd-O-Ts entertainment. Todd's deep passion for the performing arts comes from years of training and improvising including a multi-year stint with Ringling Bros. and Barnum & Baily Circus. "With the live entertainment industry on pause, we have pivoted online, but still offer interactive and personalized performances like we always have," says Zimmerman. "Our desire to continue performing during this difficult time led to ZoomBallyhoo, a way to entertain people and help them celebrate occasions in living rooms and board rooms everywhere."
For more information, go to www.zoomballyhoo.com