Spidey's Financial Sense
We all know crime doesn't pay off, and it seems fighting crime doesn't either! Poor Spidey must be having a bit of a tough time financially, why else would he be at Walmart, outfit and all, searching out good deals.Lucky for him, Walmart is a place where superheroes and super discounts meet. Wealth and fame he ignores, action is his reward!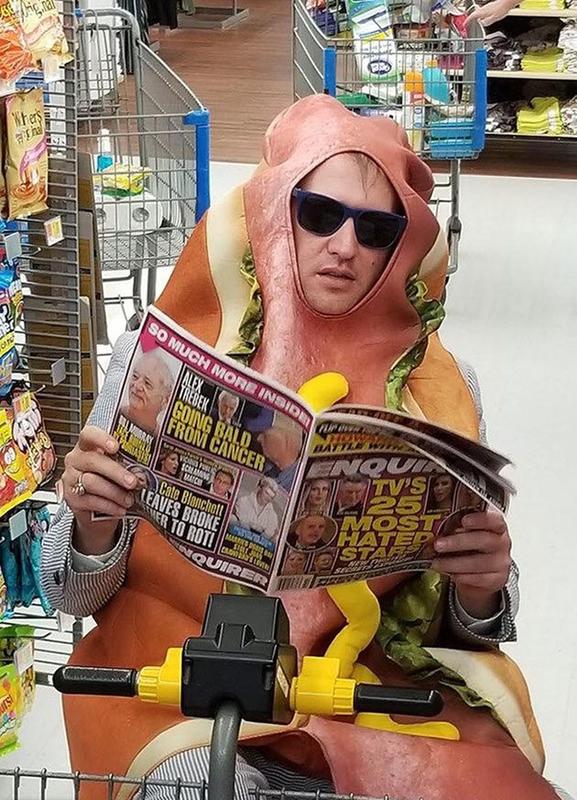 What A Weiner
Okay Mr. cool guy, we see you. Hot dog costumes like that don't happen everyday, but it still begs the question: Why today?
Maybe he just wanted to go totally incognito for that tabloid reading he is doing at the moment. Embarrassing for some, a guilty pleasure for others. And for this guy, it seems to be both. Furthermore, he seems to be posing as a handicapped shopper. Is that even true? Maybe he is just trying to avoid the slippery mess he created in aisle after aisle, a trail of ketchup and mustard. Yum?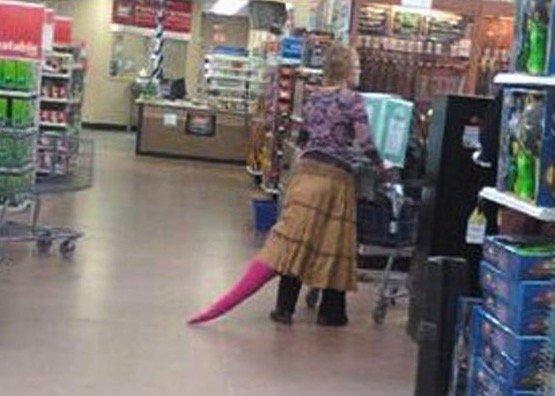 I Love You, You Love Me
Finally, Barney's wife! The world has been searching for her all this time, thinking she was extinct! Calling the Discovery Channel, hello?
But seriously, that hanging dino tail could not have been an accident. Perhaps she is a birthday party entertainer and came straight from the job? Or maybe, evolution is happening right before our eyes? Walmart seems to be a welcoming place for the wacky and weird, but it looks like she is loading up on booze. Lady, maybe lay off the drinks! What are you wearing in public?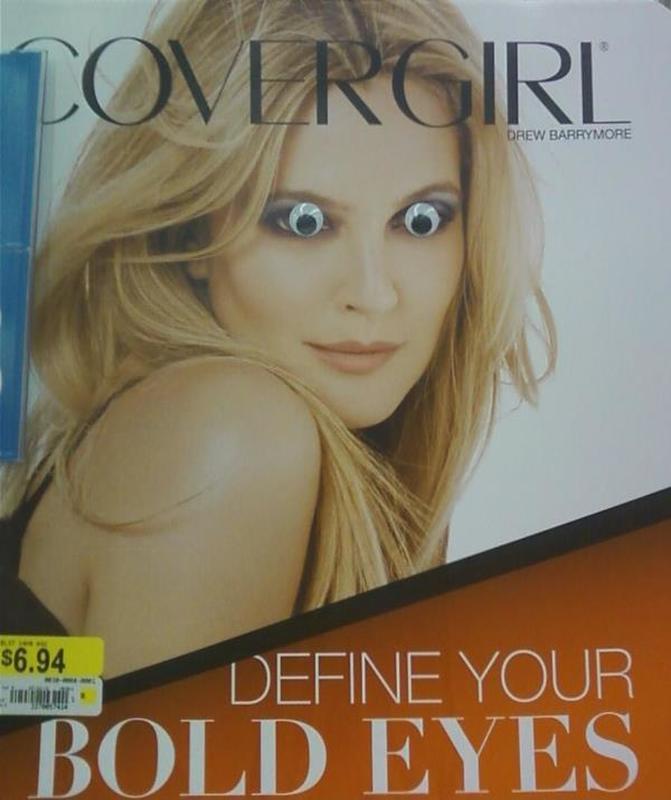 Good Ol' Fashioned Fun
Some hilarious kids took it upon themselves to lighten up the day of whoever visited Walmart that day.
I mean those googly eyes on the face of cover-girl Drew Barrymore are just priceless!

Child Protest
Children are known to have temper tantrums in the most inconvenient of places, like Walmart for example!
This kid was clearly not impressed with the fact that his dad was getting yogurts instead of candy and he probably wanted to ride with his dad on the electric chair too! Either way, Walmart got a free floor sweep out of it.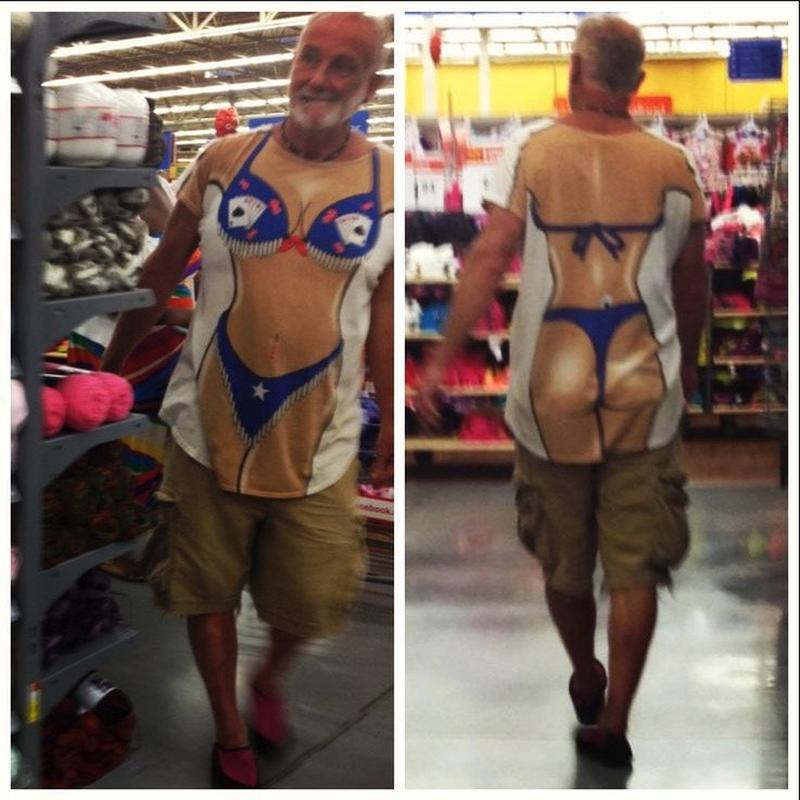 Bikini Boy
Surely, this ranks among the best optical illusions in Walmart history. Just under those curves is plenty of macho manliness, but fellow shoppers are none the wiser. Will he purchase what he has already tried on?
Hard to believe this is for sale, in the men's section. That's because it isn't! Mr. gentlemen has wandered in to the wrong dressing room, today. But clearly, he doesn't mind the result. Off he goes, down the aisle with a style all his own. Not too matchy-matchy — and at rollback prices, too!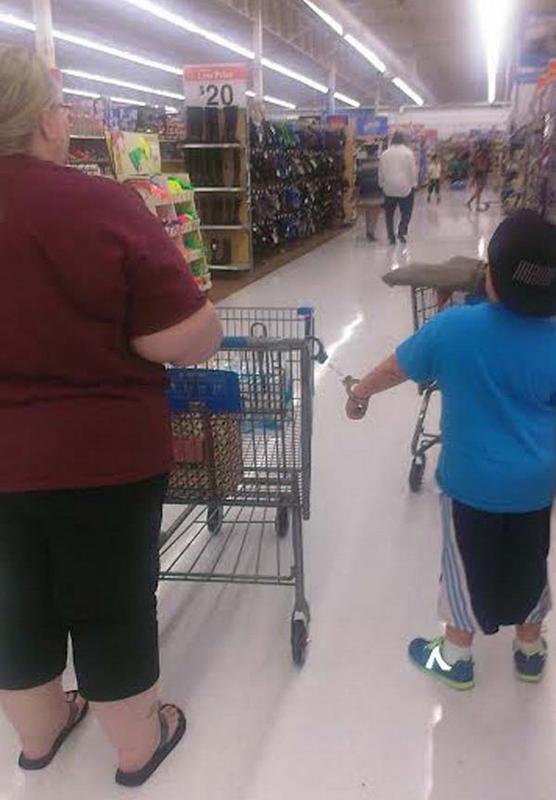 Shopping "Chain"
This is certainly one way to keep your kids close, but it may not be teaching them the best life lesson…no one wants their kids to get used to being in cuffs after all!
Our best guess is that his mother just got fed up with her little one disappearing on her and decided to go to some extreme measures.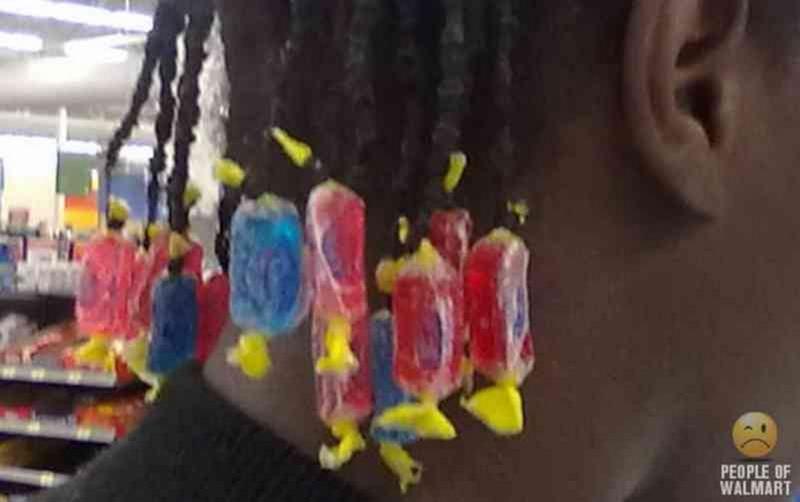 A True "Wrapper" Yo
It takes one special kind of person to decorate his hair with candy, we all know that leaving a Joly Rancher in your pocket could lead to a sticky mess so maybe tying them to his hair isn't the worst idea!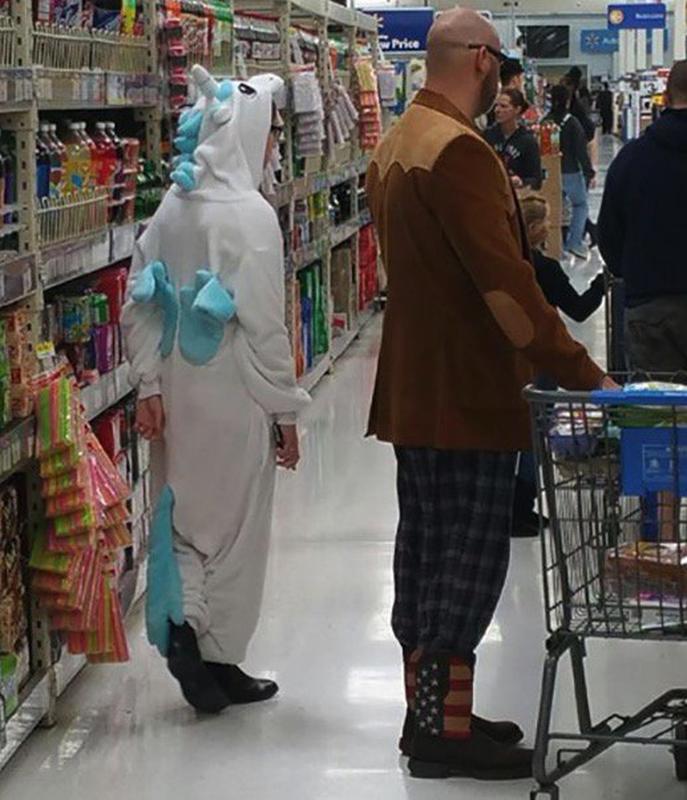 Magical Moments
It seems this family loves magical role-playing. We have the father with his Robin Hood style costume, and a unicorn daughter. What's the connection? Truly, hard to say without direct interrogation.But what's up with those Americana socks?
It's so hard to figure out the message here, but he clearly wants people to start thinking. Fair enough. But the unicorn onesie probably isn't as deep. Everyone loves a good magical horned horse, flying through the clouds straight to Walmart. No judgement, just questions. No one understands!
Super Cool Dude
What is the purpose of the frozen meat section in Walmart if not to cool down after a long, hard day? This customer decided he needed a refreshing moment in the middle of his shopping spree. And who could blame him?
Deal days can get pretty intense down at Walmart. With so many options, it can become simply overwhelming to make the right decision. Anxiety might even kick in! The solution? It might be right under your nose, in the cold section. Let's just hope for everyone's sake that he didn't sweat on the meat!

Heels AND A Walking Stick?
Business at the top and party on the bottom it seems is this guy's motto. Its rather strange that he has a walking stick, yet he decides to wear heels.
Listen, we don't judge anyone's choice of clothes, but this is just plain contradictory!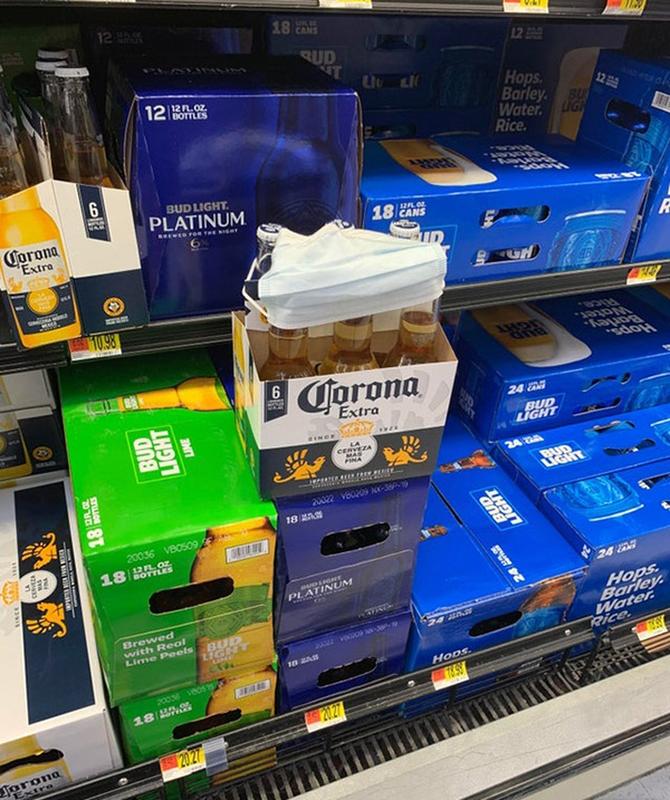 Masked And Ready
It seems there has been a big misunderstanding here. Walmart employees do try their best, at least sometimes. But putting a medical mask on Corona beer? Why, that's just lazy thinking!First of all, the virus has nothing to do with this delicious Mexican brand!
A little lime and a little light lager never hurt anybody. Second, there's no reason to protect the beer itself from illness. These bottles can't get sick, can they? Overall, a waste of a precious mask. Walmart, get with it!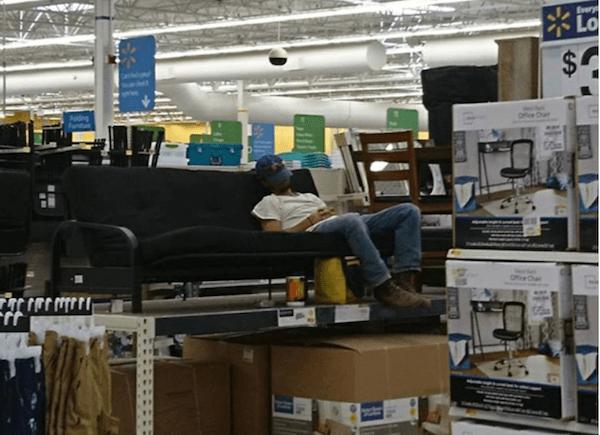 Hobo Sweet Home
There's no doubt that a power nap during their day boosts energy. Especially if there was a carb heavy lunch! But right here, in the middle of the store, one guy seems to have made himself a little too comfortable. He's gone full siesta, and there's no turning back!
Maybe the wife dragged him to Walmart to help with all those bags, but he's rebelling. Maybe he's an independent man bored with the options in stock. Or maybe, he's just homeless. Increasingly, Walmart does seem to be just the place to blend in, sit down, and zonk out. Futons are hard to resist!

I Think I'll Use The Next Counter
They probably don't get paid much so its no wonder the standards of the workers at Walmart aren't the highest.
I mean, how would you like the guy who touches literally every single thing you buy to be sticking his hands far down his pants moments before?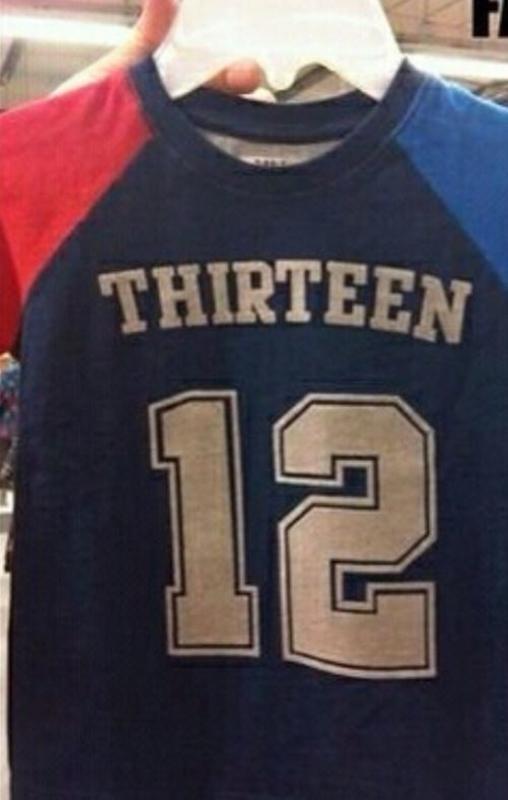 Numbers Can Be Confusing
Okay so this may not be of a customer doing something wacky, but it HAD to make the list! The Walmart official purchaser is probably hitting himself in the head right now.
It is certainly not a practical joke and has to do with a serious flaw in production but let it be known if I saw this it would be the first things I'd buy!