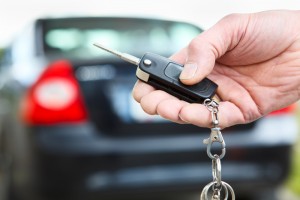 A typical day at a dealership includes showing new vehicles to customers, negotiating contracts with customers, and providing test drives for customers. Although dealerships are in the market to sell a product, it's the customers who make the decisions. If customers are not happy, there is a direct correspondence in sales. As a dealership, you may not be able to address all customer issues and make everyone happy, but there is a good chance that you can improve your dealership by focusing on customer service issues.
DealFinder
DealFinder is an online website that specializes in providing services for automotive businesses such as dealerships to improve their business. Their services can be used to improve customer relationships, reduce customer loss, keep customers informed, and increase automotive sales at dealerships.
The online service is built around a business development center that can work with dealerships to design and develop new sales initiatives and maintain or build new customer loyalty programs. They also have automated programs for marketing campaigns using email or direct mail, in addition to sending out follow-ups with customers.
Dealerships may stand to benefit from these wonderful resources and improve sales with DealFinder.
Training Staff and Sales Members
Customers need to feel that they are highly valued and treated with respect whether they are dealing with the financial department or negotiating a deal with a member of the sales force. Ultimately, sales and repeat business is determined by how customers are treated, as well as the service they are provided.
Streamlining Your Business
One of the fastest ways to lose a potential customer is to keep them waiting for service, or by making it overly complicated to buy a car. It's a good idea to evaluate the car-buying process offered at your dealership to see what can be improved and eliminate time-consuming paperwork or wait times.
Improving the Customer Experience
Showrooms and offices should always be impeccably clean and heated or cooled to comfortable settings to improve the customer experience.
Dealerships should make sure that there are always sufficient amounts of seating so customers can feel relaxed while waiting for services. It's also helpful to have an area where children can play and be entertained while parents are filling out paperwork.
It's better to be upfront about the length of time it will take to get financial information approved than to string the customer along with false promises.
Topping off the gas tank and detailing a new or used car is an excellent way to improve customer relations when completing car sales.
The Internet
Times have changed, and car buyers are using the Internet to research cars before going to a dealership. It's critical that dealerships provide the most up-to-date websites that are easy to navigate. Most young adults from generations X and Y wouldn't even consider looking at cars from dealerships without first researching the specifications, descriptions, and photographs online.
Many of the buyers today know more about the vehicles they are interested in purchasing than some of the sales representatives at the dealerships. This can be a huge mistake for the dealers. Therefore, it's very important that dealers always have knowledgeable staff on hand to answer the smallest details about any make or model.
There is no doubt that selling cars is a competitive market. However, if you utilize DealFinder and improve customer service by streamlining the car buying process and treating people well, you're bound to increase sales and maintain customer loyalty.