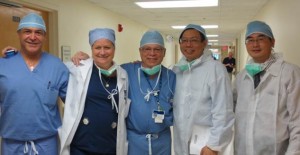 JFK Medical Center is the first hospital in the United States to perform Electron Intraoperative Radiation Therapy (e-IORT) on a new technology called Liac 12 from Sordina IORT Technologies USA, Inc. (SIT, USA.) This new procedure can essentially reduce breast cancer treatment from six and a half weeks to one day for many women.
Advances in surgery and radiation therapy make breast cancer treatments safer and more convenient than ever before. Standard radiation therapy usually involves as many as 33 treatments given five days per week. With e-IORT JFK's radiation oncologists can deliver an equivalent dose of radiation in a "single fraction" or treatment session lasting just a few minutes, while also preserving more healthy tissue. This electron-based treatment reduces radiation exposure and its side effects, as well as the time spent going back and forth to the hospital for such treatments.
E-IORT is a practical and safe alternative to standard whole breast radiation therapy for many patients. It is administered to the inside of the breast during surgery, immediately after removal of the cancer. For many patients, after awakening from anesthesia, both the breast surgery and radiation therapy are completely done. Most eligible patients won't need to undergo any additional radiation therapy. The remaining patients still benefit from e-IORT as a "boost" during surgery followed by 3 to 5 weeks of external beam radiation therapy.
"This technology benefits so many women. I see it really benefiting the busy professional, working moms, and older women with transportation issues," said Dr. Beth Lesnikoski, Breast Surgeon and Medical Director at The Breast Institute at JFK Medical Center. "e-IORT has the potential to significantly lower healthcare costs. Not only is it a safe alternative to weeks of external radiation, but it also reduces damage to skin, ribs and chest muscles, and perhaps even the underlying heart and lungs," explains Dr. Lesnikoski.
A patient must be a surgical candidate in order to be eligible for e-IORT. This treatment is generally reserved for individuals with early-stage disease with these patients comprising upwards of 30 percent of all patients diagnosed. Your doctor will discuss whether e-IORT is an appropriate treatment option for you, based on your individual diagnosis, tumor characteristics, and personal preference.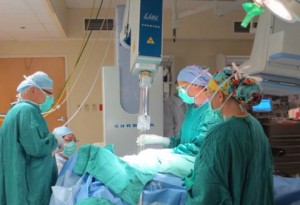 E-IORT is not only more convenient, it is also effective at reducing the risk of cancer recurrence.  Since it is administered to the inside of the breast rather than through the skin, e-IORT reduces radiation side effects on the breast skin.  A shield is placed underneath the breast during treatment to protect the underlying structures including heart, lungs and ribs. e-IORT with SIT, USA's Liac 12 technology has been the centerpiece of multiple studies over both a 5 and 10-year period and has been approved by the FDA.
"e-IORT allows the delivery of a powerful dose of radiation at the time of surgery to any microscopic or residual tumor that may still be present after the removal of all the tumor, by the breast surgeon. e-IORT is focal radiation therapy where you have direct visualization of the tumor or tumor bed allowing for the delivery of a higher dose of radiation while excluding sensitive normal tissues and thus increasing the potential for increased tumor control", explains Dr. Georges Hatoum, Radiation Oncologist and Medical Director of the JFK Comprehensive Cancer Institute.
SIT, USA's Liac 12 technology uses electrons to deliver radiation precisely to the area of the breast where the tumor was removed during surgery. Electrons have been shown to be highly effective in reducing the radiation risk or toxicity to the surrounding normal tissue. Other benefits of e-IORT delivered by the Liac include the ability to treat deeper tumors and a wider variety of breast sizes and tumor locations, a significant reduction in on-beam time for the patient and the ability for the technology to be used for many cancer sites other than breast cancer.
Gina Melby, CEO of JFK Medical Center shares, "We are proud to bring this new technology to the South Florida community. Intraoperative Radiation Therapy provides an additional option for women who are faced with breast cancer. This can have a significant impact on the quality of life for patients-less time spent in treatment and less damage to surrounding healthy tissue. From the hospital's point of view, not only are we providing women with the most innovative technology but the technology will find additional uses as it addresses multiple incidents of cancer."
For more information on e-IORT or to schedule an appointment to see if you are a candidate for this procedure, please call 561-548-4535.
About JFK Medical Center
Conveniently located in the heart of Palm Beach County, JFK Medical Center is a 460-bed facility known for its comprehensive services, including cardiovascular care, general and orthopedic surgery, neurosurgery, stroke care, robotics, cancer care and emergency services. JFK Medical Center is an affiliate of The University of Miami Miller School of Medicine and is a major training site for the University's Regional Campus Internal Medicine Residency program.
About  Sordina IORT Technologies USA, Inc. (SIT, USA)
Sordina IORT Technologies USA, Inc. (SIT, USA) is a leading manufacturer of the Liac 12, a revolutionary, compact, lightweight mobile electron beam intraoperative radiation therapy linear accelerator (e-IORT) used to combat a variety of incidents of cancer.  What makes the Liac 12 exceptional in cancer treatment is that it delivers radiation therapy directly to the tumor bed in the operating room, for example, immediately post- lumpectomy.  It is a truly image guided radiation therapy where the surgeon and radiation oncologist together determine exactly where to place the applicator.  The Liac 12 is revolutionary because in many incidents of cancer, patients will be able to receive a treatment of one-minute of radiation and reduced post-surgical radiation. In the case of breast cancer, upwards of one-third of women may be eligible for a single treatment or dose with absolutely no post-surgery radiation required. This technique also allows for immediate oncoplastic reconstruction during the initial surgery. The Liac 12 is in operation in more than 17 countries and was the technology used in the ELIOT randomized clinical trial conducted at the world-renowned European Institute of Oncology located in Milan, Italy. The Liac 12 requires no special modification to the standard operating room.  It can be easily moved between operating rooms.  Once positioned at the surgical table it is easily docked with the applicator.  The entire procedure takes less than 15 minutes from set-up through treatment delivery.  Liac 12 is 510K registered with the FDA and is the number one choice of oncologists worldwide!