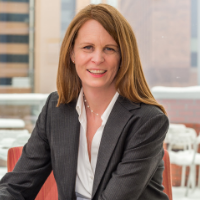 Tell us your name and a little about yourself.
I'm Catie Harris, I have been a nurse for 20 years, and have been working as a NursePreneur for over 10 years now.  I help nurses find their big idea for starting a business that leverages their knowledge and expertise
Why did you become an entrepreneur, speaker, author, etc in the first place?
I found myself burnt out in the hospital setting.  I wasn't growing or learning and felt like I wasn't doing anything impactful.  I really wanted to help others and I needed to help myself first.  As a neurosurgery nurse practitioner, I knew that patients frequently went home too soon and didn't understand their neurological condition, what the treatment plan was or what to expect afterwards.  I started my first business to provide comfort and reassurance to these patients in neurosurgery.  It was important to me to serve as a patient advocate and resource.
Tell us, how do you deal with fear?
I have to break fear down so I can challenge it little by little.  For instance, I had a horrible fear of being on video, so the idea that I would have a You Tube channel or do Facebook Lives was just insane.  I knew that I needed to overcome this fear but to go from never being on video to Facebook Live just wasn't the best approach for me.  I decided to start with taking a 30 day challenge on how to present yourself on video, and then how to perfect the lighting.  Then I got a teleprompter to help me talk through scripts, then I started following a format I could memorize, then I started doing podcasts.  I worked my way up to doing Facebook Lives and now I do them all the time.  It was really about pushing myself out of my comfort zone little by little, which is how I deal with fear.
Tell us, how do you deal with rejection?
Rejection is tough because it's hard not to take it personally.  Even if I do take it personally at first, I always try to reframe the situation so I don't place myself as the victim.  For example, if someone wants a refund because the course they signed up for wasn't what they thought it was.  I could take it personally as a rejection of my work or I could look at the course from the eyes of the person who wanted the refund and say, well is there room for improvement in the way it's presented or flows?  If I can't find anything wrong per se, then I allow the possibility that the refund has nothing to do with me or my course and perhaps there are other variables at play.  It's hard to do this.