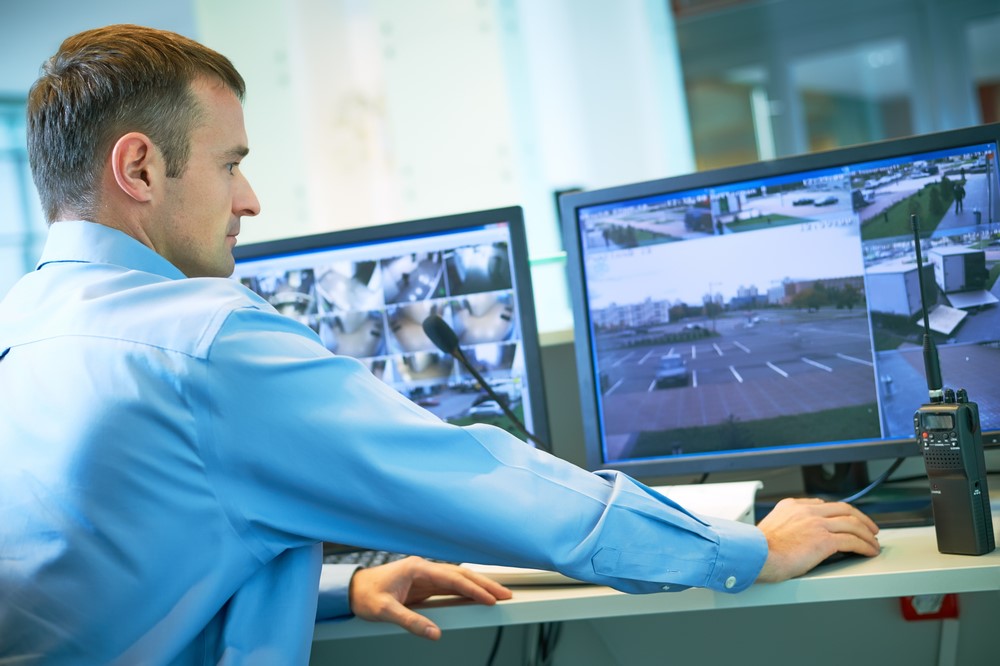 Securing a commercial business requires vigilance on multiple fronts. Thieves can creep around your perimeter and parking lot or break in your door. Hallways, staircases and hazardous areas that carry safety risks also present special challenges. Here's how to use security camera solution technology to secure each of these potential vulnerabilities.
Monitoring Perimeters and Parking Lots
Security begins outside your building, which can include both your perimeter and parking lot. When protecting these areas, a few key considerations come into play:
How much area do you need covered? Do you need to cover your entire perimeter or parking lot or just a few strategic entrance points?
Do you want a camera with a fixed position and zoom capability, or do you want a camera with the ability to pan, tilt and zoom (PTZ) when a remote security team detects suspicious activity?
Do you want to record continuously or only when a motion detector is activated?
For night surveillance, do you need black-and-white footage or Color Night Vision?
Will it be easier to install your cameras with a wired closed-circuit TV (CCTV) analog system connected to a digital video recorder (DVR) or with an IP digital system that uses a single-cord Ethernet connection and connects to a network video recorder (NVR)?
Does your security team require the ability to conduct remote surveillance of your facility over a smartphone or from a monitoring center?
Answering these questions can help you narrow down your camera selection. Generally speaking, your main options for perimeter and parking lot surveillance are between CCTV and digital IP camera systems. Digital IP systems are the higher technology, and generally offer superior resolution.

Protecting Entrances and Open Areas
In 50 percent of commercial burglaries, the intruder breaks in through a door, a Temple University study found. This makes a front-door camera essential for solid security. The best practice is to mount monitored alarm systems on the property in a position where potential intruders can see them and a camera with HD or 4K Ultra HD resolution at a spot where it will record burglars' facial features.
In contrast, open areas such as malls require a broader field of vision. To monitor a wide open area, use a camera with a wide-angle lens. A ceiling-mounted camera with a bird's-eye view can also provide good coverage.

Watching Hallways and Staircases
Hallways present special security challenges. No matter how short a hallway is, any camera will have a certain "blind spot" where someone walking down the corridor cannot be seen temporarily. The best solution to this is to position cameras at both ends of the hall facing each other. The longer the hallway, the longer the camera's focal length should be. Adjust camera dimensions to corridor frame format settings (9:16) to focus on the hallway itself and avoid unnecessarily filming walls that don't need to be monitored.
Staircases present similar challenges to hallways. Subjects may enter the camera's field of vision on multiple levels as well as traveling upwards or downwards. Multiple cameras with a panoramic view mounted at a tilted angle can help maximize staircase coverage.
Securing Hazardous Areas
In addition to protecting your business from burglary, security cameras can also help protect your workers from injury. Placing surveillance cameras in areas where there is heavy machinery or hazardous materials can help you monitor safety conditions, and may help protect you from legal liability by demonstrating due diligence.
Cameras with pan tilt zoom capability are ideal for monitoring large areas with potential hazards. Varifocal, or Zoom Lens, cameras can serve to focus in on narrower known hazard spots. Explosion-proof cameras for hazardous areas with combustibles are available. Specialized equipment is available for facilities such as manufacturing locations and oil and gas production sites.
Protect Your Whole Business With Comprehensive Surveillance
Perimeters and parking lots, entrances and open areas, hallways and stairs, and hazardous areas all represent potential vulnerabilities for commercial properties. A good security and safety plan should keep all your bases covered. Review your facility's weak points, and make sure that all vulnerable spots are secured with the appropriate surveillance equipment and other security measures.