By Theunis Bates, Editor at LinkedIn News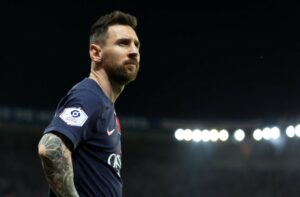 Soccer's biggest superstar could soon be relocating to the U.S. Lionel Messi announced Wednesday that he plans to sign with Inter Miami, choosing the Major League Soccer team over a lucrative offer from Saudi Arabia or a return to his beloved Barcelona. The details of the Argentine forward's deal with Miami aren't yet known. But The Athletic reports that it could include a profit-sharing deal with Apple (which holds worldwide broadcasting rights to Major League Soccer) and Adidas (MLS's exclusive jersey provider), and an ownership stake in Inter Miami when his playing career ends.

By Daniel Bowman
By reportedly offering Messi a share of Apple's revenue generated by the MLS Season Pass and a share of Adidas profits resulting from his arrival, MLS is not only securing the services of a world-renowned player but also tapping into the immense commercial potential that Messi brings.
This unprecedented deal demonstrates the league's commitment to attracting top talent and raising its profile globally and could potentially set a precedent for future high-profile player signings to enhance MLS's reputation as a desirable destination for global stars.
Lionel Messi to Inter Miami: MLS club set to sign Argentine superstar, beating Barcelona, Saudi Arabia
cbssports.com • 2 min read
https://www.cbssports.com/soccer/news/lionel-messi-announces-mls-move-turning-down-barcelona-i-made-the-decision-that-im-going-to-go-to-miami/amp/

By Danielle Levine Cava
Mayor, Miami-Dade Country at Miami
Bienvenido a Miami-Dade, Lionel Messi! ⚽️ ¡Qué golazo!We can't wait to see you light up the field and inspire generations of Miamians as the newest member of our Inter Miami CF.https://
'I'm going to Miami:' Soccer legend Lionel Messi says he intends to play for Inter Miami
miamiherald.com • 8 min read
https://www.miamiherald.com/sports/mls/inter-miami/article276188626.html