Immediate Release: 4.30 pm BST – Thursday 13 April 2023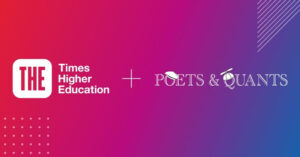 London — Times Higher Education (THE) the world's leading provider of higher education data and insights is delighted to have completed the acquisition of Poets&Quants (P&Q)  the leading provider of news and resources for prospective business students worldwide.
The deal is the latest in a number of high-profile acquisitions by THE and brings together two innovative and trusted providers of information and insights for higher education. It significantly strengthens THE's offering in the business education sector, where P&Q reaches more than 85% of the active MBA applicant market for the world's top 100 business schools. The acquisition will enable P&Q to grow its international audience and relationships with business schools and to continue its focus on developing data insights, resources, and events for the wider business education community.

To help accelerate our plans in the sector, Josh Macht has joined THE's Board as a non-executive director. Josh played a pivotal role in transforming Harvard Business Publishing and held a succession of key roles including Publisher, Chief Product and Innovation officer, and acting CEO.THE has been at the heart of higher education for more than 50 years, working with thousands of universities across the world. Its range of products and services touches all aspects of higher education and includes data insights and consultancy for institutions and governments.
Founded in 2010 by John A. Byrne, ex Executive Editor at Business Week, P&Q provides in-depth coverage to the business education community. Featuring authoritative content, including consolidated rankings, news, in-depth features, and events, P&Q empowers people to make informed decisions about their MBA. Mr. Byrne is the world's leading influencer in the business school market with unprecedented social reach.
John Byrne, the founder of P&Q, said: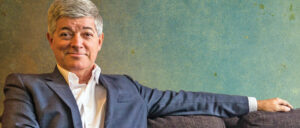 "This is a match made in heaven. We'll be joining a news and data-gathering organization that deeply understands the higher education market. With THE's additional resources, we'll be able to vastly extend our reach around the world and expand our current offerings for both our readers and clients. I'm excited to work with THE CEO Paul Howarth over the next few years so Poets&Quants will have an even bigger impact on the lives of people who want to pursue a business education."
C-Change Media is the parent company of Poets&Quants, which THE has acquired. Two additional properties include Poets&Quants For Execs, covering the executive MBA and executive education market, and Poets&Quants For Undergrads, covering the undergraduate business school market. Two smaller sites Tipping The Scales, which covers the law school market, and We See Genius, focusing on social entrepreneurship, are also part of the portfolio.
Having celebrated its 50th anniversary in 2021, THE continues to provide news, insights, and thought leadership, collecting data from more than five million data points about more than 6,700 institutions from 155 countries, and working with clients across its data, consultancy, and hiring services. It is also known for its events for higher education professionals, including its flagship World Summit Series, which engaged more than 19,000 people globally in 2022.
Commenting on the acquisition, Paul Howarth, CEO of THE, said: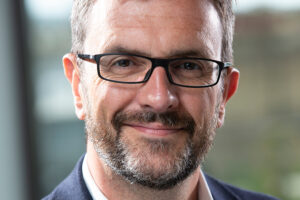 "When I met John Byrne, I instantly felt a rapport with him and when I got to learn more about P&Q the more I knew it was an ideal acquisition for THE. I'm really excited about what we can do together to grow in the business education market. With our recent acquisitions and organic growth, we're fulfilling our mission to support and enable universities across the world to excel."
Owned by Inflexion Private Equity, which acquired the business in February 2019, THE is headquartered in London, with offices in Australia, the US, and Singapore.
It has undergone a period of rapid growth, both organic and through acquisition. Last year THE acquired three high-profile businesses:
Inside Higher Ed the US-based news provider, which gives THE a combined worldwide audience of around 50 million users (January)
BMI is the leading global organizer of international student recruitment events, with a combined reach of around 20 million prospective students (September)
dataHE, the rapidly growing provider of data-led, code-based analysis to support UK universities (November).
About THE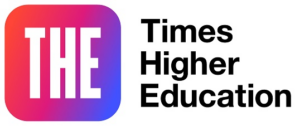 THE is the trusted global data partner for higher education. Drawing on five decades of expertise in the sector, millions of individual data points and with more unique institutions participating in our flagship university rankings than any other, we offer deeper and richer insight into university performance than anyone else. From powerful data-driven insights and strategic consultancy support to agenda-setting events and hiring solutions, our products and services enable everyone in higher education to make smarter, more informed decisions. For more information, visit Times Higher Education or find us on Twitter: @timeshighered @THEworldunirank
About Poets&Quants (P&Q)/C-Change Media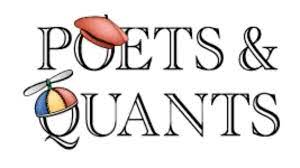 Poets&Quants is the leading resource for complete coverage of the business education market. We feature multiple tools and authoritative content, including: consolidated B-school rankings, news and in-depth features, videos, podcasts, two searchable directories and events, empowering our community with information needed to make decisions along their journey from pre- to post-MBA.
Tuck Advisors represented Poets&Quants as their sell-side M&A advisor during this transaction.
For media inquiries please contact Claire Baumforth, Marketing Director THE at claire.baumforth@timeshighereducation.com or communications@timeshighereducation.com