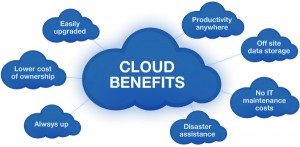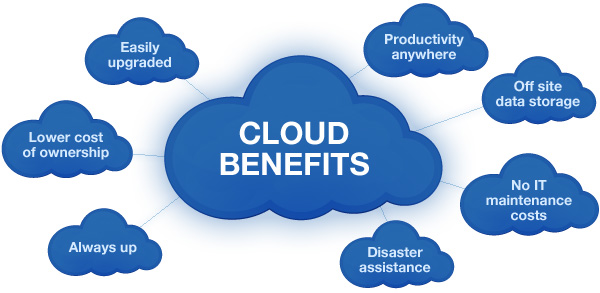 Cloud based phone systems are able to offer numerous benefits to small businesses.  This is a proven fact and many businesses have switched their communications to cloud based solutions.  What benefits can smaller businesses gain by switching their communications to a cloud based phone system?
What Are Cloud Phone Systems?
Cloud telephony is a communication system that is hosted virtually and operated via an Internet connection.  This allows access from anywhere and the removal of hardware requirements from your network.
The Cost Savings
Most small businesses have to be very careful about budgeting their resources.  This means that the company's communication system often gets overlooked.  This is a big mistake as many times this system acts as the bridge to customers.  Typically, an advanced phone system has been either landline based or consisted of in-house PBX hardware installations, meaning money spent on infrastructure and IT staff hours.  Also, in the event of an outage it may become necessary to have your service provider visit your location in order to fix or replace the hardware.  In this case, extra costs can skyrocket very quickly.  With a cloud based phone system, there is no need for infrastructure expenditure or keeping IT staff on hand to operate your system.  The cloud phone systems service provider hosts the equipment and the network, as well as taking responsibility for all upgrades or maintenance that needs to be performed.  Monthly plans are normally all inclusive, offering many advanced features that would cost a fortune from traditional service providers.  This often includes long distance calling.  A cloud phone system combines all your businesses communications into a single line, saving even more money. Also, because it operates in the cloud, employees can access and use the same system no matter where they are currently located.  This can save thousand of dollars in travel expenses and employees valuable time.
Ease Of Set Up
Due to there not being any hardware to install, set up is as simple as making a phone call to your chosen IT support service provider.  The same goes for upgrades, which means the scalability and flexibility of the system is endless.
No Downtime
These systems employ state of the art hardware that features multiple redundancies to keep your communications up and running.  Some providers even offer 4G back-up, keeping your business protected in case of a power outage. With cloud telephony, your business can also reroute its network to another location in case of an emergency so work can continue. With proper it support Calgary in place, your staff can effectively work towards the business' core competencies and delivering product and services more efficiently.
Enhance Your Image
A communication system is a businesses link to its customers.  The more professional your company can appear when interacting with customers the faster your business will grow.  Opting for a cloud based phone system allows your company to benefit from advanced call routing, virtual call attendant features, local or toll-free phone numbers as well as built-in CRM and tracking software.  These features make your business operate more efficiently and make collaboration amongst your workforce simple.  Normally these features would have been reserved for larger corporations who are able to afford large expenditures on their phone systems.  The playing field has since been leveled, thanks to cloud-based communications.
Technology Advancements
When you move your businesses communications to a cloud phone system solution, most providers include system upgrades in the monthly fee.  Your workforce will always have access to the latest software and capabilities they offer.  Many business first feel they are losing control when they switch to a hosted solution but in time realize how much more in control all the customization options have made them.
If your business is looking for a cost efficient communication system, give a cloud based phone service a try.