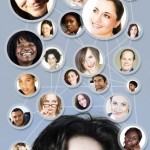 The grapevine has now come into its own by gaining a true identify and validation as a serious business tool that can, according to an article by Stephen Garcia, Ph.D. and Greg Wallace, retain and develop employees as well as identify emerging leaders and even define a business. A study by Garcia adds innovation to the mix and that it is the number one global growth strategy.               This business tool is organizational network. It is through these networks that problems get solved, decisions are made and personal support is garnered. In other words states the article, "It is through these connections that the real work often happens." This newly acquired sophistication has come as a result of restructuring resulting "in organizations with fewer hierarchical levels and more permeable functional and organizational boundaries", according to Rob Cross a professor at the University of Virginia's McIntire School of Commerce. As with any tool, a business must understand how to use it.
Enter Organizational Network Analysis (ONA). The analysis process, on the surface, appears to be fairly simple.
Step One: Identify business objectives.
Step Two: Define your project scope.
Step Three: Collect data.
Step Four: Process the collected data via new software specifically for ONA such as UNINET, Pajek, SYNAPP, InFlow, Socilyzer, DNA-7 and others.
But, of course, there are pitfalls to consider. For example, one of the ways suggested to collect data is to monitor historical email traffic. This could lead to privacy issues. In addition, emails may lack useful data, and surveys to gather data cannot be anonymous. If you are using the data to identify emerging leaders, some executives may be too removed from knowing those with potential outside the executive suite. Others may only look at those like themselves or never poke their heads beyond the OBN (Old Boys Network). However, a network analysis can help identify some issues. Here's how.
Once the analysis is complete, the organization can be given, what can be, a revealing picture of contrast between its formal and informal structures. The analysis can illustrate some of the following:
Mid-level managers who are critical to information flow
-How can the organization ensure that these individuals remain current, guard against those in such a spot who withhold information causing bottlenecks, or that information isn't being disseminated willy nilly across the organization?
Disengaged employees.
– It is essential to uncover the nature of the disengagement. Is it due to a poor relationship between the supervisor and the team member, or are there personality conflicts festering that intentionally leave these employees out of the loop?
An individual who is the only point of contact between two or more entities in the organization
– What if this individual decides to leave for whatever reason? There is also danger that this individual may become overwhelmed.
Lack of communication.
– Innovation and collaboration cannot exist without communication between divisions and teams such as R&D, marketing, project teams, etc.
Finding people on the network peripherals who have untapped expertise
– This can result in wasted assets. Or these people may leave due to a lack of challenge or that they are not being adequately recognized and rewarded for their talents.
Sub-groups can be identified.
– It's the old birds of a feather saga. Groups of the same age, gender, function, location or culture may begin to peel off from the central network. Information goes unshared, miscommunication abounds, innovation meets its demise, hostilities can develop, and productivity can come to a screeching halt.
Unfortunately, most decision makers have no or little insight into these types of networks. Therefore, decisions are made based on incomplete information. Think of the last M&A you experienced. Could some of the chaos have been prevented by conducting an OAN? I strongly suspect the answer is a resounding yes!
As you can see, the grapevine has indeed received its badge of legitimacy and is being recognized for its business value. Consultants and CEOs can now help one another help organiztions to drive business at the level where the work is really accomplished. I heard it through the grapevine.
Graphic Credit: 123RF.com