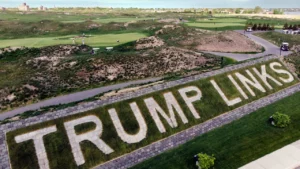 The Trump Organization said it sold its lease for a New York golf course with sweeping views of Manhattan to Bally's Corporation, ending several years of controversy.
"While we had no prior intention of selling this trophy asset, Bally's Corporation stepped in and made us an exceptional offer," said Eric Trump, the middle son of former President Donald Trump, in announcing the sale of Trump Golf Links at Ferry Point Park.
The former president and the New York City parks department reached the deal assigning the lease to Bally's late last month, according to a person familiar with the deal. The New York City comptroller reviewed and registered the deal last week and Donald Trump announced on Tuesday that Bally's would assume operations immediately.

Trump's operation of the golf course came under scrutiny following the January 6, 2021, attack on the US Capitol with the PGA and others pulling tournaments from Trump properties citing the former president's rhetoric that day.
When New York city officials tried to terminate the Trump Organization from the licensing deal, which it has had since 2012, the company sued for breach of contract of the lease and ultimately won. The city never appealed the decision and the course has remained in Trump's control.
Following Tuesday's announcement, New York City Comptroller Brad Lander said he was "delighted that Trump's name will no longer deface city parkland."
In a statement, the New York City Department of Parks and Recreation said they were "supportive of the transfer of the Ferry Point Golf Course to Bally's" and "confident they will deliver a high-quality golfing experience to New Yorkers."
The course, which is designed by retired pro-golfer Jack Nicklaus' company, opened to the public in 2015, and a clubhouse and restaurant on the grounds opened in 2019. A presidential seal is imprinted on the grass, according to one Instagram post.

The sale of the golf course marks at least the second high-profile property sold by the Trump Organization since Trump left office. Trump last year sold the lease to the Old Post Office building in Washington, DC – which operated a hotel that became a meeting post for Republicans during the Trump administration – to CGI Merchant, a Miami investment group, and Hilton Worldwide Holdings for $370 million. A Waldorf-Astoria hotel has reopened in the grand building blocks from the White House.
The Trump Organization, which is run day-to-day by Eric Trump but still owned by his father, has also inked a few deals since Donald Trump left the White House – including a deal to develop a hotel and golf course in Oman after vowing to not do any foreign deals during the presidency.
Trump properties have hosted several events for the Saudi Arabia-backed LIV Golf tour. LIV initially launched to challenge the PGA, but this summer, the golfing organizations announced they'd instead join forces along with DP World Tour.
Source: CNN