Selecting the right market automation tool for your business can make a huge difference in the amount of work you do on a daily basis. These software tools are great at streamlining your business. Whether you are a small business or a large corporation, streamlining and effectively using your time is best solution.
Digital marketing is the future for all marketing. Without proper marketing, your business will not succeed. One of the best methods of digital marketing is email marketing, which allows you to reach large amounts of people quickly.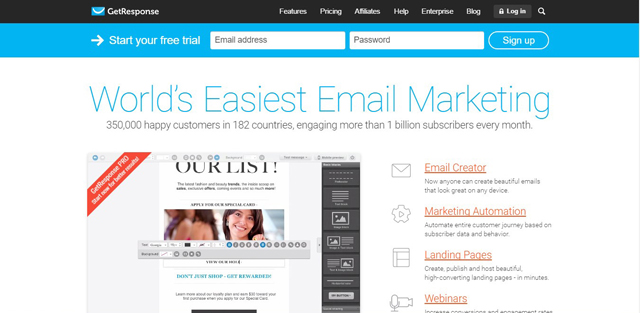 Even though it cost money to use market automation tools, it will decrease money you spend. You could limit the amount of employees who work on marketing. This gives them more time to work on other aspects of your business.
Let's take a look at GetResponse; they are one of the leading marketing automation tools. Here are the reasons why they rank so highly.
Competitively Priced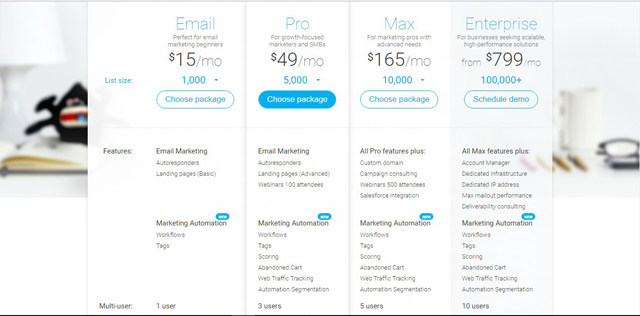 Every business has to think about pricing when it comes to the software they utilize. First, GetResponse requires no contracts, so you can stop at any time. They have 4 different packages, depending on your needs. For all the packages, GetResponse doesn't limit the amount of emails you send out each month. Instead, it is based on your subscribers.
Email: $15 per month with 1,000 subscribers
Pro: $49 per month with 5,000 subscribers
Max: $165 per month with 10,000 subscribers
Enterprise: $799 per month with 100,000+ subscribers
Ease of Use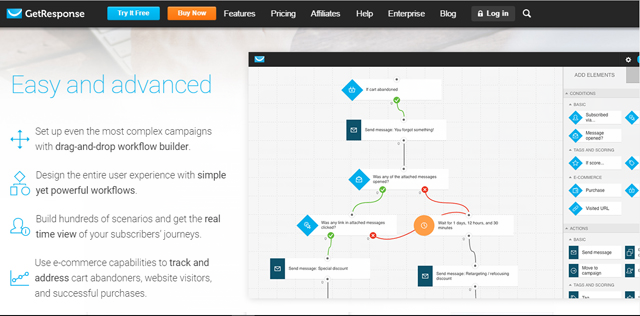 GetResponse was designed for the beginners. They streamlined the process, without limiting the amount of templates and options available. Some other market automation software requires some basic knowledge of HTML. GetResponse users, on the other hand, can be complete beginners and use the software effectively.
Landing Pages
Website developers know just how important landing pages are for businesses. They are what draw the viewers in to make a purchase. With the use of GetResponse, you can make your own landing pages. They are going to be colorful and eye-catching. The process, like everything with using GetResponse, is streamlined and simple. There are plenty of premade options and templates.
Website Tracking
Unlike many other software tools, GetResponse comes with the ability to track and analyze your website. You can discover how people are finding your website, how often they are visiting, and so many more details. This is a great way to determine if your marketing campaigns are successful. Changing things and finding what works is important for all businesses.
Shopping Cart Abandonment
Have you ever filled up your online shopping cart only to leave it and never purchase? This is shopping cart abandonment and GetResponse can help track these occurrences. You want to know why it is happening. By knowing who is abandoning their shopping cart, you can target them with future emails. For example, if a product goes on sale, a quick email letting them know may bring in more sales.
Auto Responders
With email marketing and email management, you need auto responders. GetResponse allows you to customize the responses based on your needs. You can automatically answer emails. GetResponse lets you send out birthday emails with discounts or promotions. You also can use it for one on one communication with your customers. Another nice feature is GetResponse lets you send emails based on specific customers' interest or target ranges, such as age.
Webinars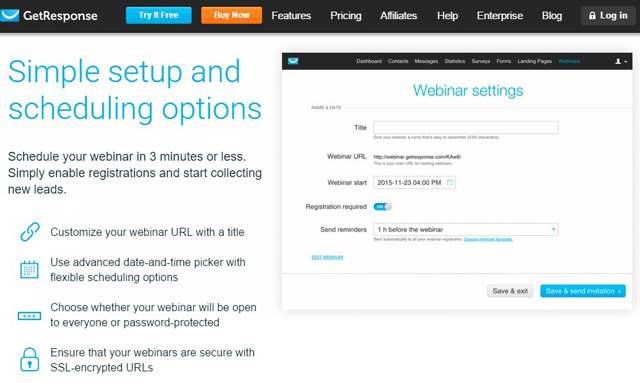 Not every market automation software allows you to build webinars. GetResponse is one of the few that will help you build and invite subscribers to webinars. This is a great feature because webinars can bring In a great deal of sales.
GetResponse offers more tool for better prices than their competitors. Their easy to use software makes even the beginning business owners capable of designing successful marketing campaigns. It is clear why GetResponse is one of the best on the market today.