5. Fortune 500 Company – Not A Lemonade Stand
Offices can be noisy places and often it's important to keep doors closed to keep unwanted noise out. So it's no surprise then that someone would find a note like this. What was surprising though, was that the note was typed in one of the most unprofessional fonts.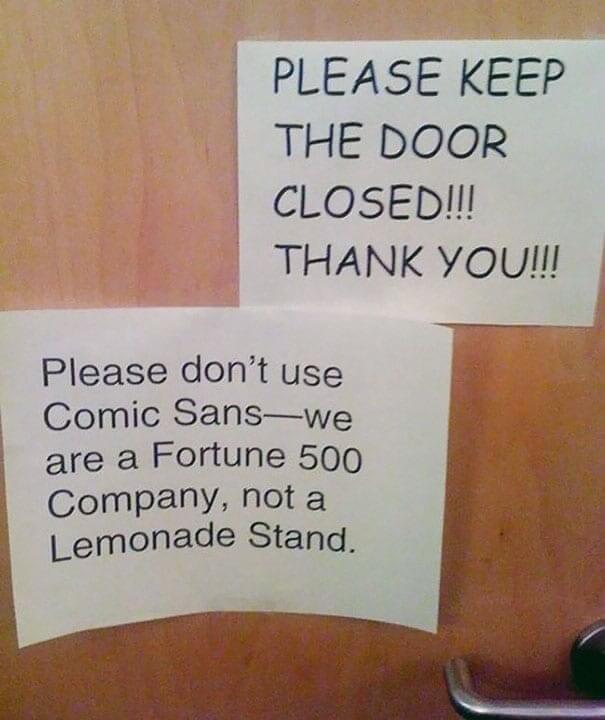 For a Fortune 500 company full of professionals and experts, you wouldn't expect to see the same kind of font you would expect in a kindergarten. Or of course, as the second note says, at some kid's lemonade stand.

8. Mom's Got Something To Say
Now you might think this is a sink in an office kitchen at first, but after a closer look, you will find this is the sink in someone's home. You'll be surprised to know that this note was left by a frustrated mom who was desperately trying to get her point across.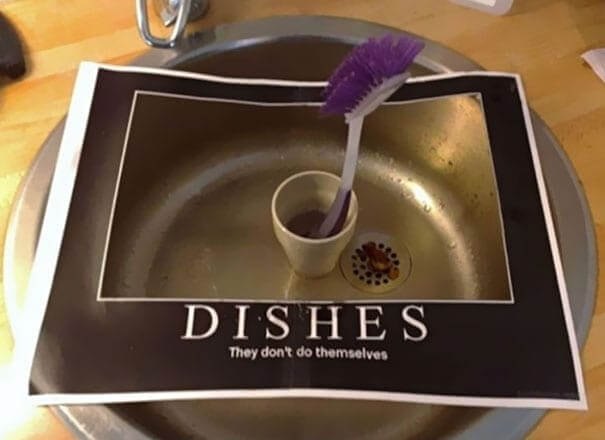 When her teenage sons kept forgetting to wash their dirty dishes, this mom decided to leave a funny note for her kids that was on their level. This meme – themed note quickly got her son's attention and they haven't forgotten their dishes since!
---
https://moneyforlunch.com/another-10-hilarious-passive-aggressive-notes-so-funny-youll-pee/
---
12. Steve Would Approve
When you print up a large sign to go on the office wall, you better make sure it cant be construed in another way. Otherwise, your colleagues are sure to make fun of it. Take this funny sign for example.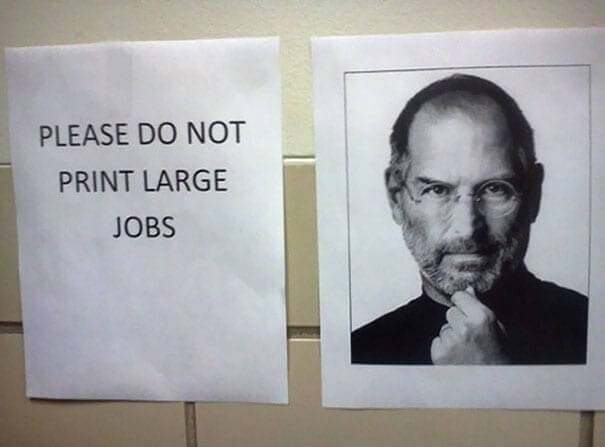 Not long after the office manager had put up the sign, someone in the office printed up this large picture of Steve Jobs. We don't know about you, but we think the employee that did this deserves a raise for creativity and wit!
16. Don't Forget Jesus Is Watching You
Nothing is funnier than using someone's own argument against them. When this student left this funny note next to his sodas, he never expected to be schooled on scripture and lose all his sodas in the process.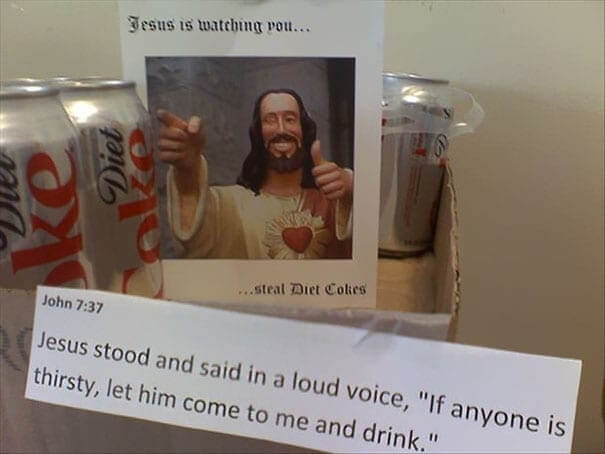 Next to his note, someone placed printed out a bible verse that made his original note seem pointless. Needless to say, it wasn't long before all his Cokes were gone! Technically it's not really stealing if it's in the bible right?
19. A "Loving" Farewell
Leaving a job where you have worked for years can be tough. Having to say goodbye to friends and leave a place you loved is always a difficult loss. Luckily it's not as hard when your coworkers give you a cake like this.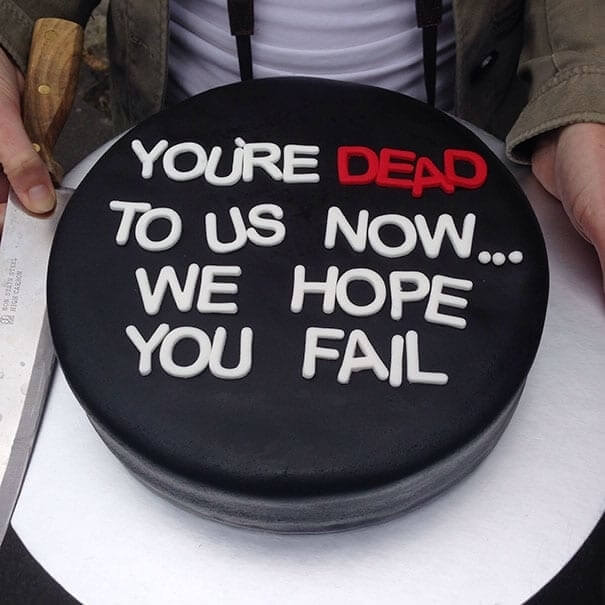 Instead of having the baker write a soppy message on this farewell cake, management decided to go with something different. After all, nothing says good luck with your new job than a cake like this!
22. Really? Oh Yea, Really
Having a roommate isn't always easy. Like most relationships, there is bound to be some disagreement and tension. When these roommates couldn't agree on whose night it was to do dishes, it quickly devolved into some passive-aggressive behavior.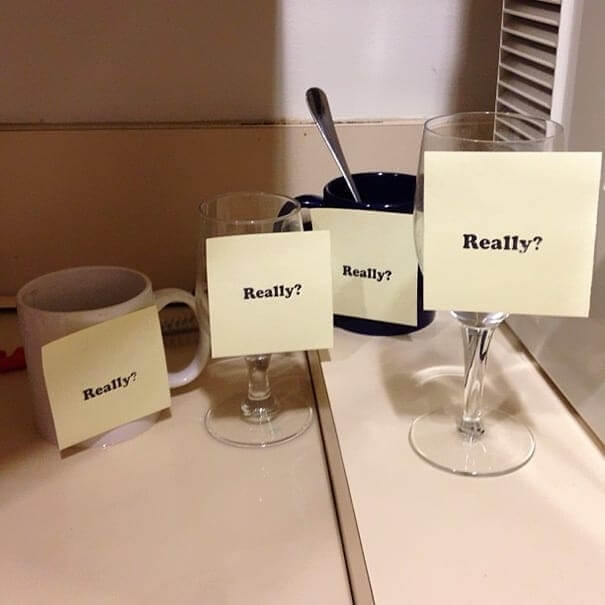 Instead of washing the dishes her roommate had refused to wash, this woman had had enough. So she decided to leave some notes her roommate couldn't argue with. Seems like these two may need a chore schedule or a couple's counselor.
25. Germaphobic Coworker
While most of the notes you will find in the workplace kitchen are within reason, every once in a while you can come across something a little more extreme. These strange notes are perfect examples of this.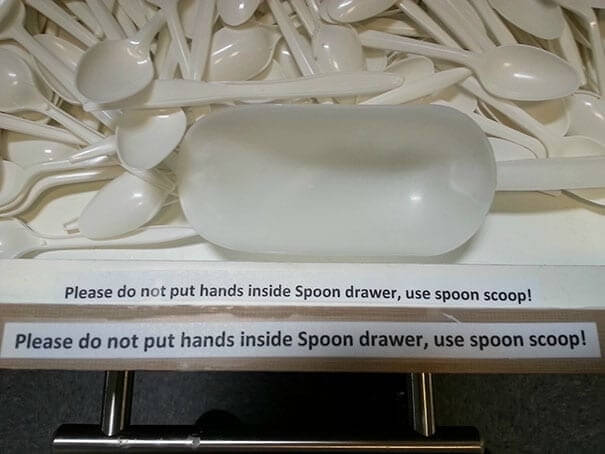 This person must be really anxious about others touching their spoons because not only did they leave the note once, they left it twice. If the notes weren't bad enough, the spoon scoop was notoriously difficult to use and, most of the time, people just grabbed the spoons with their hands anyway.
27. A Disgusting Warning
Here is something to put you off your lunch for good! When this person discovered that their lunch had been repeatedly stolen from the office fridge, they decided to put up this gross note to discourage the thieves and ruin people's appetites everywhere.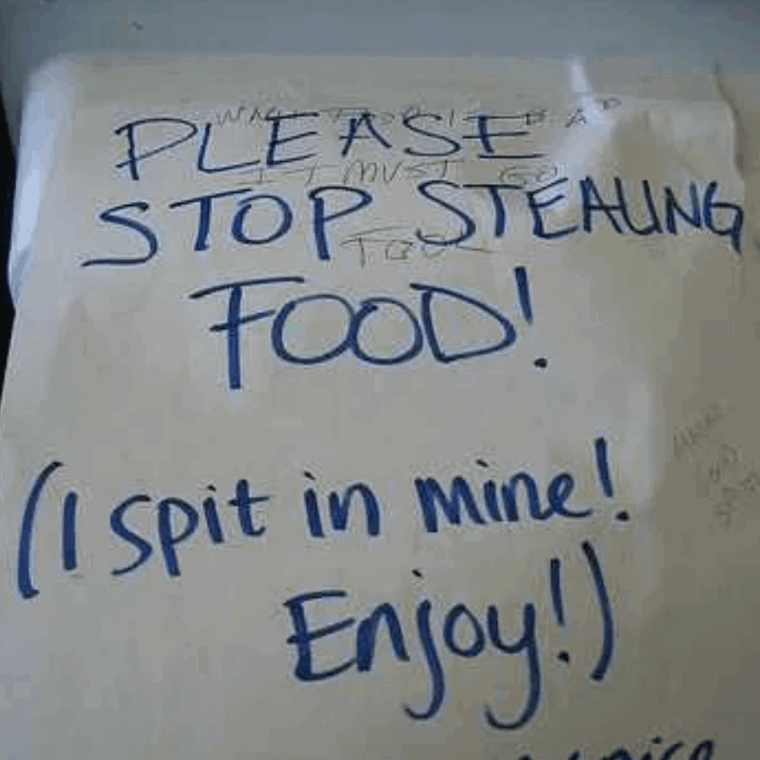 Couldn't they simply have labeled their food and spoken nicely to their coworkers before going to this horrible extreme? That is just gross! We bet the HR department had a field day with this incident.
31. No Spoilers… Or Else!
At its height, Game of Thrones was one of the most popular and most talked-about shows on TV. Each new episode was full of surprises and intrigue. While most people couldn't wait to discuss the latest episode as soon as it aired, others developed a real fear of GOT spoilers.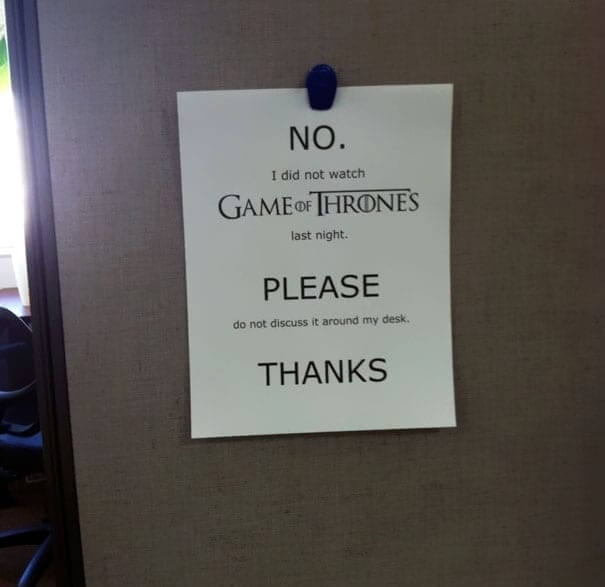 This smart coworker decided to put up this sign on their cubical wall. This way no one would be tempted to give away the latest deets accidentally. We can't blame them, nothing can ruin your favorite show more than spoilers!
36. Calling Out The Horrible Neighbors
They say nothing good can come from airing your dirty laundry for all to see. But for this fed-up neighbor, enough was enough. After an inconsiderate pet owner repeatedly failed to clean their dog's mess something had to be done.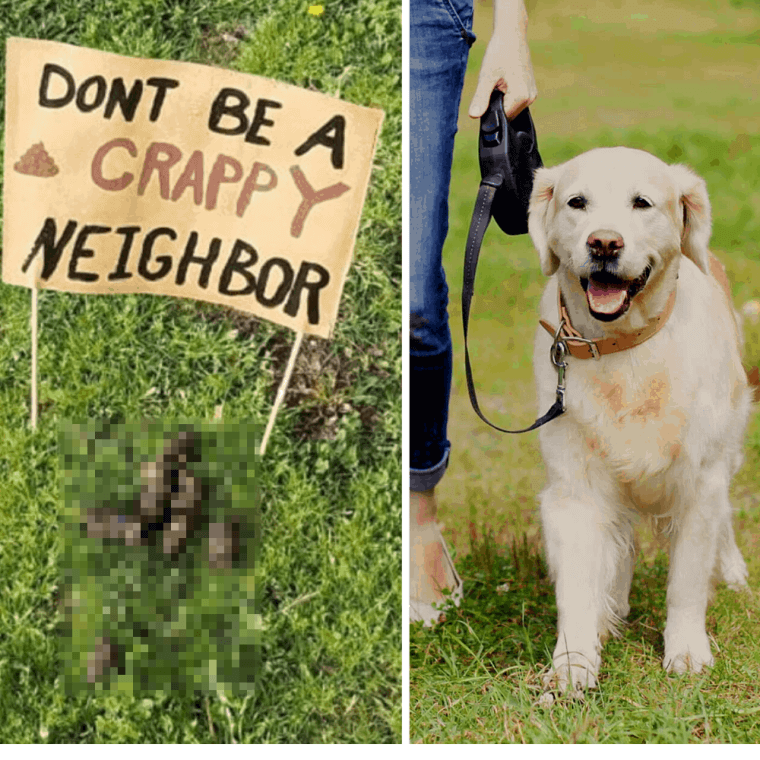 So the fed-up neighbor made this sign to place next to the latest mess that was left on their lawn. While the sign made most of the neighbors laugh, it also made the guilty party feel pretty bad about what they were doing. So this lawn was no longer being fertilized by a thoughtless neighbor.