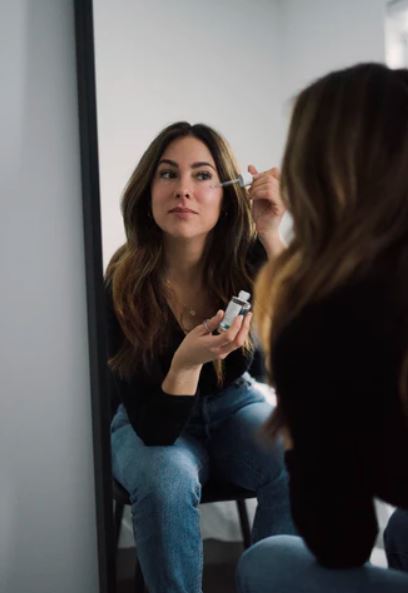 If you're tuned into the nonstop buzz of the beauty world, you've heard of hyaluronic acid, the adored elixir that offers mega hydration and lit-from-within skin. But we decided to look beyond the buzz…
What are the actual benefits — the ones science says are legit? Turns out there are a lot. Not only can it improve your skin, it can also help with joints, eyes, bones, and beyond.
Hyaluronic acid can benefit skin in multiple ways including:
adding moisture
smoothing and improving overall texture
reducing fine wrinkles
reducing acne scars
calming unwanted redness
conditioning dermis on scalp

Hyaluronic acid can also benefit your overall health. It can:
soothe acid reflux
relieve joint pain
speed up healing of wounds
offer relief for dry eye
help preserve bone strength
prevent bladder pain
To help you decide whether hyaluronic acid is right for your wellness or skin care routine, this guide will cover:
what hyaluronic acid is
hyaluronic acid benefits for skin and body
what forms of hyaluronic acid are available
what benefits the different forms offer
12 of the best hyaluronic acid products from $7 and up

What is hyaluronic acid?
Hyaluronic acid is a naturally occurring substance already found in the body — particularly in the skin, joints, eyes, and tissues. It provides moisture in areas you probably weren't even aware of, but hyaluronic acid doesn't always stick around in the amounts needed, especially as you age.
This is where supplemental or topical hyaluronic acid steps in.
The benefits of hyaluronic acid for skin
The benefits of using hyaluronic acid for skin include:
Improved appearance. Studies found that lotions, creams, and moisturizers containing the acid can help reduce wrinkles, firm up skin, improve texture, and combat dryness.
Reduced acne scarring and acne. When applied or injected, hyaluronic acid can reduce the appearance of acne and acne scarring. You can also combine it with this concealer for an enhanced look.
Dewy skin. This is a trait commonly sought through the use of moisturizers, oils, or highlighters, but hyaluronic acid serums, creams, and lotions adds moisture to the skin, which in turn gives your skin a more dewy look.
Reduced eczema. Those with "mild to moderate" redness and eczema could see a reduction in symptoms through the use of a hyaluronic acid-based foam. Be sure to speak with a medical professional before trying.
Conditioning for the scalp. While hyaluronic acid won't do much when applied to your hair, it can condition the scalp. Hair follicles are embedded in the dermal layer, and hyaluronic acid can help encourage growth at that level.
The health benefits of hyaluronic acid
In addition to helping plump, smooth, moisturize, and all-around beautify, hyaluronic acid works internally to ease with a number of issues. Science stands solidly behind these benefits:
Improved joint and bone health. Multiple studies theorized that hyaluronic acid could promote better bone and joint health. It already works naturally in the body to keep joints well-lubricated and taking 80 to 200 milligrams daily as a supplement has been shown to significantly help those with osteoarthritis.
Relief from dry eye. Hyaluronic acid's moisturizing nature has been proven effective in the treatment of dry eyes.
Relief from bladder discomfort. Some studies reported that hyaluronic acid, when injected, could also improve bladder health, reducing complications associated with a painful bladder.
Faster healing of wounds. Hyaluronic acid has been shown to speed up recovery when applied directly to an open wound, by regulating inflammation levels and encouraging the body to build more blood vessels.
Reduced acid reflux symptoms. According to one study, reflux symptoms were significantly reduced by taking a hyaluronic acid and chondroitin sulfate supplement along with an acid-reducing medication.
Forms of hyaluronic acid
OK, now that you know what it does, how do you go about using it?
Hyaluronic acid is available in multiple forms, including oral supplements, applied serums, and injectables. Which one you choose ultimately comes down to what you're using it for, what your budget is, and personal preference.
Oral hyaluronic acid. It's always best to speak with a trusted health professional before using an oral supplement. Studies have shown that taking 120 to 240 milligrams per day for at least a month significantly reduced dry skin and increased moisture.
Topical hyaluronic acid. Along with hyaluronic acid serums, there are creams and makeup that feature the acid as a main ingredient. As with any new skin care ingredient, results and side effects may vary. However, because hyaluronic acid is naturally occurring, side effects are usually limited.
Injectable hyaluronic acid. Some dermatologists offer injectable hyaluronic acid fillers like Injectables | Botox, Juvederm, Xeomin | Frisco, Tx or dermal fillers in Cypress, TX. While the Botox treatment such as this Botox in Chicago, IL is considered safe, this guide will focus on options that are readily available for purchase by consumers for at-home use, namely oral and topical.
For any of the non-skin-related uses above, you should talk with a doctor or seek advice at a local health clinic to talk about whether HA and Botox is right for you — and if so, what form, dose, and frequency, etc. You may visit a place like revivewellnessgroup.org for some additional info.
As for beauty applications, we've got you covered. If you're ready to try out hyaluronic acid for acne, dry skin, pesky wrinkles, or just some glowy skin, we've gathered the best products to try out. Looking to try botox injections like this Botox in Brookings, OR? We've got Botox on the list too. And if you are going to try botox for the first time, make sure to get it from a licensed Aesthetic Treatment Center.
Products
We chose these products based on their effective ingredients and rave reviews from customers. We've included options that are serums and supplements, as well as beauty products that include hyaluronic acid.
While they range in price, most of the products on this list are less than $40.
---
Pricing guide
$ = under $10
$$ = $10–$35
$$$ = over $60
---
The Ordinary Hyaluronic Acid
This $7 serum combines hyaluronic acid and vitamin B5 to provide dry skin with much-needed moisture. Suggested for use twice a day, the liquid-based product left the faces of someone online reviewers looking more luminous than ever, and some reported softer skin.
Key ingredients: hyaluronic acid, sodium hyaluronate crosspolymer, vitamin B5 (as panthenol)
Price: $

---
Tatcha The Rice Wash Skin-Softening Cleanser
Those interested in incorporating hyaluronic acid through a daily cleansing routine should consider this face wash. The cream-based cleanser washes away makeup and dirt, but it's blend of hyaluronic acid, Japanese algae, and Japanese rice powder should also leave skin feeling softer.
Key ingredients: hyaluronic acid, blend of nourishing Japanese algae and Japanese rice powder
Price: $$

---
ColourPop Pretty Fresh Hyaluronic Acid Tinted Moisturizer
By adding hyaluronic acid directly into this tinted moisturizer, users can skip the added step of doubling up on separate products. Plus, as moisturizer is proven effective in treating oily skin, you're getting both the benefits of the hyaluronic acid, and the added moisture.
The product is available in multiple tinted shades, but you should be wary of application, as some reported it looking "streaky and patchy," while others experienced breakouts.
Key ingredients: hyaluronic acid, coconut water (cocos nucifera water)
Price: $$

---
Fresh Rose & Hyaluronic Acid Deep Hydration Moisturizer
More than 1,000 shoppers have given this moisturizer a five-star seal of approval, citing its combination of hyaluronic acid and rose water as the reason for "dewy" skin. Sensitive skin users praised the product, but those with oily skin cited additional breakouts possibly related to use.
Key ingredients: hyaluronic acid, angelica keiskei extract, rose water as rosa damascena flower oil, tocopheryl acetate
Price: $$

---
The INKEY List Hyaluronic Acid Hydrating Serum
Peptides focused on reducing wrinkles and fine lines join hyaluronic acid in this popular serum. The serum's $8 price is partially responsible for its popularity, with consumers calling it a "cost-effective" alternative to similar, more expensive products.
"This feels amazing on the skin," one reviewer wrote, while another said it doesn't feel sticky when applied.
Key ingredients: hyaluronic acid, palmitoyl tetrapeptide-7, palmitoyl tripeptide-1
Price: $

---
Neutrogena Hydro Boost
Thanks to the quick-absorbing formula of this gel, this is one product that can easily be worn under liquid makeup.
Suitable for all skin types, some online reviewers swear by the item, writing, "My cystic acne has ceased, my skin is supple, clear, brightened." Another reviewer dubbed it an "effective, affordable" alternative to more expensive products.
For those with a sensitive nose, some customers did note that they were not a fan of the product's fragrance.
Key ingredients: hyaluronic acid
Price: $$

---
Kosas Kosasport LipFuel Hyaluronic Lip Balm
This balm allows your lips to take advantage of the hydrating properties of hyaluronic acid. Formulated with shea butter and wild mint, the balm — which comes in three color variations — earned top marks from shoppers for leaving lips feeling "lush" and its lightweight application.
Not everyone is a fan of the balm's packaging though, as some reported issues with the balm's thin applicator.
Key ingredients: hyaluronic acid, shea butter, avocado oil
Price: $$

---
CORSX Hyaluronic Acid Intensive Cream
Hypoallergenic and tested by dermatologists, this intensive cream provides long-lasting hydration to the face.
Customers reported that a little goes a long way with usage, and some noticed instant results. However, some did report that it doesn't mix well with makeup, and that on some occasions, it didn't feel truly absorbed by the skin.
Key ingredients: hyaluronic acid, sunflower seed oil
Price: $$

---
Tarte SEA Mermaid Skin Hyaluronic Acid Serum
The addition of vitamin B5 and algae extract enables this hyaluronic acid serum to also target fine lines and wrinkles. Although the formula did feel "sticky" to some users, others suggested applying moisturizer after to counteract that.
Key ingredients: hyaluronic acid, vitamin B5, algae extract
Price: $$

---
Dr. Barbara Sturm Scalp Serum
Not for the budget bound, this scalp serum is pricey. The serum provides a heavy dose of hydration and moisture to the scalp thanks to HA, purslane, and papaya extract. Caffeine energizes and panthenol soothes. It's free of parabens, formaldehydes, phthalates, and more undesirables.
Key ingredients: hyaluronic acid, purslane, papaya extract, panthenol, caffeine
Price: $$$

---
Olly Glowing Skin Vitamin Gummies
Hyaluronic acid in supplement form can reduce dry skin, and this combination, which also features collagen, will also support overall skin health.
Online reviewers did report more "luminous" "hydrated" skin, but some were not a fan of the product's texture, and others did not notice an improvement in their skin.
Key ingredients: hyaluronic acid, collagen, sea buckthorn
Price: $$

---
NeoCell Hyaluronic Acid Capsules
Containing only hyaluronic acid as its key ingredient, this supplement, when taken as directed, delivers 200 milligrams of the beneficial skin care ingredient. One reviewer noted a lessening of wrinkles, but combined the supplement with additional moisturizers.
Key ingredients: hyaluronic acid
Price: $$

---
tl;dr
Hyaluronic acid naturally exists in the body, but not always at optimal levels, especially as we age. That's where oral supplements, topical serums and creams, or injectable HA come in.
Not only can hyaluronic acid improve your skin, it can also help with joints, eyes, bones, and beyond. There's plenty of science to back that up.