Tips from the great minds behind the Hustle Humble Box…helping fellow business owners succeed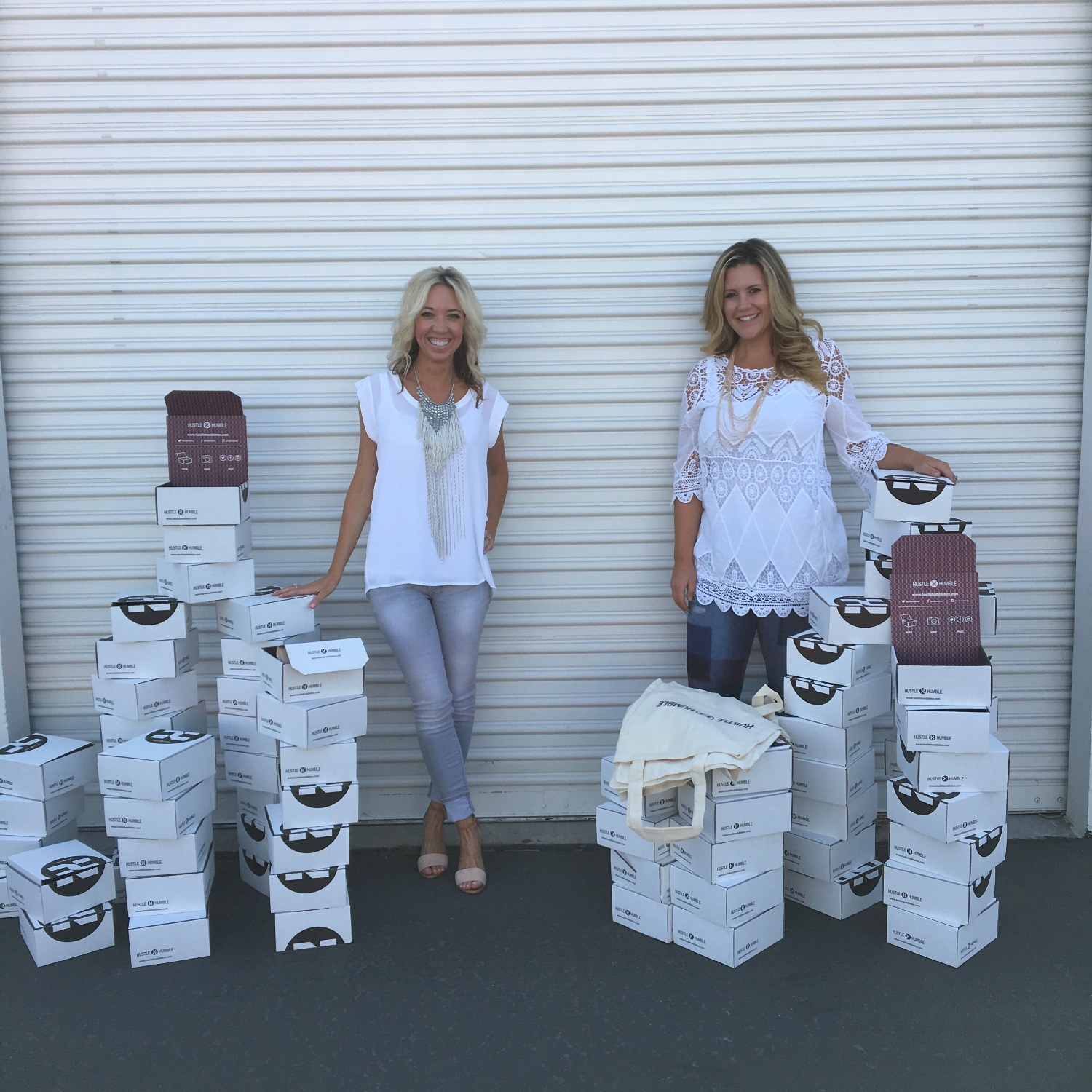 We founded our business in 2006 as an early social media company called ChicBlvd Inc. This was before Twitter and Facebook appeared outside of the college domain and opened up to the general public where it would eventually be adopted into mainstream use.
We started out as a content-based company producing articles, videos, and advertising content in
order for brands to connect with the end consumer.  Our site, ChicBlvd, provided content that
women in every stage of life could relate to, from single life and dating, all the way to weddings, new
babies and parenting. As our business grew, we looked into expanding our reach outside of just
developing content and moved forward into online retail. As we curated our online boutique to
provide products in response to consumer demand, we found that one common product kept
Emerging – our readers wanted functional, fashionable technology.
At the time there was nothing out there that was specifically geared for a female target audience.
The iPod had just launched and all that was available were bulky, black headphones that were
neither appealing nor practical in our busy day-to-day lives. This is how our first product was
developed organically. We found an open niche in the market within the electronic accessories
business and created a product specifically for women. Our product, ChicBuds, had smaller ear
buds, tangle free cords, and an aesthetically pleasing design.
After offering it to retail stores, as part of the product development we looked for a PR agency to
provide our brand with press and recognition in the media. Since we owned ChicBlvd Inc., our
media platform, we were used to seeing press releases and knew how it was supposed to be done.
After interviewing many agencies, we realized no one offered what we were looking for; a lifestyle
driven PR strategy without the mundaneness we had seen in the past. We set out to do our own PR
organically, doing what felt natural to us and breaking out of the traditional data-driven releases and
it worked!
Our brand garnered over 50 major features in less than 6 months, launching it into mass retail
success. As our brand took off, other brands took notice at trade shows and inquired who handled
our PR, and that was how ChicExecs was born.
Since our launch in 2006, ChicExecs has successfully extended their network and connected today's industry leaders to media, retail buyers, and investors – now also excelling in areas such as Store Placement, Social Media, Influencers and Celebrities.
After receiving an influx of professionals looking for how-to advice, we felt compelled to share our expertise in a manner that would help entrepreneurs and intrapreneurs build confidence, attain knowledge and gain leadership insight. With the need to help others in mind we began our fourth business endeavor, Hustle Humble Box.
Hustle Humble Box is the first monthly subscription box of its kind to deliver carefully curated boxes monthly to entrepreneurs, inventors, and new business owners. Each month, subscribers receive hand-packed boxes with new products, inspiring stories, advice, and pro tips from the founders behind the products. In addition, for every monthly subscription box sold, Hustle Humble donates school supplies to children in need to inspire them in their entrepreneurial journey.
ChicExecs continues to be a powerhouse in the Public Relations and Brand Management industry. Our entire company has evolved around organic growth- building from our passions, vision and purpose. Our company verse is Proverbs 23:19, which reads, "Listen, be wise, and set your heart on the right path." It is a constant reminder to be wise in business decisions and stay true to morals.
Some advice for organically growing your business is to:
-Listen: First and foremost, be sure to be wise in all your decisions and for us, we seek God in the direction to go. You will always face situations that require you to either choose to follow your morals or make questionable decisions. Always stay true to your morals, even if it costs you, as you will win in the end.
Make sure your business uses your gifts, talents and passions – as you will never grow weary of the hard work it takes. This personal connection will also lead to enormous insight and will lead to authentic and organic growth. Because of this, you should be able to recognize the needs of your consumers. Always evaluate – are you identifying and meeting their needs? Are you watching for evolving future trends? Are you continuously growing and building innovation? Never grow stagnant, always be evolving and always listen to your customers.
-Be Wise: Don't just jump at anything that comes your way. Trust your instincts, but also listen to the advice of those around you to make sure you find the best possible solution.
-Don't Overthink: If you feel something is right, do it. If you don't try, you'll always wonder about the what-ifs. It's important to be willing to take risks in business. You can learn from all your mistakes and the only failure is the fear of moving forward.
-Keep Your Heart On The Right Path: For us, this means following our moral beliefs, giving back, and always doing our very best work day in and day out. Make sure your purpose is always in the giving back as that will be what provides the true fulfillment in business.
Meet the Founders
Nikki Carlson Co-Founder
Nikki Carlson is Co-Founder/Co-President of ChicBlvd Inc. who founded and owns three divisions – ChicBlvd Magazine (www.chicblvd.com), ChicExecs Brand Strategist Firm (www.chicexecs.com) and Fashion Audio LLC (www.chicbuds.com). With over 16 years experience in PR/Marketing, Nikki has managed clients in TV, radio, print, fundraising, website development, branding execution, and event sponsorship. In 2004, she ventured out to pioneer ChicBlvd Inc using her creativity, entrepreneur passion and desire to give back by helping other businesses and getting involved in charity work.
Kailynn Bowling Co-Founder
Kailynn Bowling is a proud mother, wife, and Co-Founder/Co-President of ChicBlvd Inc. who also founded and owns three divisions – ChicBlvd Magazine (www.chicblvd.com), ChicExecs Brand Strategist Firm (www.chicexecs.com) and Fashion Audio LLC (www.chicbuds.com). With a passion for marketing, PR, fashion and product design, Kailynn quickly became the go-to girl for the latest trends in fashion must-haves. Her exceptional marketing skills, unique PR ideas, and successful product launches have all been key components to her prosperous career.