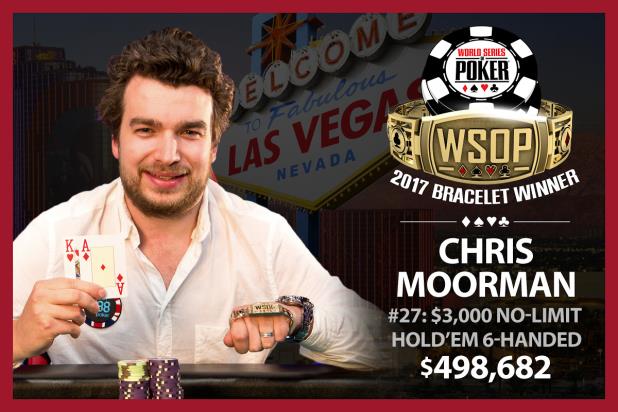 When you're first starting out in the world of online poker games, the prospect of winning big can seem like little more than a pipe dream. However, victory is well within your grasp if you're willing to put in the groundwork. Today we're taking a look at five of the biggest success stories in online poker, to keep you motivated on your personal path to greatness.
1 –Chris Moorman
Chris Moorman was studying economics at university when he discovered online poker. His first experience came at the encouragement of his friends, who enjoyed playing an online freeroll every Monday night. Before long, Moorman seized his first victory…a relatively modest $125 and a runner-up spot. Soon, the talented mathematician was making thousands of dollars a week playing online poker. He decided to pack in college to play full time, andafter clocking up 70-hours a week, Moorman had the game well and truly nailed. He has since clocked up more than $14 million in online winnings, and $5 million in live play. You can read his tips for success here.
2 –Chris Moneymaker
Being born with a name like Moneymaker could be a blessing or a curse, but not for this guy, who has more than lived up to his unusual surname. Moneymaker was working as an accountant, living a normal life until he entered a humble $39 satellite online poker tournament one day. In winning, he secured a coveted spot at the 2003 World Series of Poker – the world's largest, longest-running and most prestigious poker tournament. Despite not wanting to go and it being his first ever live poker tournament, Moneymaker defied all odds and went on to win the Main Event, taking home $2.5 million.
3 – Daniel Cates
There must be something about economics students! Daniel Cates is another who was studying the subject while dabbling in the world of online poker in his spare time. Today, Cates is considered one of the best heads up No Limit Texas Hold'em players in the world. In 2014 alone, he clocked up winnings of $11 million in online cash games.
4 – Maratik
This Russian player made waves in the online poker world in 2012. Maratik's journey started with him playing at a 40 Frequent Player Points satellite, and ended with him winning the $5,200 World Championship of Online Poker Main Event and taking home $1,000,907 in winnings. Widely considered the toughest online poker tournament in the world, no one expected an unknown from Russia to rise up and seize victory so spectacularly.
 5 –Steven Tea
After learning the ropes playing $5 home games with his friends, Tea (or IAMACHAMPION – if you prefer his screenname) hustled hard to get $400 to deposit in his first online poker account. Within one day, he went bust. He came back hard and started to amass a serious bankroll playing freeroll tournaments. When he lost all his winnings, he moved back to Cambodia to live cheaply and play poker full-time. Tea would play for 12-16 hours per day, seven days a week, at times playing more than 50 tables at once. He invested his winnings in poker coaching, determined to learn everything there is to learn from the bottom up. Talk about serious grinding! Eventually the hard work paid off, with Stephen going from flat broke to €100k in profits in less than a year.
So, there you have it…online poker players who've defied all odds to become some of the biggest winners in poker history. If they can do it, so can you.