If you've ever wanted to step into a sci-fi movie, now's your chance. Arcosanti is an experimental utopia in Yavapai County – the first of its kind in the world. The community has fewer than 100 permanent residents, but the camaraderie, focus on sustainable living, and beautiful architecture makes it ideal for a weekend getaway. In our opinion, it's one of the best small towns in Arizona to visit!
During these uncertain times, please keep safety in mind and consider adding destinations to your bucket list to visit at a later date.

Located about an hour north of Phoenix, Arcosanti is an experimental town that seeks to blend the worlds of architecture and ecology.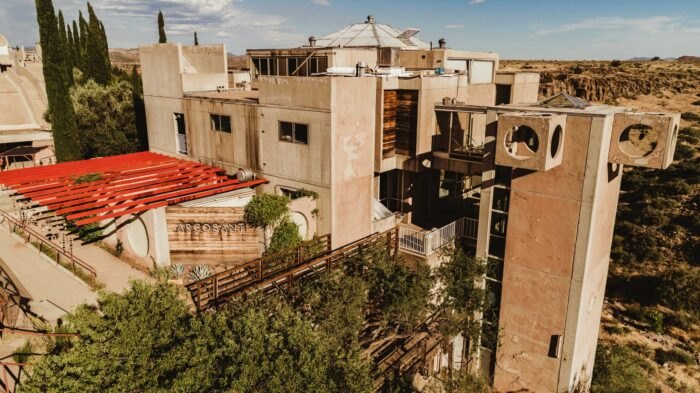 Arcosanti was founded in 1965 by Italian-American architect Paolo Soleri, and it's the first community of its kind on earth.

Even though over 50 years have passed since its inception, Arcosanti is only 5 percent complete.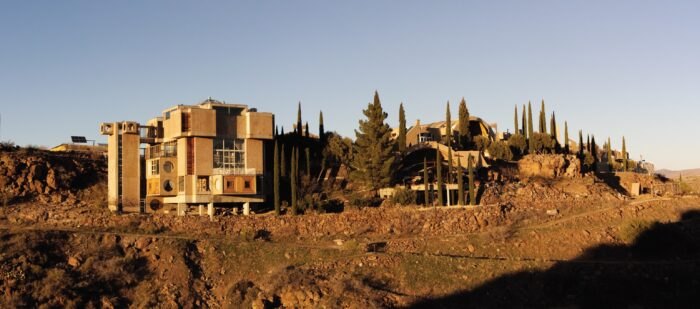 As a result, the town looks a bit like something from a dystopian movie, with an array of uniquely-shaped buildings in various stages of construction.
Despite being unfinished, Arcosanti is far from abandoned.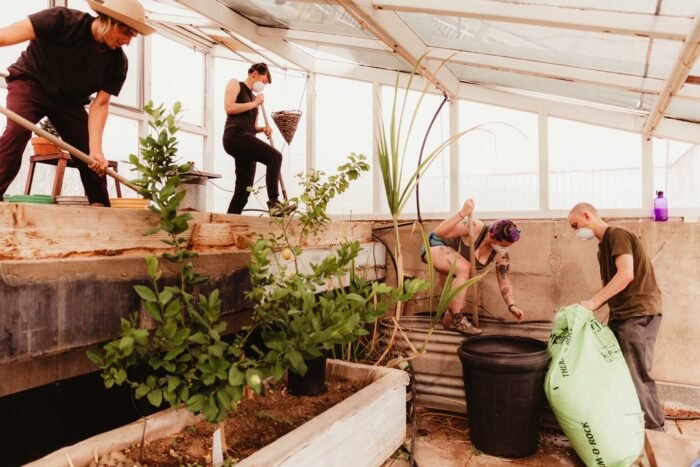 Over 60 people call the town home, and they all work together to help further the development of the community.
Tourists are welcome all year – Arcosanti is open to the public from 9 a.m. until 5 p.m. daily.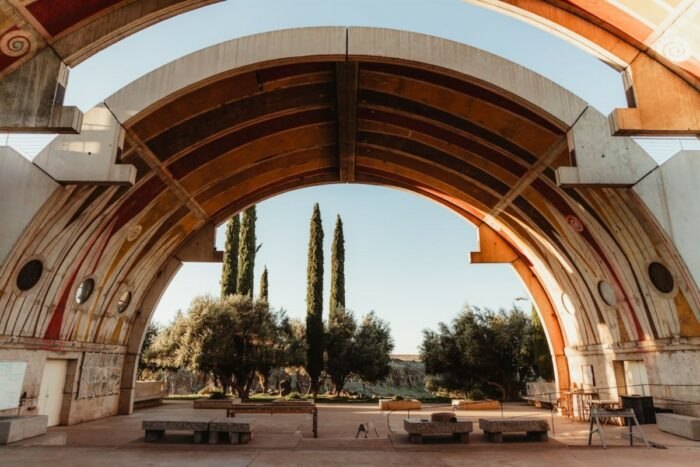 Residents lead tours of the grounds, showcasing the most impressive aspects of the architecture. Additionally, guests can gather and relax free of charge in the Visitors Center.
Café Atmosphere, the on-site restaurant, offers sustainable cuisine using local and in-season ingredients.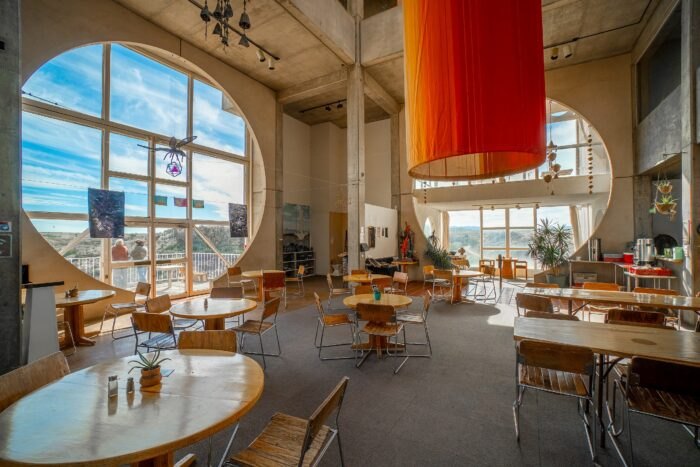 The views are almost as incredible as the food – the café overlooks Valletta Canyon to the south and provides an ideal vantage point for watching the sunset.
If one day just isn't enough time to fully appreciate Arcosanti, feel free to extend your visit overnight.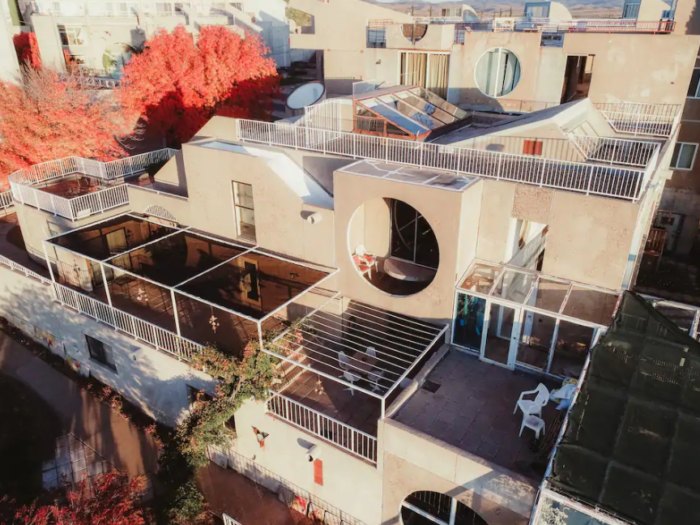 Several different accommodations are available, including primitive campsites, greenhouse guest rooms, and Airbnb suites.
The two Airbnb suites are the most popular lodging choices because they offer a completely immersive experience.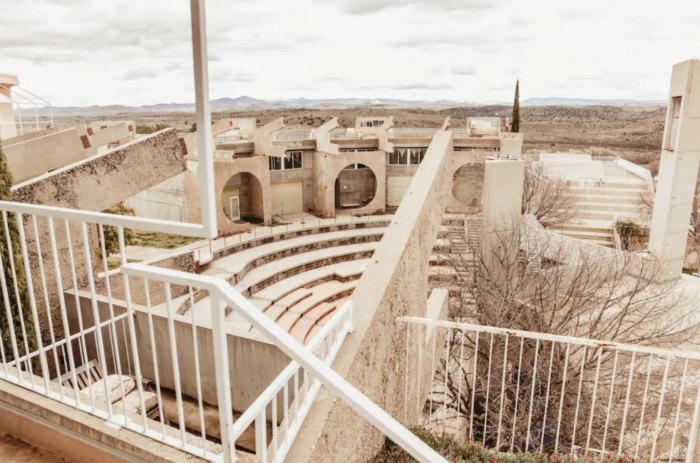 Built into the main site of the community, the rooms boast plenty of modern amenities, plus sweeping vistas of the surrounding desert landscape. You may even get to enjoy a live performance from the comfort of your private balcony, as the outdoor amphitheater is right down below.
Overnight guests are also welcome to use the pool, which is open seasonally.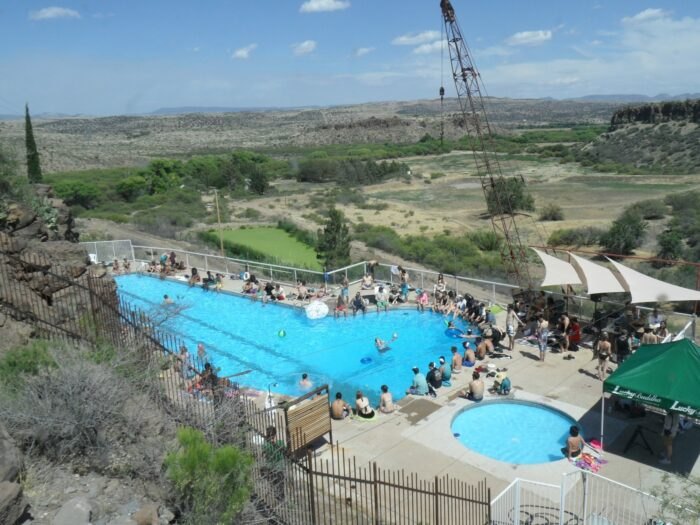 What a perfect way to spend a weekend – don't you think?
Visit the Arcosanti website or Facebook page for more information, such as room rates and amenities, and/or to book your stay.
Have you ever been to Arcosanti? If so, we'd love to hear all about your visit! Tell us in the comments.
Address: Arcosanti, AZ 86333, USA