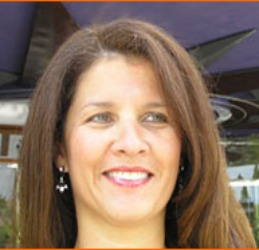 Entrepreneurs come with various passions and purpose that sometimes offers products to sell, while others provide services that change lives.   One such business-minded professional has opened the wide, wonderful world of language to many children and adults alike.  Communication is the key to success in every area of life. Gina Lopez offers new heights of communication and educational achievement by helping others access the Spanish, French and English languages. GINA'S SPANISH STUDIO provides tutoring services to business professionals.  Her clients also include students in public and private middle schools, high schools, college and home school students of all ages.
Gina Lopez, founder and owner since 2005, has enjoyed a growing clientele without advertising. Her business flourishes because of referrals.  The most rewarding element about running her business is that she is able to set her own schedule doing what she enjoys the most: teaching her culture and her native language as well as sharing her experience as an English and French learner herself.
Ms. Lopez was asked what challenges she has faced and how did she overcome them?  This was her reply: "Motivating the younger students and keeping them focused during a group class. I overcome the hindrances by encouraging them to participate and by asking them questions.  I share the obstacles I have encountered myself as an English and French learner. This last piece always works best because students see that I do relate to them."
If you were starting over today, what would you do differently?
"I would work with a business partner and I would have started sooner."
You may be surprised to learn that Ms. Lopez was born in Nicaragua, went to high school in Spain, and then attended college in Wisconsin.  Many who receive tutoring help from her are glad she has ended up here in Southern California.  Her travel adventures have given her the ability to adapt to each environment and make the best of every circumstance.
What advice do you have for other business owners?
"Keep it real and simple. Never stop learning and staying up to date.  Be sure to rest.  Have fun."
Some favorite resource tools Ms. Lopez recommends for others:  Bags to Riches by Linda Hollander;  The Languages of the World by Kenneth Katzner and Un Enemigo Llamado Promedio (An Enemy Called Average) by John L. Mason
Gina's Spanish Studio is located in Calabasas serving all of Southern California.  For more information on Gina's tutoring services or to book an appointment visit www.ginaspanishstudio.com