By Mass Communication Specialist 2nd Class Brian T. Glunt, Navy Office of Community Outreach
JOINT BASE PEARL HARBOR-HICKAM, Hawaii – Modern attack submarines are the most technologically advanced and capable undersea warfighters in the world. Operating these highly complex submarines require sailors from the U.S. Navy's submarine community, also known as the 'Silent Service.'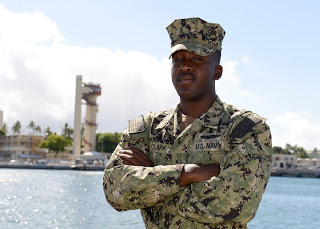 Seaman Alexander Clark, a 2016 Klein Forest High School graduate and native of Houston, Texas, works as a Navy culinary specialist serving aboard USS Chicago, one of the world's most advanced nuclear-powered submarines, homeported at Joint Base Pearl Harbor-Hickam, Hawaii.
Clark credits success in the Navy to many of the lessons learned in Houston.
"My hometown has taught me to take pride in everything that I do," said Clark. "Do everything to the best of my ability and finish everything that I start."
As a Navy culinary specialist, Clark is responsible for the preparation and inventories of all food on board the ship and ensuring all meals are prepared and served with no issues.
Jobs are highly varied aboard the submarine. Approximately 130 sailors make up the submarine's crew, doing everything from handling weapons to maintaining nuclear reactors.
Attack submarines are designed to hunt down and destroy enemy submarines and surface ships; strike targets ashore with cruise missiles; carry and deliver Navy SEALs; carry out intelligence, surveillance, and reconnaissance missions; and engage in mine warfare. Their primary tactical advantage is stealth, operating undetected under the sea for long periods of time.
Because of the demanding environment aboard submarines, personnel are accepted only after rigorous testing and observation. Submariners are some of the most highly trained and skilled people in the Navy. Regardless of their specialty, everyone has to learn how everything on the ship works and how to respond in emergencies to become "qualified in submarines" and earn the right to wear the coveted gold or silver dolphins on their uniform.
Though there are many ways for sailors to earn distinction in their command, community, and career, Clark is most proud of being named USS Chicago Blue Jacket of the Quarter and receiving his submarine warfare qualification.
"I take pride in my submarine warfare qualification," said Clark. "It took many months of hard work, staying late and coming in early to complete it."
Being stationed in Pearl Harbor, often referred to as the gateway to the Pacific in defense circles, means Clark is serving in a part of the world taking on a new importance in America's focus on rebuilding military readiness, strengthening alliances, and reforming business practices in support of the National Defense Strategy.
"Our priorities center on people, capabilities and processes, and will be achieved by our focus on speed, value, results and partnerships," said Secretary of the Navy Richard V. Spencer. "Readiness, lethality and modernization are the requirements driving these priorities."
The Navy has been pivotal in helping maintain peace and stability in the Pacific region for decades. The Pacific is home to more than 50 percent of the world's population, many of the world's largest and smallest economies, several of the world's largest militaries, and many U.S. allies.
The U.S. Pacific Fleet is the world's largest fleet command, encompassing 100 million square miles, nearly half the Earth's surface, from Antarctica to the Arctic Circle and from the West Coast of the United States into the Indian Ocean.
Serving in the Navy is a continuing tradition of military service for Clark, who has military ties with family members who have previously served. Clark is honored to carry on that family tradition.
"My older sister is currently serving in the Air Force," said Clark. "Her seeing me join the Navy was the influence for her joining so I'm glad that I could influence her to make a positive career choice."
As a member of one of the U.S. Navy's most relied upon assets, Clark and other sailors know they are part of a legacy that will last beyond their lifetimes, one that will provide a critical component of the Navy the nation needs.
"Being stationed in Hawaii is the best part about serving with this command. It's a place that everyone dreams to visit and being able to actually live here is like a dream come true," added Clark. "Serving in the Navy means I get to serve my country. Being able to defend this great nation means a lot."