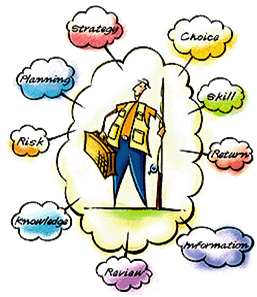 Retirement turns out to be a tough season for many people if it is not planned out well. It means a cessation of a regular income and not all companies come up with pension schemes for their employees. If your post-retirement plans are well designed and chalked out then you need not have to compromise on your standard of living that you have lived prior to your retirement. Having good investment plans would ensure that you have a good lifestyle even after your retirement when your regular flow of income has stopped.
Many companies offer retirement plans to their employees while others have to choose their own. Choosing a good retirement plan is extremely important for leading a comfortable life after retirement.
Retirement Planning Options
Some advantageous retirement options are cited below.
Money Market Funds: This is also known by the name of savings account. It implies that every month, you have to deposit a certain amount of money to your savings. While this is a stable and less risky option, it gives very low and less pay. This is something that every individual talks about but the only drawback regarding this kind of investment is that, the rate of return might be caught upon by inflation.
Bond Mutual Funds: This kind of investment implies investing in multiple high quality bonds. Bonds usually pay a higher rate of interest which is called dividends. It is usually advisable to select bond funds over money market funds. Moreover, when compared to stocks, bonds are even a better option as they are perfect for short term periods. This kind of investment is perfect for those who want to keep their money safe but also want higher returns. Generally retired, senior people go for this type of investment.
Guaranteed Investment Contracts: Also known as GICs, these are provided by the different insurance companies. A major advantage of going for this kind of investment is that, unlike stocks and bonds, it offers, guarantees, assures and a positive return. One advantage with guaranteed investment contracts is that there is not much fluctuation in the account value. However, in terms of profitability, they have the same return rates as compared to bond funds.
Balanced Mutual Funds: These are those funds that invest both in stocks and bonds. These are, therefore, known as balanced mutual funds. Investing singularly in stocks or bonds can be a risky business sometimes. However, investing in balanced mutual funds eases the risk to a large extent.
Stock Mutual Funds: As the name suggests, this kind of investment focuses on stocks alone. Since, stocks are a good option for long term policies; these are likely to draw higher dividends and greater profits in the long term. However, a lot of fluctuations might come in the intervening years.
There are various such investment options and even more which can be opted for leading a good and comfortable post-retirement life. However, these are to be thought out much prior to the retirement and not after retirement. Investing in your own company is also a viable and a secure option.