As you are reading this article, I will assume that you are thinking of setting up a new business. In an ideal world, one where you sell cars for a living! Car dealerships are places where individuals and company fleet managers go to buy new vehicles.
There are scores of car dealers across the land that sell new models. But what makes you think that you can do a better job than the competition? Well, you have a determination to succeed, and you're a brilliant sales person, of course!
The only trouble is; you've never set up such an ambitious enterprise before! If you want to find out more about setting up a new car dealership, you've come to the right place. Keep reading to learn what it takes to start selling those shiny new cars sooner rather than later!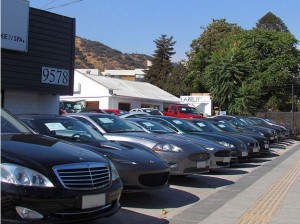 Image Source: Wikimedia Commons
Start by creating a business plan
Yes, I know. The idea is to set up a car dealership that sells brand new cars. But you still need to come up with a credible business plan. Why? Because you are going to need significant investment in your new enterprise, that's why!
If you want to sell brand new cars, you will usually have to set up a franchise selling one or more marques. As part of the deal, you agree to buy a particular amount of cars from the manufacturer each year.
Get some outside investment
As you can imagine, even just ten brand new cars on your premises can end up costing you a small fortune! Chances are you won't have the capital needed to fund such purchases. That's why you need to get outside investment.
But before anyone will invest in your new business, they will want to see proof of how you can generate the revenue required to make a profit. They'll also want to find out what your background is and if you've got a proven track record.
Pay for the right insurance
Having scores of brand new cars uninsured in your lot is a frightening thought, don't you think? That's why it pays to get the right insurance policy to cover those vehicles! Specialists like Insure Fleet can provide the right fleet insurance for your new car stock.
You will also need public liability insurance. It will cover any compensation claims raised by visitors that injure themselves at your premises. Employers' liability insurance is similar. Except that it applies to the people you hire rather than your visitors.
Hire other people
It will look a bit odd if you are the only person working at your dealership! That's why you need to hire other sales people, customer service agents and mechanics.
Spare no expense in promoting your dealership
The only way you will make money is by telling people about what you do. Without fail, you should advertise in local newspapers, the Internet and even in the media each week. The profits you can make from selling new cars is high. But you won't make a profit if no-one buys anything from you.
Good luck with your new car dealership!