Excellent Time Management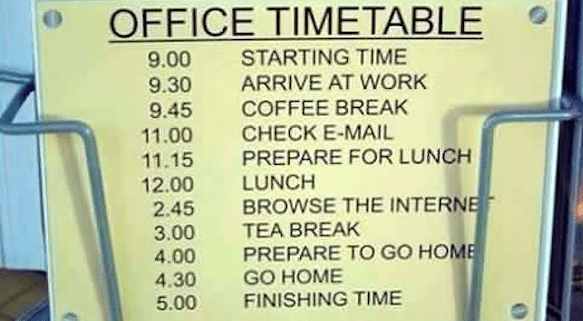 When it comes to working in an office, one needs to have excellent time management skills if they are going to hold down their position in the company. So when this member of staff set up his office timetable, he pretty much got all the important times locked down. These included coffee breaks, checking e-mails, lunch, and even preparing for lunch. However, after a couple of years at the company, the boss realized that they missed something out of the timetable – time for work.
Working From Home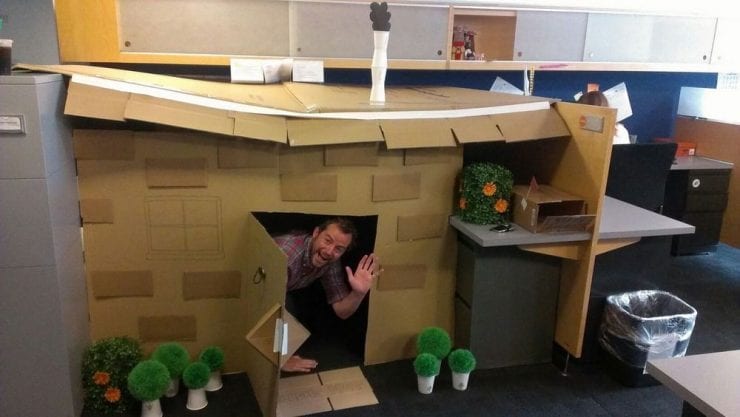 When it comes to working in an office, it makes sense to make your workspace as homely as possible. Adding some family photos and home comforts goes a long way. In fact, it has been known to improve work ethic. However, this particular member of staff chose to take this concept to another level, building his own makeshift home. While you can see the exterior of the house, it's amazing that this guy was able to include a bed, a sofa, a TV and a dining table.
Jurassic Work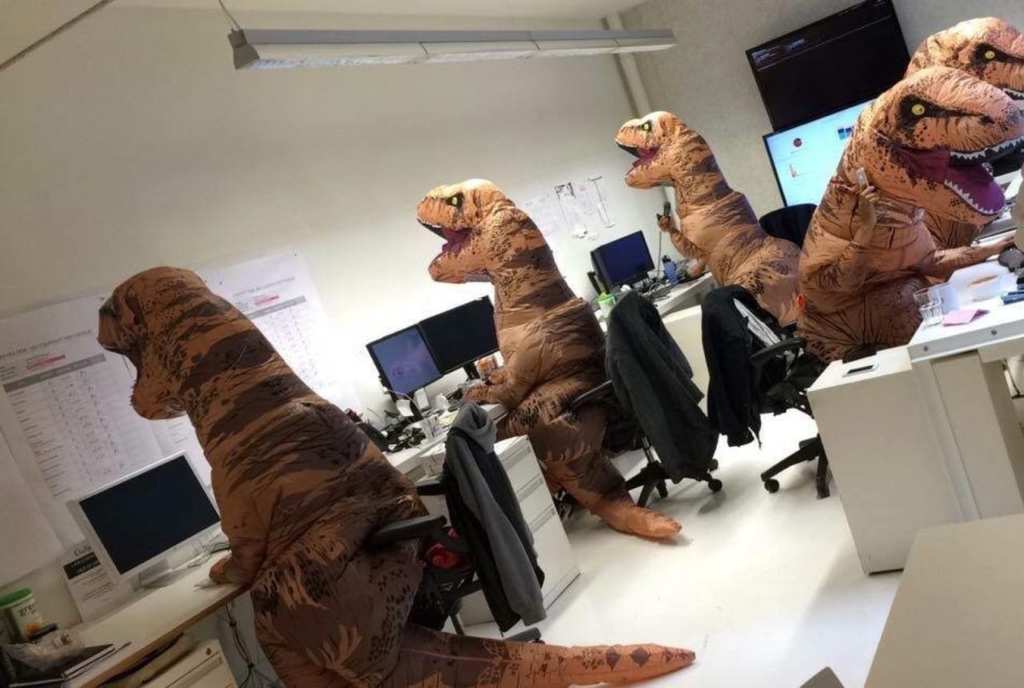 Many offices have special days to add a little fun to their everyday routine. Some have "bring your kid to work day," while many offices allow workers to dress up to work on Halloween. However, there is one company that, for whatever reason, made everyone dress up as dinosaurs to work. Furthermore, it wasn't just one day that the workers were required to wear prehistoric costumes. It turns out that this is a strict dress code that the company enforced after the reboot of Jurassic Park.

Well That Was Unexpected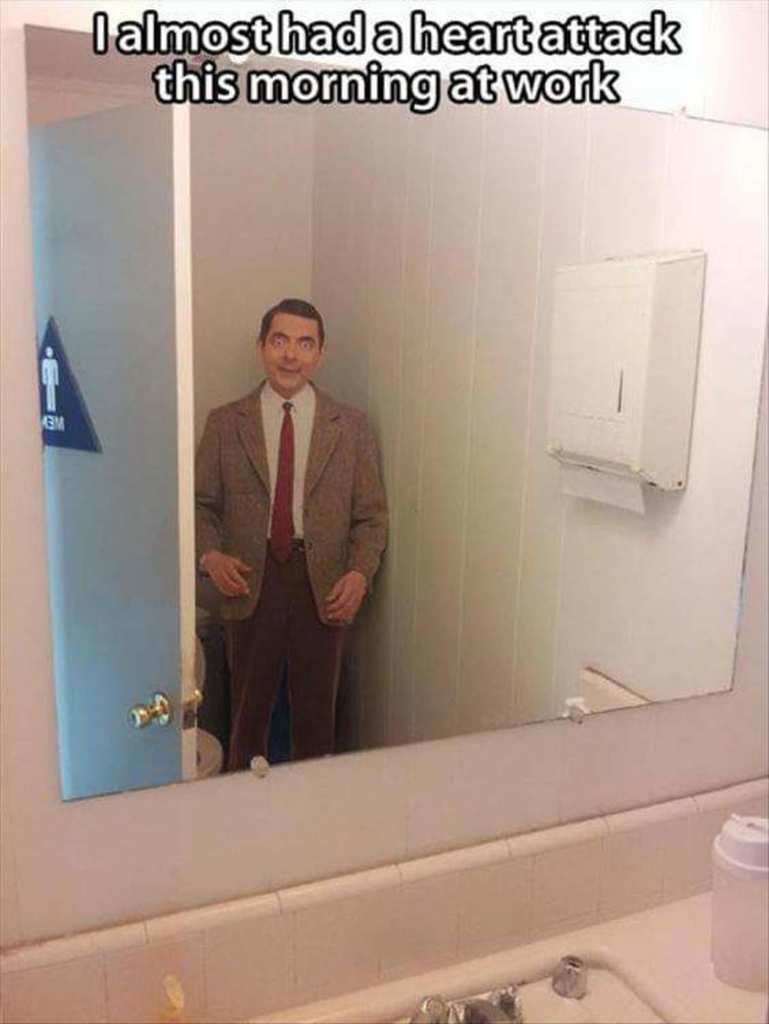 When one worker entered the office one morning, he was minding his own business, making breakfast and coffee, and setting himself up for the busy day ahead. Then he went to the bathroom to relieve himself. However, when he went to wash his hands, he lifted his head up to look at himself in the mirror, and he was startled by the figure staring at him in the bathroom corner. Lo and behold, it was Mr. Bean.
Good Won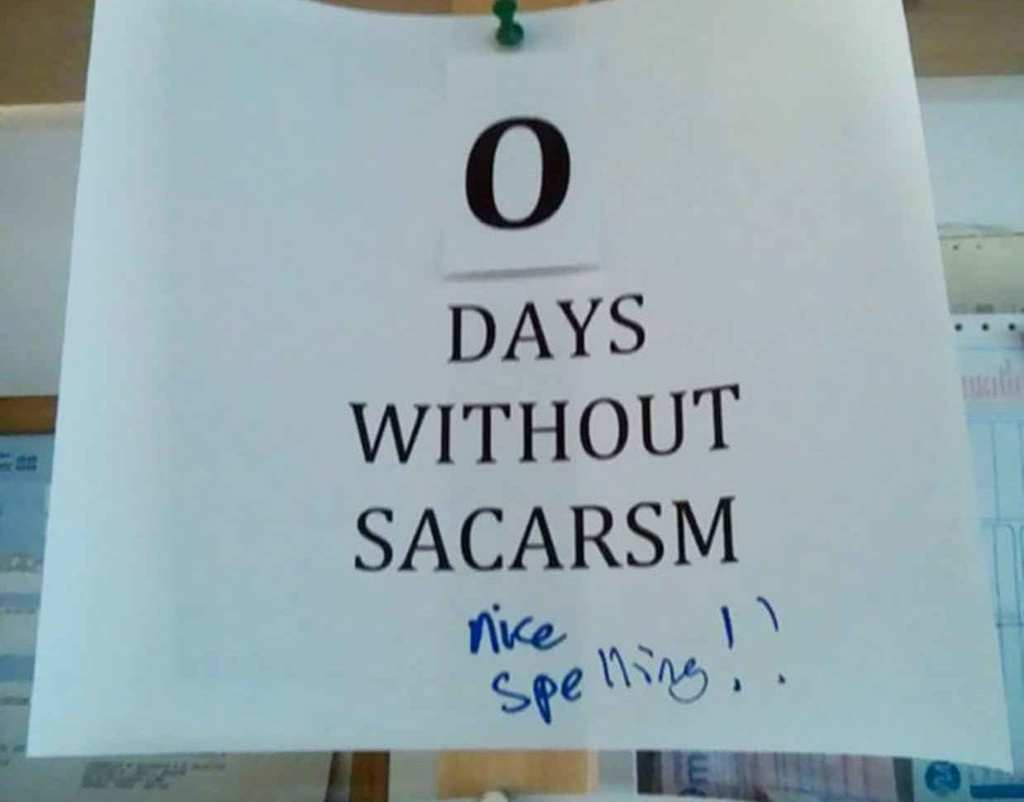 When you're working in an office full of heavily qualified and experienced individuals, you come to expect the highest level of professionalism in virtually every aspect of the company. This includes the important notes placed around the communal areas, for whatever reason. Apparently, the overuse of sarcasm had affected this particular office for the worst, so someone created a day counter to improve workplace morale. However, they shot themselves in the foot when they spelled the word "sarcasm" wrong.

Buffalo Printer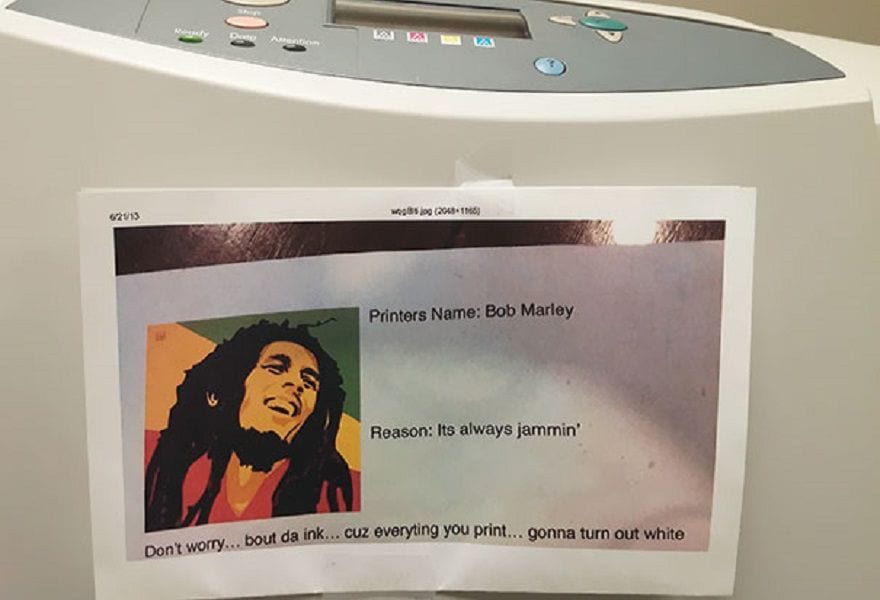 This office has a unique way of addressing its technical issues – quoting Bob Marley songs. Let's face it, the king of Reggae music is the poster boy when it comes to promoting relaxing vibes during the most stressful of times. However, in an office, you need at least one working printer. So they can sing "Buffalo Soldier," "One Love," and "No Woman No Cry" all day long, but it's not going to fix the fact that they have zero ink.
Go Go Conference Call!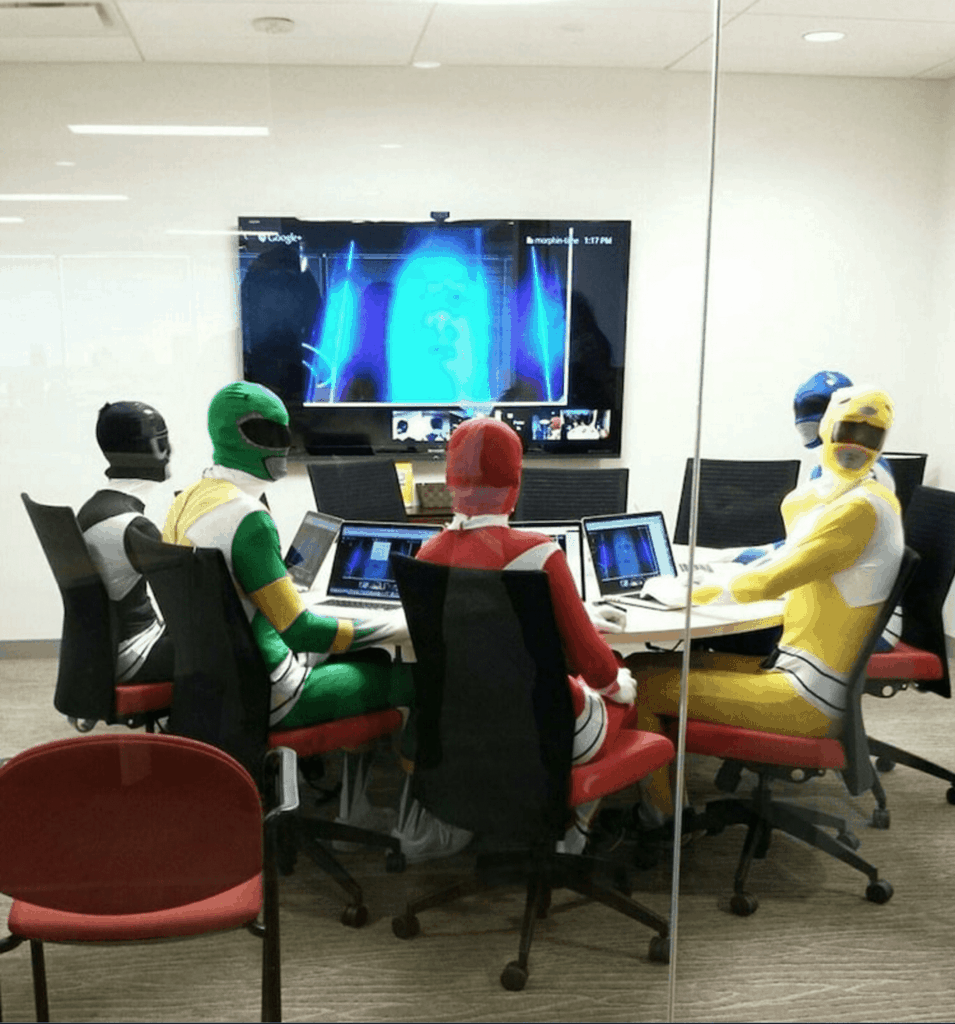 When the Mighty Morphin' Power Rangers sent a joint application to the same company, the CEO simply couldn't turn down this awesome opportunity. How many companies (other than Disney and a couple of film studios) can brag about having a group of superheroes in their ranks? After hiring the black, green, red, yellow and blue ranger, the company saw a great opportunity to build working ties with the gang's powerful mentor, Zordon. So they let the Power Rangers schedule a conference call.
Flushed Toilet – Check!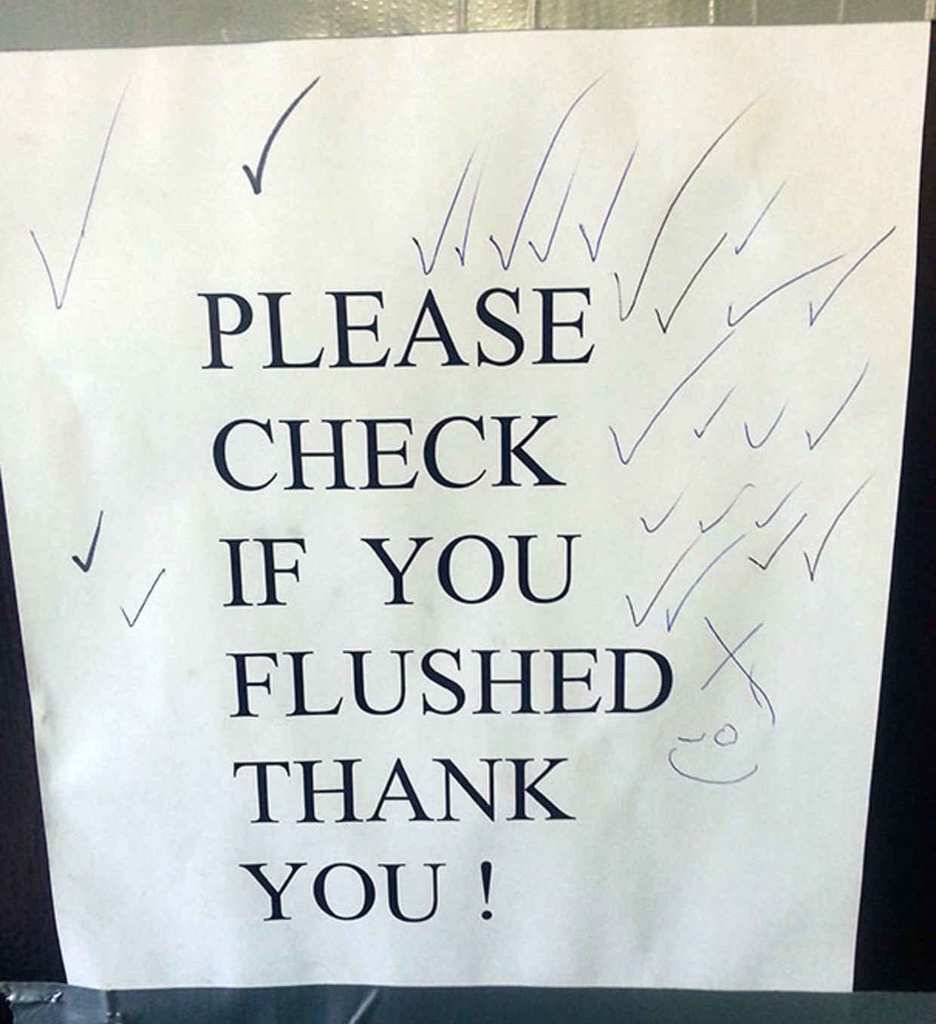 If there is one recurring issue that every office seems to face from time to time, it is a large group of people sharing the same bathroom. Although there isn't a universal code for toilet etiquette, there are some basic rules. Rule number one? Flush the toilet when you're done. Because so many workers weren't following such a basic rule, someone put up a note, reminding users to "check if you flushed." However, the workers read this in literal terms, and actually "checked" the sheet.
Post-It Prankster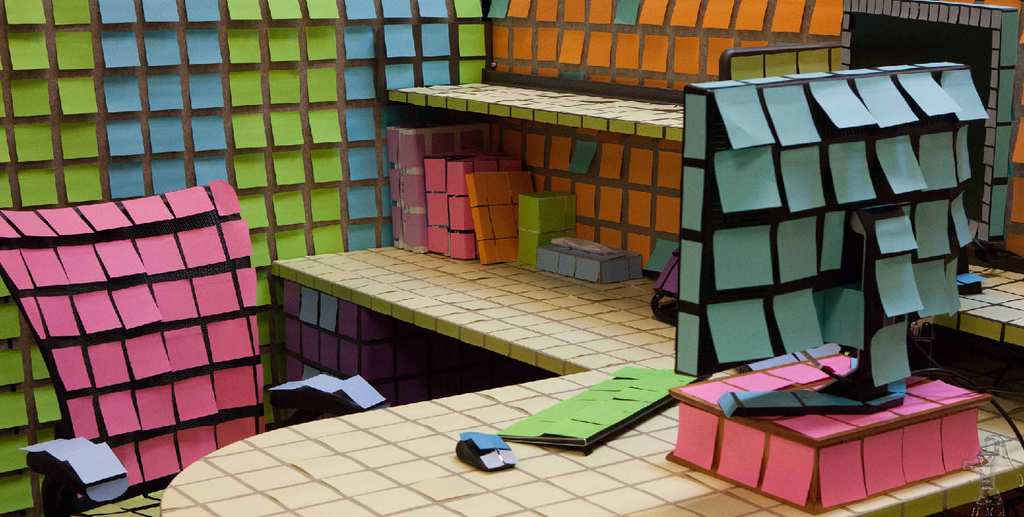 It is perfectly normal in the workplace for people to prank each other from time to time. In fact, most companies have at least one mischievous figure who is considered to be the office prankster. It seems that in this office, the naughty person likes to decorate his friend's workspaces by covering them in post-it notes from head to toe. Let's face it though; would you really be upset if your desk looked like this? It looks pretty cool!
Go Nuts For No Donuts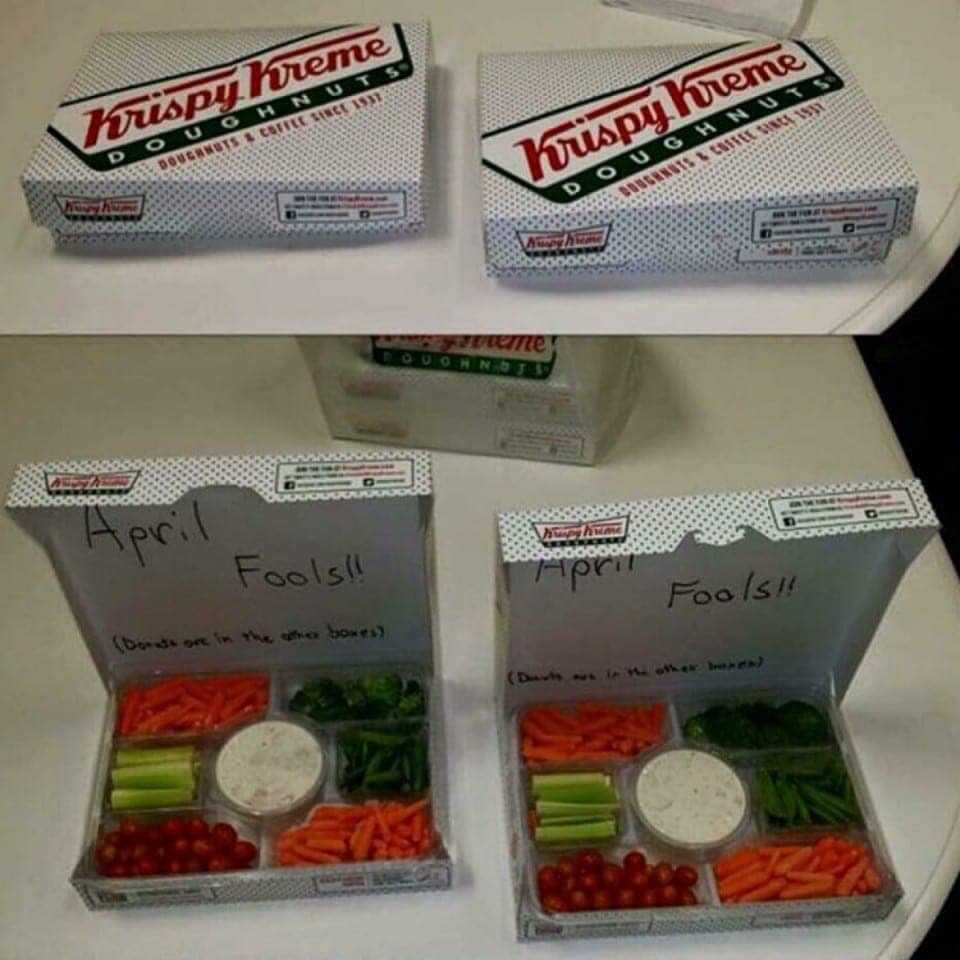 Unless you have some sort of allergy or dietary requirement, you're simply not going to say no to a box of Krispy Kreme doughnuts. When someone brings a dozen of these angelic rings of heaven to your office, you know you have an excellent co-worker. However, this person just committed social suicide when he decided to make an April Fools joke, filling a Krispy Kreme box full of vegetables. Not cool, man. NOT COOL. Don't worry though, the donuts are in the other boxes.