Have you noticed, the Transportation Security Administration (TSA) began posting signs at airports warning travelers about the upcoming ID requirement changes. So what exactly are these changes, and what do you need to do to be ready?
We're breaking it down, what REAL ID is, and what it may mean for you and your travel plans.
The REAL ID Act
The Department of Homeland Security (DHS) announced on December 20, 2013 a phased enforcement plan for the REAL ID Act (the Act), as passed by Congress, that will implement the Act in a measured, fair, and responsible way.
The Act set minimum security standards for state-issued driver's licenses and identification cards, and it prohibits federal agencies from accepting licenses and identification cards from states that do not meet these standards for "official purposes."
One of the many measurements enacted because of 9-11. The goal, eliminating airline terrorism by increasing requirements to obtain documents granting access to domestic planes.
What does that mean to you and me? Well, State departments like the DMVs will require more paperwork regarding proof of residency and Social Security Number when issuing licenses and identification cards under the Act.
Additionally, the cards themselves will also be built using the latest security technologies, making them more difficult to fake or forge.
Learn more about REAL ID enforcement.
What Does a REAL ID Look Like?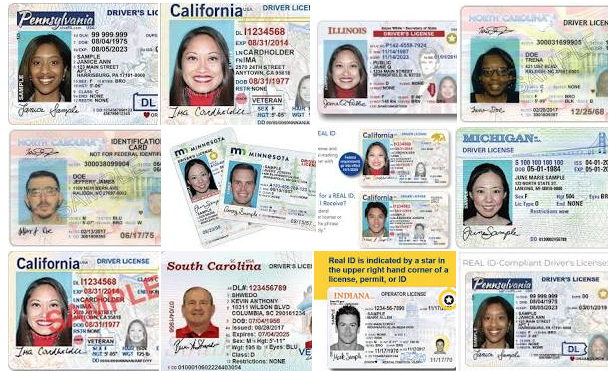 In most states, there is a gold or black star on the front of the license that will signify compliance. If you see this, then you're good to go.
However, to make it more confusing, a few states have issued compliant IDs without a star (Hawaii, Ohio, Tennessee, and Utah). So it's best to confirm with your state if you don't see a star.
Some states, including Minnesota,, Michigan, New York, Vermont and Washington State are currently issuing enhanced drivers licenses. These are a form of REAL ID. They additionally allow land and sea border crossings to Canada, Mexico, and the Caribbean.

TIP: If your card says "Not for Federal Identification" or  "Federal Limits Apply, it's not compliant.
How Will The Real ID Act Affect me?
Airports are considered federal facilities, and therefore the Act will affect everyone's ability to board a flight.
Starting October 1, 2020, every state and territory resident will need to present a REAL ID-compliant license/ID or another acceptable form of identification (like a passport or passport card) for accessing federal facilities — including boarding commercial aircraft.
Residents of states that have already begun issuing the new licenses have until October 1, 2020, to obtain a REAL ID-compliant ID/license. So now you know.
TIP: Want to avoid the lines? Do it now! You don't have to wait for October 01, 2020, you can update your ID now and avoid the rush.
You know there will be massive lines and chaos as we get closer to October 01, 2020.