Travelling can cost you a lot of money, but only if you don't take the time to research and save your cash. There's no need to spend a fortune on travel, and there are plenty of things you can do to reduce the costs. Here, you'll find plenty of useful tips: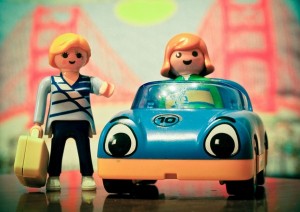 Travel in the Off Season
Always travel in the off season to get the cheapest deals. When the kids are at school, flights are always cheaper and the place you visit will be less packed with tourists. Bonus!
Mix and Match Flights
You don't have to travel to and from your destination with the same flight provider. In fact, travelling with two different airlines could save you a fortune. There are sites online that help you to work out what the cheapest option is for you, like SkyScanner.
Book Parking in Advance
When parking your car at the airport, make sure you book this as far in advance as possible. If you book on the day, you'll end up paying through the nose.
Take Your own Food on the Flight
Depending on what flight you're on, you'll end up paying extortionate prices for food on board. By taking your own food on the flight, you can save a ton of money. The food you buy at the airport will more than likely be nicer than what you buy on the plane too!
Make the Most of Your Baggage
Make sure you know exactly how heavy your baggage is allowed to be, and leave plenty of room in your case for souvenirs. If you buy a big weekend holdall, you'll be able to take that on the plane with your essentials and save even more room in your case.
Weigh Baggage Before Leaving Home
Just to make sure you don't go over on your weight, Citilink remind you to make sure you weigh the case before you leave. You can find many tools online for this.
Download Helpful Apps
If you've got a smartphone, there are a ton of apps you can find that will help you to save money. You can find travel guides which can tell you the best places to eat, and even torches to light the way!
Do Free Activities
There will be plenty of things you can do for free at your destination. Limit the amount of paid activities you do and make the most of free stuff. You might be able to attend a free concert, festival, go for a walk, take a swim, visit a market, or climb a mountain. Go out there and explore!
Stay in One Place for Longer
The longer you stay in one country, rather than zipping around the world at the speed of light, the more money you'll save. Visit less places and really get to know the place before moving on.
Try the Street Food
Street food is cheap and authentic. You haven't tasted a country's idea of great food until you've tried street food.
Now you can travel on the cheap while having a great time!