ATLANTA, Ga. – May 10, 2023 – The Ray announced that the U.S. Department of Transportation (USDOT) has awarded $5.1 million to The Ray and partners Arcadis, InfraStrategies, and Beverly Scott Associates to support 15 communities as a Networked Communities capacity builder within the USDOT's Thriving Communities Program. The 15 communities matched with The Ray are located near ports, airports, freight, and rail facilities. Community infrastructure needs and priorities will drive The Ray's capacity building strategy and focus on mobility, access, housing, economic issues, workforce development, and environmental justice.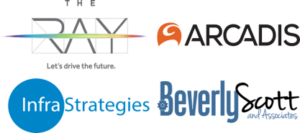 The Thriving Communities Program provides two years of no-cost, intensive technical assistance to under-resourced or disadvantaged communities to help identify, develop, and deliver transportation projects that can both strengthen and transform their community. The technical assistance and capacity building approach includes support for all stages of projects, from planning and permitting to procurement and contract administration, through construction, operation and maintenance.
"My father, Ray C. Anderson, helped to green the White House and chaired a sustainability committee under two Presidents," said Harriet Langford, founder of The Ray. "Yet again, through The Ray's partnership with Thriving Communities, his commitment to net-zero, his belief in technology for good, and his influence through proving – then scaling fast – will be shared across the country with communities that need it most today."
About the Thriving Communities Program
The Bipartisan Infrastructure Law and Inflation Reduction Act provides historic, unprecedented federal investment in transportation and infrastructure. Before now, local communities have not been traditional partners to the federal government and have not had the opportunity to receive direct federal funding. The Thriving Communities Program recognizes that these communities are at a disadvantage when competing for federal funds. The Program is designed to bridge the resources gap by pairing these communities with organizations that offer a variety of capacity building services, intended to give communities the ability to compete for and leverage these funds to build and sustain their own infrastructure development.
"The approach of the Thriving Communities Program centers on equity, community leadership, and workforce development to build and embed long-lasting, community-driven infrastructure solutions," said Laura Rogers, Deputy Director of The Ray.
The capacity builder team led by The Ray will work on the front lines with the 15 Networked Communities to ensure they are in a position to compete for and benefit from federal resources, creating transformational opportunities to plan and implement impactful infrastructure projects. The Ray's proven record of success working with local, state, and regional government agencies, coupled with wide ranging relationships with industry through public-private-philanthropic partnerships (P4), will be leveraged to lead this capacity building approach. The capacity builder team is entirely woman-led and understands the importance of building wealth, empowering communities, and providing equitable access to support people and communities so they can thrive. The team will support these communities by providing:
Technology transfer
Connections to private sector technologists and experts
Connections to peer transportation agencies
Advanced planning tools and software
Technical assistance
Procurement assistance
Project organization and facilitation
Policy analysis
Public awareness and promotion
Financial evaluation, planning, & strategy
Networked Communities
Networked Communities are special places where families can grow, businesses can thrive, and underserved, overburdened, and disadvantaged communities can flourish if provided the opportunity. Many of the communities that were chosen for the Program had previously applied for federal funding, but were unsuccessful due to a lack of necessary resources to be competitive. The communities also come into the Program with varying levels of needs that range from advancing stalled feasibility studies to securing funds for the implementation of policy and infrastructure improvements. The Networked Communities are from urban, suburban, and rural communities that are located near significant transportation facilities and include:
Montgomery, Alabama
Wrangell, Alaska
Saint Paul, Alaska
Douglas, Arizona
San Lois, Arizona
Osceola Port Authority, Arkansas
Doraville, Georgia
Detroit, Michigan
Chester Economic Development Authority, Pennsylvania
Pottstown, Pennsylvania
Charleston Area Transportation Study, South Carolina
Brownsville, Texas
Kearns Metro Township, Utah
Nisqually Indian Tribe, Washington
Upper Kanawha Valley Strategic Initiative Council, Washington
"The Ray, from its inception, has leveraged philanthropy through the P4 model – via technical assistance, powerful software and tools, and a stubborn commitment to project execution – to accelerate our mission to achieve net-zero transportation," said Rogers. She continued, "The Thriving Communities Program is evocative of The Ray's core model that we've fine-tuned over the last eight years, and now we have the privilege to work with USDOT in partnership through TCP to scale our impact even more broadly."
Bringing Together Experienced Partners and Innovative Technologies
The Ray, Arcadis, InfraStrategies, and Beverly Scott and Associates are a team of world-class experts who are transforming transportation infrastructure by leading the way with some of the world's boldest thinking, building projects that inspire confidence in new innovations, and showing that the technologies and path to achieve safe, sustainable, and equitable transportation already exist. Using their combined experience, the team will work with the USDOT to help plan, develop, and support the scaling of infrastructure improvement projects across the 15 communities selected as Networked Communities.