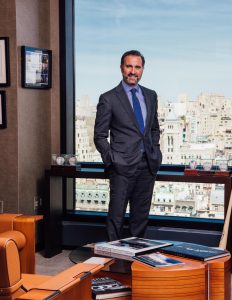 The hospitality industry has changed a great deal over the past few decades. Gone (or almost so) are the grand hotels, the personal valets, the hand-and-foot service — in other words, the days when hotels and hospitality-adjacent businesses catered almost exclusively to the wealthy and well-born.
Today, the hospitality business is far more democratic. It's marked by an increasingly diverse — and increasingly sophisticated — smorgasbord that offers something for just about every type of traveler, including those who in a previous life might have frequented (or lived at) those grand hotels. But the hotel experience is increasingly secondary to the travel experience — in other words, what newly empowered tourists do when they get to their destinations.
What do they do, exactly? More and more, they attend high-profile sporting events: NCAA football game days, the World Series, the Final Four, the NBA Finals, the MLB All Star Game, and — grandaddy of them all — the Super Bowl. Sports tourism is a huge business these days. In the United States alone, there are thousands of hotel properties within two miles of a major professional league or Division I college stadium. Entire cities have built, or are in the process of building, entertainment districts around centrally located venues: San Diego's Gaslamp / East Village area, Seattle's International District, Boston's Fenway neighborhood.
If you're a casual sports fan or occasional traveler, the current state of the sports tourism business is likely to surprise you. These three facts and stats show just how far the industry has come, and how far it's likely to go in the coming years.
The Global Hotel Industry Generates $500 Billion Annually (Maybe More)
Hospitality spending generates at least $500 billion worldwide, and maybe more, depending how it's measured. Multinational hospitality companies — Starwood, Intercontinental, Carlson — take ever-larger shares of this pie.
Okay, but what about sports tourism?
Sports Travel Is a $600 Billion Industry
There we go. And that $600 billion figure is a conservative estimate, by the way — sourced from NTA, which draws data from Worldwide Sporting Development and Events. Note that sports travel is more than just hospitality spending: It involves transportation spending (airfare, gas, car rental, taxi), dining, and certain types of merchandising. According to NTA, the U.S. alone is responsible for about a third of that $600 billion figure.
The NFL Has Its Own Sports Tourism Experience Brand
The NFL is the country's most popular sports league, so it's no surprise that it — technically, a separate offshoot entity — would pioneer an entirely new type of tourism: experience-based travel built around high-profile sporting events. Bloomberg reported in March 2015 that 32 Equity, the NFL's private equity arm, teamed up with Gerry Cardinale's Redbird Capital and George Pyne's Bruin Sports Capital to create On Location Experiences.
On Location Experiences specializes in custom domestic and international event and hospitality experiences in the worlds of sports and entertainment. It's no exaggeration to say that this is the highest-profile sports tourism partnership today, and it's sure to be a bellwether for future tie-ups between sports leagues and hospitality companies.
What's Next for the Hospitality Business?
On Location's partnership with Redbird Capital, Bruin Sports Capital and the NFL makes it clear that the hospitality business is changing, and changing fast. A couple decades ago, this sort of genre-bending melding of sports, hospitality and private capital would have been unthinkable, or at least unrealizable.
In fact, the private equity industry's participation in the On Location Experiences venture isn't even the most remarkable thing about it. Far more interesting is the addition of a super-celebrity who's no stranger to high-profile NFL games. Per Businesswire, Jon Bon Jovi is joining forces with the venture, which acquired his Runaway Tours entertainment brand. It's a testament to the power of celebrity partnerships and the receptiveness of audiences to sports-centric experiences that incorporate non-sporting elements.
With early signs pointing to resounding success for On Location Experiences, we're virtually assured to see future partnerships in the same vein — in the NBA, NHL, MLB, perhaps maybe even in the ascendant MLS. No matter who you root for, it's an exciting time to be in the hospitality business.
What most excites you about the future of the tourism business?