Job ads listing vaccine requirements jumped nearly 140% from July to August. September numbers are on track for a new record. 
New York, New York (September 9, 2021) – When the FDA approved Pfizer-BioNTech's Covid vaccine on August 23, the number of job postings requiring vaccinations increased immediately. Data scientists from Ladders, Inc., the career site for high paying professional jobs, completed a comprehensive review of nearly four million high-paying career job postings in North America. From July to August, job ads that noted vaccine requirements jumped nearly 140%. "This is especially noteworthy because it's exceedingly rare for companies to list vaccine requirements in job postings at all. Traditionally, that's something that's reserved for employee handbooks," said Ladders CEO Marc Cenedella. "So, when you analyze this research you should keep in mind that these numbers are just the tip of a massive iceberg. There are countless businesses requiring vaccination that don't mention it in job advertisements."
Job Postings Requiring Vaccines
July 2021 – 910
July 2020 – 162
July 2019 – 260

August 2021 – 2,169
August 2020 – 142
August 2019 – 239
September Will Set A Vaccine Job Requirement Record
Based on data the Ladders team collected in the first week of September, this month is on pace to shatter August's record. As of September 7, there were already 984 high paying jobs requiring vaccination posted. For comparison, there were 100 posted in all of September 2020 and 158 in all of September 2019.

A New Standard Begins
Prior to December 2020, when COVID vaccines became available to the American public, fewer than 200 high-paying job postings required a vaccination in a typical month. In the past, the few job postings that referenced vaccines were in healthcare fields and always referred to flu shots. Today, there's a major shift. "All of these postings refer to Covid vaccines. We're seeing these requirements across every career sector. This is truly unprecedented," said Cenedella.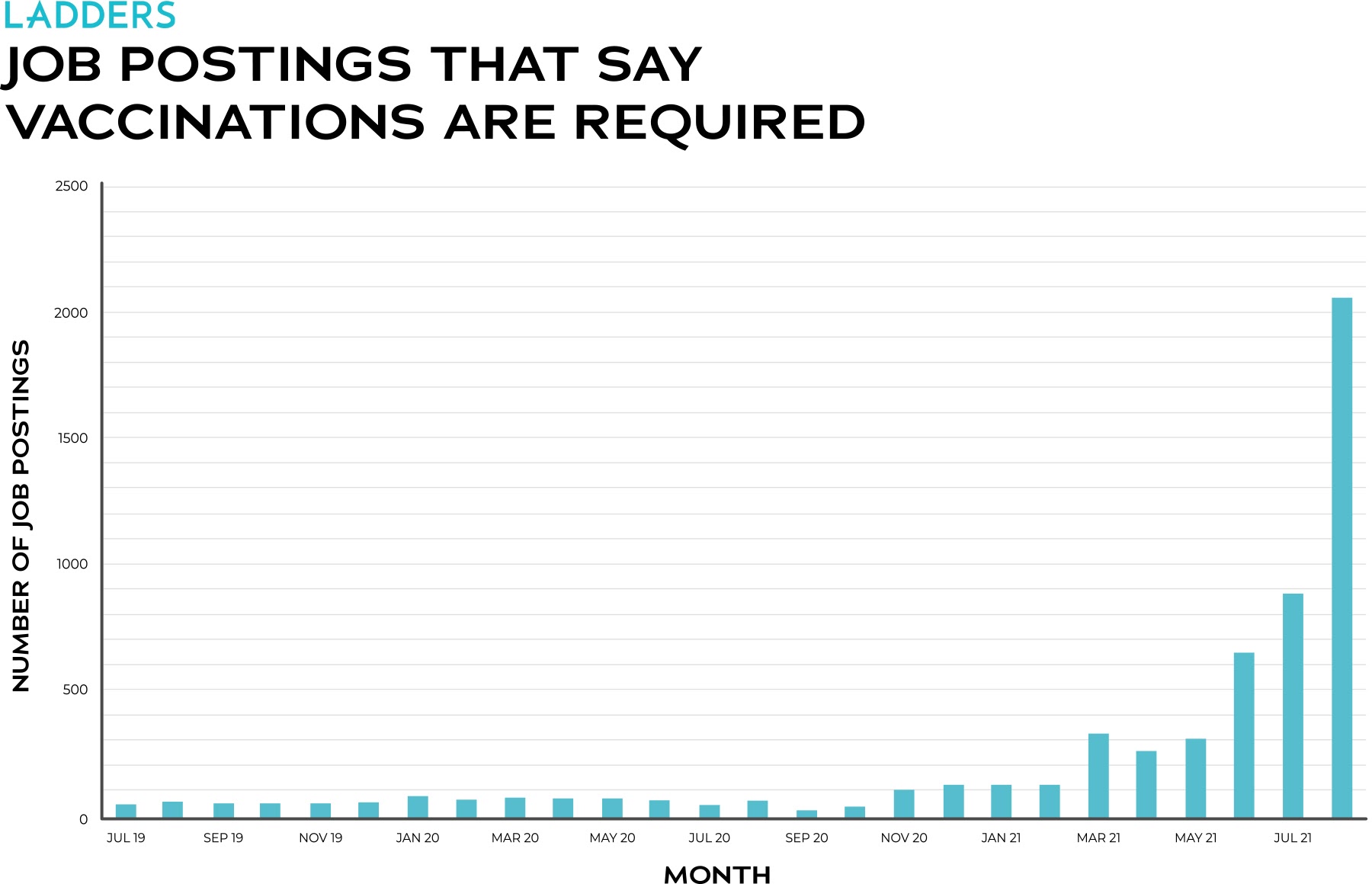 Data Courtesy: Ladders, Inc.
About Ladders, Inc.
Ladders, Inc., is the number one career site for professionals seeking six-figure jobs and ongoing vocational enrichment. Ladders services (including Apply4Me, Ladders Premium, and Ladders News) make top-end professionals' lives easier. Ladders has more than seven million members who use the platform to manage, market and move up in their careers. Learn more at TheLadders.com.
Pandemic Job Record Set as High-Earning Career Availability Soars